International news briefs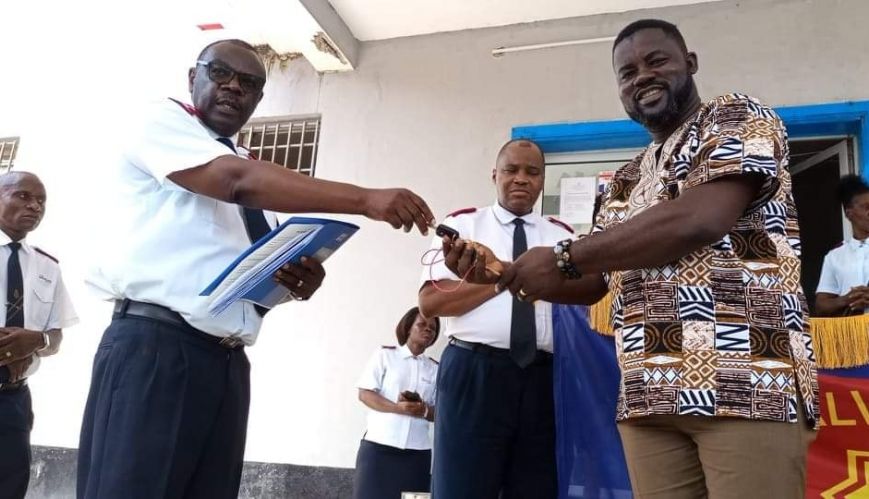 International news briefs
25 February 2022
Officer Commanding, Head of Mission in The Salvation Army Liberia and Sierra Leone Command, Lieut-Colonel Samuel Mkami, hands over the keys to the new Mitsubishi L200 dual cab to Director of Education David Massaquoi. The ute is to help improve communication and contact with schools run by the Army across Liberia.
---
Ute helps education system keep on trucking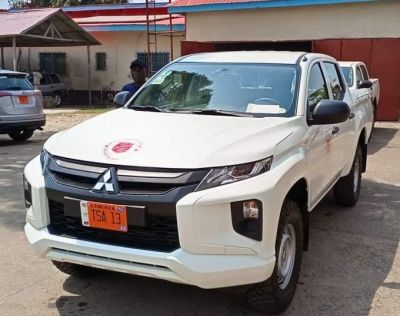 The Salvation Army Libera and Sierra Leone Command has shifted up a gear in its aim to support continuous professional practice and performance of its schools across Liberia, having recently taken delivery of a new ute.
David Massaquoi, the Army's Command Director of Education and Communications Officer, said that mobility was key to continuing essential regular supervision of the Army schools and, more importantly, to help realise its expansion plans to Sierra Leone and Guinea over the next five years.
With support from CICA Motors Liberia, David said that the Command Education Secretariat (CES) was to use the Mitsubishi L200 dual cab utility for outreach, supervision, and delivering supplies. He said the ute could cover between 15,000km and 20,000km a year. 
In another schools initiative, David said the CES had introduced 18 desk phones – six for the Education Secretariate and one each for the Army's 12 schools – as part of a Closed User Group (CUG) service provided by Orange and Lonestar mobile networks.
"This means our schools can now communicate within the school system for free but will pay only for calls outside of the group," David said. "With this initiative, we are hoping to save significantly on telephone bills.
"As IHQ and partners continue to support our work, we are also finding innovative ways of undertaking meaningful local initiatives for the improvement of education in our Command," he said.
General Brian Peddle and Commissioner Rosalie Peddle recently toured the Command and visited one of the Army's schools.
General Peddle said the education program was an important ministry, teaching children from kindergarten to a polytechnic, with 4900 students ranging in age from three to 20.
"I am so proud of our schools here in Liberia," General Peddle said. "In the recent West African Senior School Certificate examinations, our secondary schools obtained a 100 per cent pass rate, with others obtaining a 97 per cent pass rate. One student achieved the highest mark in geography in the whole country. The Salvation Army school system in Liberia is to be celebrated for its hard work and success."
---
US airs 100th episode of popular podcast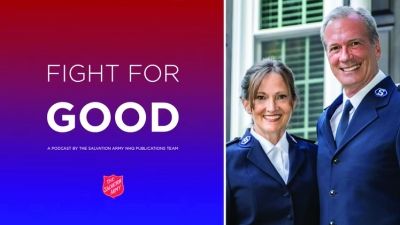 The Salvation Army National Ambassadors for Holiness in the United States, Dr Bill Ury and Reverend Diane Ury, were the guests on the 100th episode of the Fight for Good podcast.
The Salvation Army Publications Department in the United States has aired the 100th episode of its Fight for Good podcast.
Podcast host Major Jamie Satterlee, the Director of Publications at the US National Headquarters and Editor of Peer magazine (a publication aimed at young people), said there had been "so many great episodes; so many great guests" since the podcast was launched on 6 August 2019.
"We have had the opportunity to speak with a lot of great authors, as well as artists and influencers. Our interview with musician Ellie Holcomb was quite popular," Jamie said.
"We tend to have more listens when we highlight Army ministries and personnel, such as our interview with Major Molly Schotzberger, who spoke with us about her experiences serving on disaster duty following 9/11, or with Charlotte Jones, who met with Commissioner Ken Hodder to talk about The Salvation Army's partnership with the Dallas Cowboys.
"We're so excited to hit this milestone. There are so many exciting things to celebrate," she said.
The podcast is broadcast live from the NHQ in Washington DC.
"The podcasts started off as weekly, then moved to a bi-weekly," Jamie said. "We rotate weeks with The Battle Line, which is a podcast collaboration between Publications and Program and is geared more toward millennial youth leaders."
While NHQ had its own video recording suite, Jamie said podcasts were "typically recorded from our offices".
"It is not always live," Jamie said. "Some episodes are, but most are prerecorded, then released later. Sometimes the interviews are conducted by various staff members, but I always do the intro and outro," Jamie said.
Jamie has not always been the host. She took over the role in July 2021 from former National Secretary for Program and Publications, Lieut-Colonel Tim Foley, and Editorial Director Jeff McDonald. 
The 100th episode featured a discussion with the Army's National Ambassadors for Holiness in the US, Dr Bill Ury and Reverend Diane Ury, who talked about their roles, their journey to becoming holiness teachers, and the meaning of holiness. The Urys are soldiers at the Raleigh Corps in North Carolina.
Jamie said it was coincidental that the Urys were part of the 100th episode: "We recorded their interview back in the fall (autumn), and it just so happened to coincide with [the 100th] episode."
"The mission of Fight for Good is to share insight, inspiration and news about The Salvation Army, as well as to point listeners to our publications, The War Cry and Peer. We are going to be taking a hiatus soon, in order to strategise and plan for [the podcast's] future," Jamie said.
---
Brazil communities get help after floods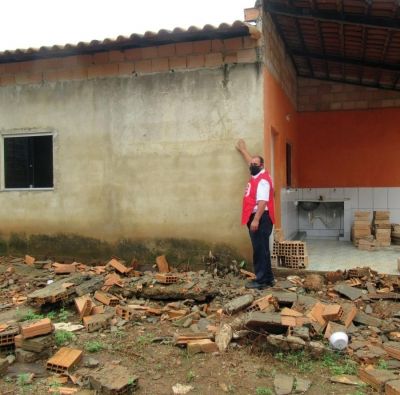 A Salvation Army officer indicates the level to which the floodwaters rose in the city of Jequitibá in the Brazilian state of Minas Gerais after torrential rain caused landslides and flooding in several areas.
The Salvation Army in Brazil has been working hard to take relief, supplies, and comfort to the people displaced from their homes by the landslides and flooding in the state of Minas Gerais on the east coast of the country.
Among the supplies delivered have been mattresses, hygiene kits, and baby products.
Army personnel have braved unsafe roads to reach communities such as Jequitibá, about 100km north of the capital Belo Horizonte.
A resident, Mrs Neide, said it was hard to look at the damage the torrential rain and floodwaters had done: "When we returned [after having sought shelter elsewhere], my house was all dirty, and there was only mud. We lost almost everything. However, I thank God for The Salvation Army and for the help we have received. It means we can start over."
Another affected community member, Mrs Lessandra, said she believed God had sent people to help the community: "I lost everything. My house was underwater for seven days but thank God we are alive, and there are good people like The Salvation Army to help us."
Mr Marcelo da Silva said the floodwater came slowly at first but then rose fast: "We had to leave everything behind. It's very sad. We are grateful to God for sending people like [The Salvation Army] to provide for us at this time."
* Information edited from The Salvation Army International Facebook page
---
Grant to help refugees, vulnerable in Iceland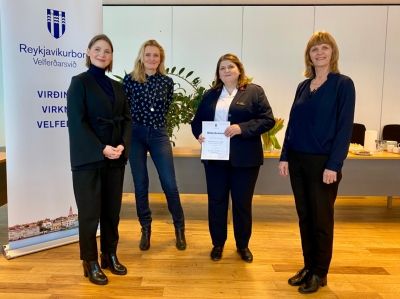 The Salvation Army District Officer in Iceland, Captain Hjördís Kristinsdóttir, holding the certificate acknowledging the City's Welfare Council grant to the Army, with the council's Ragnheiður Alda María Vilhjálmsdóttir, left, and its chairman, Heiða Björg Hilmisdóttir, and Kristjana Gunnarsdóttir, who works among the city's marginalised. 
The Salvation Army in Reykjavic, Iceland, is to receive a grant from the Welfare Department of the City of Reykjavík of 15 million krona (about $A167,000) a year for three years to help fund its community work.
District Officer Captain Hjördís Kristinsdóttir said the grant would help the Army continue its ministries to the vulnerable – people experiencing drug addiction, homelessness, and refugees – including giving out meals and a homework program for students, and running a thrift shop.
"Over the years, we have worked closely with the municipality on welfare matters," Hjördís said.
She said that, since 2014, the Army's focus had moved from being mostly assisting people experiencing homelessness and addiction to helping people seeking asylum who had been given refugee status.
"Last year, we opened a new headquarters here in Reykjavík for our corps and community centre, and we gave out around 19,000 meals to marginalised people," Hjördís said.
She said previously the city had given between $A11,000 and $A30,000 to the Army to help in its community work, but "our welfare programs have finally got the ears and eyes of the politicians".
"They now looked at all our programs as a whole and gave us a grant of 15 million krona ($A167,000) a year for the next three years," Hjördís said. "This gives us the opportunity to keep on giving out soup, soap, and salvation."