You are here:
Home › News › 2022 › 02 › 28 › Salvation Army Crews Rise To The Occasion In Flood Disaster
Salvation Army crews rise to the occasion in flood disaster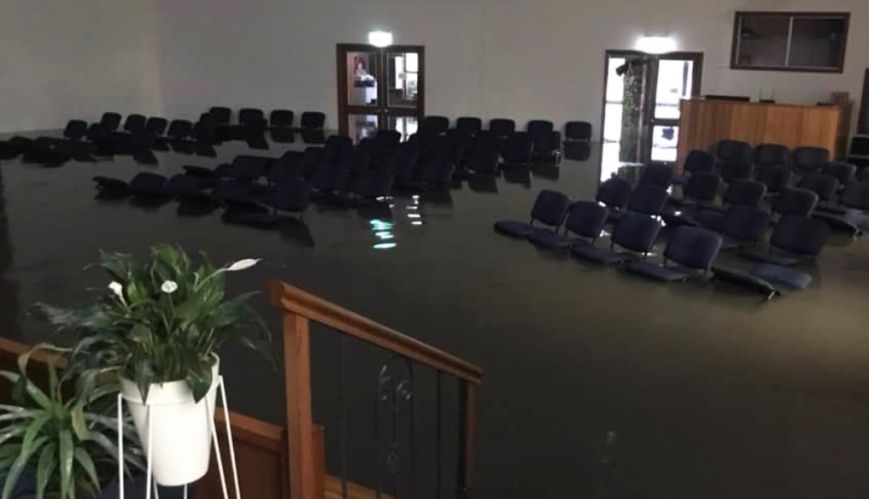 Salvation Army crews rise to the occasion in flood disaster
28 February 2022
The worship centre at Grafton Corps went under today during the height of the flooding in Northern NSW.
By Darryl Whitecross
Salvation Army Emergency Services (SAES) teams in Queensland have been busy providing relief supplies to first responders and people displaced from their homes after several days of flooding rains in central and south-east parts of the state.
The sign points to The Salvation Army Gympie Corps up Stumm Rd. Floodwaters from the Mary River have cut off the corps site from the rest of the town.
SAES State Coordinator Adam Cole said this morning that more than 10 SAES crews had been activated in Queensland and had served about 3500 meals and refreshments at various evacuation centres. They had been supported by many corps in the affected areas.
A major problem for displaced people was getting to evacuation centres, with floodwaters cutting off major routes.
Worst-affected areas in Queensland have been Wide Bay and Burnett, Darling Downs, and the Granite Belt, with most waterways bursting banks and towns experiencing flash-flooding.
Adam said SAES activity had focused on Gympie, Nambour, Caboolture, Dakabin and Ipswich, and suburban Chandler in Brisbane. Another evacuation centre opened this afternoon at Logan on Brisbane's southside, where Calamvale Corps members provided meals to about 30 displaced residents.
More than 1000 people are believed to have sought shelter and aid in the evacuation centres, about half of them at the Gympie.
SAES teams are expected to remain at the two evacuation centres in Gympie and the centre in Ipswich until at least mid-week. Adam said he expected other centres to scale back operations within 24 hours.
Queensland Public Relations Secretary Simon Gregory said a SAES team from the Gold Coast tried unsuccessfully to get to Caboolture yesterday to relieve the team there. "They got as far as Aspley [outer northern suburbs of Brisbane] but couldn't get any further north because of floodwaters and had to turn around," Simon said.
Adam said seven SAES crew were to fly in from Newcastle this afternoon to relieve crews in Brisbane.
The Salvation Army Strategic Emergency and Disaster Management team is monitoring the situation in several areas:
The Scenic Rim, Gold Coast, Logan, and Beaudesert – major flooding experienced today.
Maryborough – major flooding is expected to peak tonight.
Ipswich – expecting major flooding for the next few days.
Greater Brisbane – major flooding is expected on high tides over the next few days.
Gympie and the Sunshine Coast – water levels are slowly easing.
Woolworths supermarkets have been helping Army teams stock up with vital supplies for their relief efforts.
"Woolworths stores that we've been dealing with have been absolutely fantastic in assisting us," Adam said. "We've had really good support from the [supermarkets] we've tapped into so far in providing us what we need to conduct the emergency catering. That's been good right across the board. We've also had good support from other businesses and other supermarkets in various locations as well."
COVID impact
Simon said the protocols around preventing the spread of the COVID-19 virus had also affected the support and relief effort.
"We are definitely being affected by COVID. What we found is that a number of the teams are short-staffed because they've got people who aren't vaccinated; who can't volunteer for us at the moment.
"The other effect in these places is a lot of the volunteers were also flooded in so they couldn't get to the evac site to help out because they were stuck in their own homes – whether they were literally flooded into their house or they were flooded in by roads they couldn't get through – so we're really stretched."
NSW floods - Lismore and Grafton
In the Northern NSW city of Lismore, 460mm of rain fell in 24 hours, causing the Wilson River to burst its banks and cut off the town. Landslides have blocked roads not cut by floodwaters.
SAES crews are working hard to assist the many displaced residents.
Major David Collinson, NSW Public Relations Secretary, said more than 600 people had already arrived at the evacuation centre, stretching the resources of Army teams. Northern Rivers Corps Officer Captain Phillip Sutcliffe had been advised to expect 1800 more people within the next 48 hours.
"There are still people [heading for the centre] who still can't get there because of blocked roads," David said. "In the end, the Salvos are doing what they can do to help support people who've been evacuated."
Grafton Corps Officer Major Cathryn Williamson said flooding of the citadel overnight was unexpected.
Cathryn said corp members told her the building, an old skating rink, had not had more than 5cm of water through it in previous floods, and to have so much water this time surprised everyone. "It's never been up onto the platform before – which is up four steps," Cathryn said.
Corps members had raised electrical appliances and other fixtures and fittings to avoid expected water levels, but the water went higher than that.
Cathryn said Grafton had an 8.25m levee to protect it from Clarence River flooding, but the water level already was at 7.25m and rising.