Helping the Salvos is human nature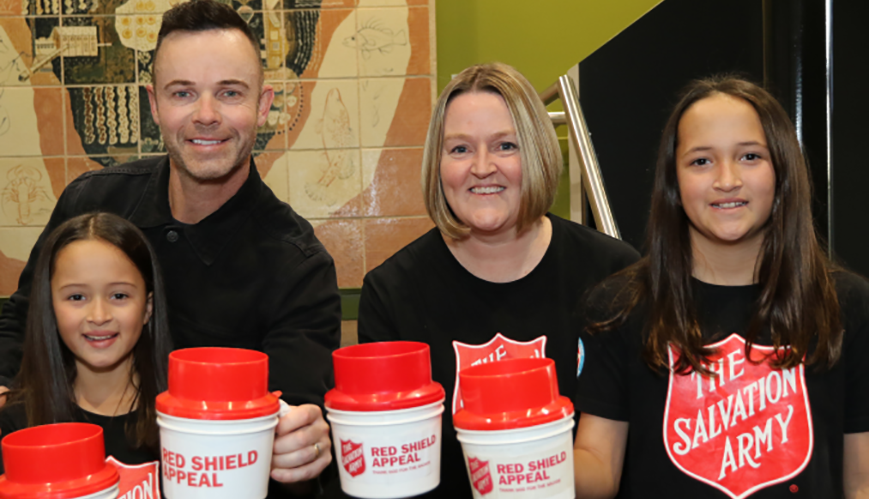 Helping the Salvos is human nature
20 May 2022
Musician Andrew Tierney of Human Nature stopped by Sunraysia Corps to throw his support behind the local Red Shield Appeal. (From left) Amaya Serojales, Andrew Tierney, Major Debbie Serojales and Shaella Serojales.
By Others writers
It is only human nature to help those in need – just ask musician Andrew Tierney of the Australian pop vocal group Human Nature. He recently threw his support behind the Sunraysia Corps Red Shield Appeal launch, inviting people to be generous across the Mildura region of Victoria.
The international group stopped in Sunraysia for a concert where Andrew took time to help launch the Red Shield Appeal with Corps Officer Major Debbie Serojales and her daughters Amaya, 9, and Shaella, 11.
"(He) said it was such an important cause, and he was more than willing to show his support due to the great help we offered the community," Debbie said. "We were so grateful to Andrew, who was willing to help as he appreciated the work of The Salvation Army."
This year, the Sunraysia Corps [formerly Mildura and Red Cliffs Corps] hopes to raise $25,000 to fund vital services in the community. So far, two schools have jumped on board, while local business Mr Bun Mi has agreed to install contactless payment so customers can simply tap and donate $5 to the Red Shield Appeal. That is something to sing and dance about!
---
Others Award presented at WA launch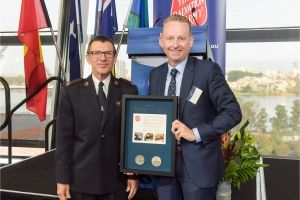 Divisional Commander Major Brad Potter presents the Others award to Damian Collins of REIWA during the 2022 Red Shield Appeal breakfast.
More than 260 people attended the Western Australia launch of the Red Shield Appeal at Optus Stadium in Perth. Speakers from various Army services across the state shared about the life-changing work they do. Special guest speaker Sally bravely told guests about how the Salvos empowered her to take a new path in life.
During the breakfast, Divisional Commander Major Brad Potter presented the Others Award to REIWA, Western Australia's real estate institute, for its almost decade-long support of The Salvation Army in Western Australia.
The Others Award recognises businesses or an organisation that exemplifies an extraordinary spirit of service to others, not only through the support of The Salvation Army but also to the broader community. Since 2013, REIWA's Community REInvest program has donated more than $1 million to the Salvos. 
---
Blossoming generosity in Queensland
Lieutenant Rita Biermann (left) and Lieutenant Ashley Biermann (second from right) join the community at the Open Garden to raise Red Shield Appeal funds. 
Sometimes the greatest display of God's love is shown through nature, which is why Ipswich Salvos in Queensland held a community Open Garden to usher in the start of the Red Shield Appeal last month.
Partnering with the community to host one of four open gardens, the corps opened a private garden in Pinjarra Hills for public viewing before inviting locals to enjoy a cuppa and cake.
Spanning five acres, the garden comprises tropical plants, secret paths, a children's garden and a lake.
Official launches in Queensland were also held in Brisbane, Cairns and Gold Coast. 
---
Local focus at Gold Coast launch
The panel discuss family and domestic violence.
Businessmen and women, school students, retirees and a range of Salvation Army supporters and personnel attended the Gold Coast launch of the Red Shield Appeal on 12 May.
Major Gavin Watts, Queensland Divisional Commander, spoke about local needs in his opening remarks, focusing on The Salvation Army's passion and drive to respond in immediate crises, and for the long haul.
His comments were supported by a video showing the work of the Salvos in the recent floods in Ipswich, west of Brisbane, including their emergency response and ongoing relief efforts.
A family and domestic violence panel then addressed the focus area of the Red Shield Appeal this year. Karen Ellis, team leader at Still Waters, The Salvation Army's crisis accommodation service for women on the Gold Coast, was part of the panel and spoke about the role of domestic violence as the leading cause of women and children becoming homeless. Karen shared the work of Still Waters in the short and long-term care of women and children, and the difference in their lives that additional funds would make possible.
Local Salvo Kevin Lawler gave his testimony, sharing his experiences of drugs, crime and time in prison before a meeting with a Salvos chaplain changed his life. Through the grace of God and support of the Salvos, Kevin is now a soldier at the Gold Coast Temple Corps, a volunteer chaplain at the local Magistrate's Court, and is active in men's behavioural change programs and homelessness support.
---
Eva Burrows' legacy honoured in Tasmania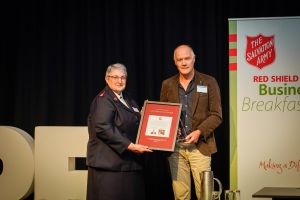 Assistant Chief Secretary Lieutenant-Colonel Winsome Mason presents Michael Foster with the Eva Burrows Award in recognition of his 30-year contribution to The Salvation Army.
The Salvation Army helps someone in need every 17 seconds. That was the message the Salvos shared at the Tasmanian Red Shield Appeal launch last week at the Hotel Grand Chancellor.
Guest Speaker Alison Watkins, Chancellor of the University of Tasmania, headlined the event, which also saw the Eva Burrows Award presented to Michael Foster, honouring him for his outstanding contribution and extraordinary service to The Salvation Army.
Assistant Chief Secretary Lieutenant Colonel Winsome Mason praised him for his work serving on the Red Shield Appeal Advisory Council for more than three decades, including six years as Chair. He is also a member of The Salvation Army Tasmania's Business and Philanthropic Committee and has participated in the Salvos Sleepout to raise funds for the Street 2 Home program.
The Red Shield Appeal also kicked off at local mission expressions across the state. Glenorchy City Corps partnered with Claremont Football Club and the Glenorchy City Council for their annual 'Red Game'. It was held as part of the community's 'Red Saturday' event, which was compered by Duncan 'Sticks' Warburton and included a silent auction.
Meanwhile, the Salvos in Launceston teamed up with the Salvation Army Emergency Services to fundraise for the Red Shield Appeal by selling burgers, sausages and drinks while people gathered for the city's classic car Monaro State Championship.
---
Wollongong stages successful Red Shield Concert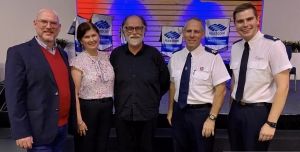 Youth orchestra CEO David Francis (left), manager Tanya Phillips and conductor Nigel Edwards with Wollongong Salvation Army bandmasters Joe McIver and Connor Hutchinson. 
The sound of strings, woodwind and brass filled the air at Wollongong Corps on Saturday night for the 22nd annual Red Shield Concert.
The Wollongong Conservatorium of Music BlueScope Youth Orchestra and the Wollongong Corps Band joined forces for an evening of inspiring music, which featured movie themes, uplifting marches and reflective pieces.
More than 220 people attended the concert, and about $4700 was raised to go towards the work of The Salvation Army in the Illawarra region.
Corps Officer Lieutenant-Colonel Lyn Edge led the evening, interspersed with video clips of the Army's work and where Red Shield Appeal funds will be used.
---
Superheroes don't always wear capes
Administration Coordinator for North East Salvos Sue Liebich takes a picture with 'Captain Salvation' (aka Major Quentin Castle), at the local launch for the Red Shield Appeal.
Last week, we reported that Captain Aaron Stobie of North East Salvos in South Australia would shave off his red hair for the Red Shield Appeal if he personally raised $6000. Not to be outdone, the rest of the community is also finding creative ways to contribute to the Salvos' work!
Campbelltown City Council in South Australia hosted a Red Morning Tea and invited Captains Aaron and Lauren Stobie to share more about their work in the area.
In addition, the Salvos partnered with Paradise Mazda for the official local launch, as they strive to raise $36,000. And while Shieldy usually arrives at these gigs, this time it was Captain America ... sorry, Captain Salvation's turn to rustle up some funding for justice and human rights!
That being said, Captain Salvation has got nothing on junior soldier Bella, who is couch-surfing to raise funds. Previously, Bella has participated with her dad to support members of the community who couch-surf because they experience homelessness. But in 2022, she has set her sights on independently raising $1000 to make a difference.
What a champion!
---
Collector Q&A: 10 years and counting


Name: Abi (pictured)
What corps do you attend?
Perth Fortress
How long have you collected for the Red Shield Appeal?
I've been collecting for the Red Shield Appeal for a number of years. I used to go with the kids' church from when I was seven years old and collect, but now I am able to collect individually through the Digital Doorknock.
What do you love about collecting?
I love collecting because I have seen the benefit the Salvos are to our community and I love being a part of making a difference.
---
Some information and photos are accessed through official corps Facebook pages.