IN BRIEF - Snapshots from around the territory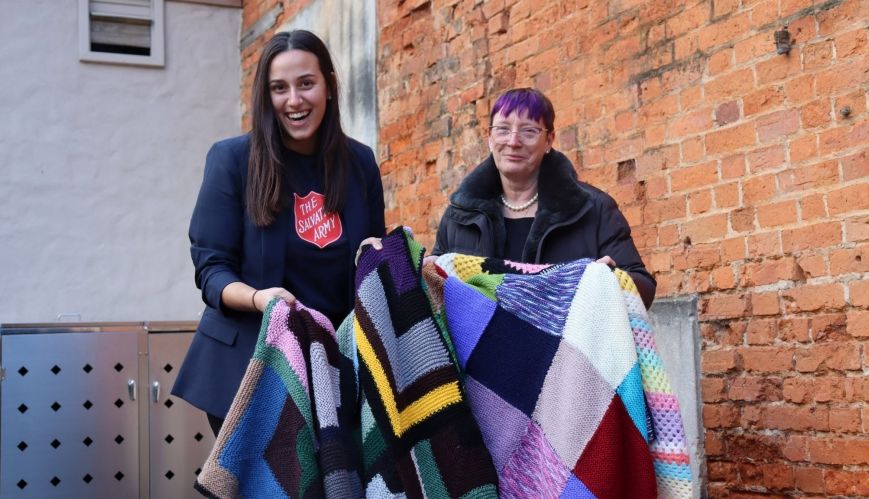 IN BRIEF - Snapshots from around the territory
17 June 2022
Tasmania Division Public Relations Manager Amelia Natoli (left) with Rotary District Governor Heather Chong and some of the blankets Rotary is donating.
Tassie's rough sleepers blanketed in support


As cold winter conditions set in across Tasmania, the timing could not be better for Rotary Tasmania's donation of homelessness packs to support people sleeping rough.
Rotary has provided 100 packs containing essential items, including a sleeping bag, sleeping mat, socks and hygiene pack. Rotary has also donated 200 knitted blankets!
The Salvation Army will distribute these packs and blankets to its different services, as well as other Tasmanian support organisations to ensure they're available for those that need them right across the state.
"We would like to thank each Rotarian and Rotary Club that helped raise funds, organise, knit or put together these packs and blankets," said Amelia Natoli, Public Relations Manager for the Salvos in Tasmania. "We're so grateful to partner with you to help best serve our local communities."
---
Rustic van spreads hope and kindness in Bunbury
The 'van of hope' distributes food to those in need.
The Bunbury Salvos' 'Van of Hope' – an old, rustic van – is used each week to collect bread, vegetables and fruits from various locations around the south-west of Western Australia. After each pick-up, the produce is sorted and distributed to help those in need.
On average, around 1000 loaves of bread are given out to the community each week. The food parcels are carefully created with a mix of the collected produce to ensure that people get healthy and nutritious food. Donations to the Red Shield Appeal keep the van on the road and support those in need.
"The old van, with its volunteers, is doing such a wonderful job to rescue food and give back to the community," said Captain Mark Schatz, Bunbury Corps Officer. "It is helping us carry on the mission of Salvos and spreading kindness as it goes around."
---
'Terrific Tuesdays' packed with goodness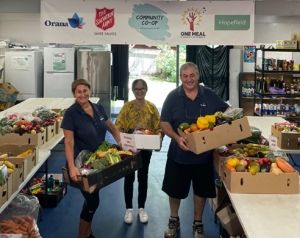 Volunteers at the Community Co-op that runs out of Shire Salvos Miranda.
Shire Salvos Miranda in Sydney's south comes alive every Tuesday as the Community Co-op swings into action.
Dubbed 'Terrific Tuesdays', the dedicated volunteers pack fresh fruits, vegetables and grocery items and then distribute them to hundreds of local individuals and families in need at locations right across the Sutherland Shire.
"We formed the co-op so that the charities involved could work together to fight food insecurity and poverty in the Sutherland Shire," says Shire Salvos Team Leader Mark Soper.
With the rising cost of living across Australia, this support is needed and appreciated.
---
Victor Harbor grateful for 'Life in a Bag'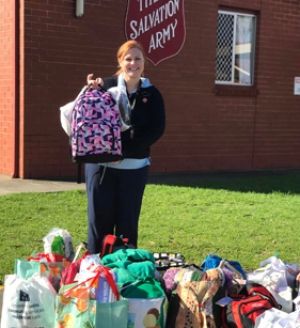 Captain Kylie Hodges at Victor Harbour Salvos.
Victor Harbor Corps Officer Captain Kylie Hodges says The Salvation Army in the South Australian town is so grateful for the support of Life in a Bag SA Southern Area.
The group has donated 20 men's, women's and young children's bags to the Salvos Community Care Centre to help those experiencing homelessness or suffering family violence.
The easy-to-carry bags contain everything from toiletries, snacks, treats, drinking chocolate and easy long-life meals to something warm like socks, beanies, scarves, a blanket or gloves.
The children's bags also contain age-appropriate extras like a soft toy, picture book, activity book and pencils. Designed to bring some hope to those in need, they are a wonderful comfort this winter.
---
Brunswick women do it 'For Others'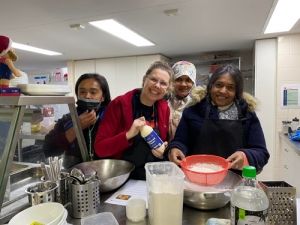 (From left) Cathy, Mel, Jaanatul and Chandani create cherry chutney and scones.
A core group of women meets each Monday morning at Brunswick Salvos (Vic.) to knit beanies and scarves for their community. The group is called 'For Others' because it aims to build a healthy community and be a community of giving.
On 6 June, they decided to make cherry chutney and scones instead of knitting. It was a great activity with lots of laughter, and it enabled the women in the group to come together, share their skills and cook for their community.
The best part, of course, was eating the results for morning tea. Each woman also took home a jar of chutney after the activity. Everyone is keen to come back and do some more cooking!
---
Support the Salvos at Grill'd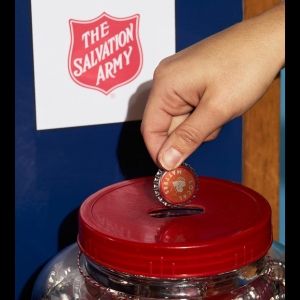 The Local Matters jars at Grill'd restaurants are back for the month of June. Grill'd is giving back in a big way with every one of their Local Matters jars across the country dedicated to supporting people experiencing homelessness.
The Salvation Army is one of three charities to share in a total fundraising goal of $75,000. The charity with the most votes will receive $45,000, and the other two charities will receive $15,000 each.
If you love burgers, give Grill'd a go and pop your token into the Salvos jar at any store across Australia.
---