Oasis 'renovating' young people's lives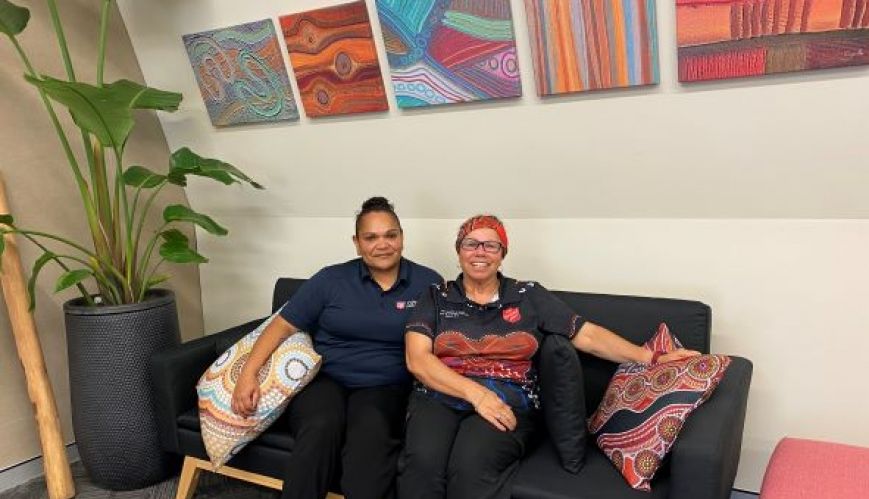 Oasis 'renovating' young people's lives
22 June 2022
Case worker Elaine Abraham and NSW/ACT Aboriginal and Torres Strait Islander Coordinator Sue Hodges at the Oasis Youth Services centre.
By Jessica Morris
Lives change when people have a safe space to heal – and the Oasis Youth Services team in Newcastle knows this better than most.  
Every year, the Salvation Army-run centre, based in the suburb of Hamilton, supports young people aged 12-25 across the Newcastle, Lake Macquarie and Hunter regions to develop independence.  
Now, thanks to a $23,000 grant from Port Waratah Coal Services, the centre has a refurbished therapeutic room. Named Kaiyu Corner, after the Awabakal word meaning 'power', it provides young people with an engaging and culturally appropriate zone to receive counselling and do group work, specialising in early intervention from alcohol and other drugs (AOD).   
"Our team is looking forward to using the different areas within the room to support clients, including the yarning circle and the pamper zone. We are thankful that Port Waratah has shared our vision for this project and partnered with us to make a difference in the lives of young people in Newcastle," said a representative from Oasis Youth Services.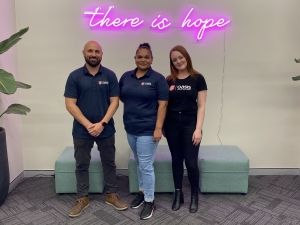 Oasis Team Leader Matthew Fox and case workers Elaine Abraham and Casey Brown at the Oasis Youth Services centre in Newcastle. 
The site formerly had a recreation room designed as a drop-in centre. After falling into disrepair, Oasis sought funding to refurbish the area to better support its programs and services, including case management, employment training and their Drive for Life program. 
Since opening in December, Oasis staff have seen new life flow from the refurbished area, which also includes a private counselling space and patio. This has been made all the better by the inclusion of interactive sensory elements such as a pool table and a make-up area. 
"We have clients going through [difficult] things in life, including homelessness, domestic violence, family breakdowns, and unemployment. They come along the journey with the AOD space, and our focus is around our preventative early-intervention strategies for people," says Robyn Bust, Program Manager for Oasis Youth Services across the NSW Central Coast and Hunter regions.  
"When we've got a young person coming for an appointment, we don't know what their morning has looked like or what the previous night has entailed for them. So having a room like what we've created breaks down some of those barriers. It creates a welcoming and safe space that is not clinical for us to engage with them."  
At the official opening, Hennie du Plooy, CEO of Port Waratah Coal Services, said the renovation provided a much-needed reinvigoration of the space to make it appealing and culturally appropriate for young people to reach out for support when they needed it.   
"At Port Waratah, we are very pleased to support this project to deliver an engaging, youth-friendly and culturally-rich space designed to maximise positive outcomes for troubled young people," he said.   
This financial collaboration has been vital. Oasis workers are aware the needs of their community are far greater than their resources, particularly considering the national housing crisis and COVID-19. This makes the therapeutic room even more important for clients and case workers.  
"Working in partnerships with people is a huge priority for us, and it adds so many more layers to what we're doing," says Robyn. "To be able to have clients walk into a space like [Kaiyu Corner] and just instantly feel at home and not so anxious about the appointment they're walking into [is amazing]."