You are here:
Home › News › 2022 › 07 › 20 › Social Services Hub At The Heart Of Gladstone Community
Social services hub at the heart of Gladstone community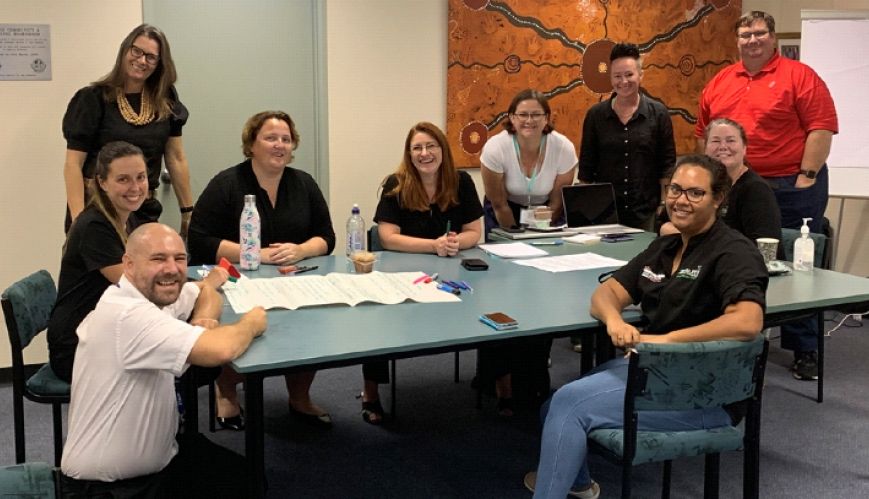 Social services hub at the heart of Gladstone community
20 July 2022
Captain Chris Ford (back right) attends a collaborative planning meeting between partners at Philip St Communities and Families Precinct in Gladstone. 
By Cliff Worthing
"Lots of really cool things are happening," said Captain Chris Ford, Manager of Philip Street Communities and Families Precinct and Gladstone Corps Officer. "Lots of heavy things happen almost every day, but we are getting some cool outcomes."
One of those cool outcomes occurred recently when a 22-year-old female client fleeing domestic violence asked for help to leave the abusive relationship. As the team was helping her out, she mentioned her birthday was that week, but she hadn't celebrated her birthday since she was 14. The team swung into action, and within a short period, not only was she safe, but she had a pamper kit delivered by the corps. "For the first time in eight years, she had something special," Chris said with a catch in his voice.
The Philip Street Communities and Families Precinct in the Central Queensland coastal city is the largest integrated social services hub in the Southern Hemisphere, working alongside community members, all three levels of government and 25 non-government organisations to deliver collaborative services and activities to meet the needs and aspirations of people in the region.
One example of that collaboration occurred when a mum presented to Communities for Children (CfC) for parenting support. She shared with a worker that she was experiencing significant domestic violence in her home. The worker reached out to the Salvos for assistance. The mum was linked with Moneycare, Doorways casework and Salvos Connect for emergency relief. The teenagers were connected with the Gladstone Corps youth group.
Precinct partners secured housing for the mum and children through a local real estate, and the corps provided money for the bond. The Family Store assisted with furniture, linen, bedding and kitchen needs.
"The precinct is at the heart of the community, both geographically and emotionally," Chris said. "It's in the centre of town. People know they will be cared for, loved and connected with each other and with the right services without the need to tell their stories multiple times."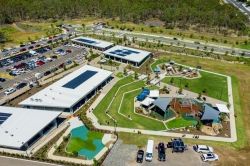 An aerial view of the Philip St Communities and Families Precinct.
The local council included the precinct concept into their master plan about 15 years ago. Multiple challenges had to be resolved, especially the necessary funding. All three tiers of government, local philanthropists and the Salvos contributed the funding. Various Salvo departments such as property, contract services, public relations and fundraising worked together to make the concept a reality.
The precinct consists of four large, modern buildings with consult rooms, meeting rooms, a beautiful outdoor community gathering space with a playground, an amphitheatre for 300 people and a community food garden. The Salvos moved to the hub in September 2021.
Participating organisations share training opportunities such as trauma-informed practice, building community connections, cultural awareness, inclusiveness, and strength-based approaches to service delivery, so everyone understands and works to similar principles. A community advisory group provide guidance, and major decisions are collaborative.
Chris said that almost every day, the groups meet together to debrief and discuss how to improve collective outcomes.
"We are all like family now," he said. "Lots of conversations occur in the hallways, and we have robust but ethical conversations because of the deep level of our relationships."
Chris gave a recent example of providing support to the acting manager for Gladstone Council, who was dealing with multiple challenges. The rest of the management group agreed to take her to lunch to support her.
All the groups share resources to provide connections, educational pathways and improve mental and physical wellbeing for the benefit of the community.
"Everything we do is relational," Chris said. "Everything works so well because it's based on strong relationships, and in our case, we don't lose focus on our mission to see people restored to the kingdom of God."