Domestic violence service breaks new ground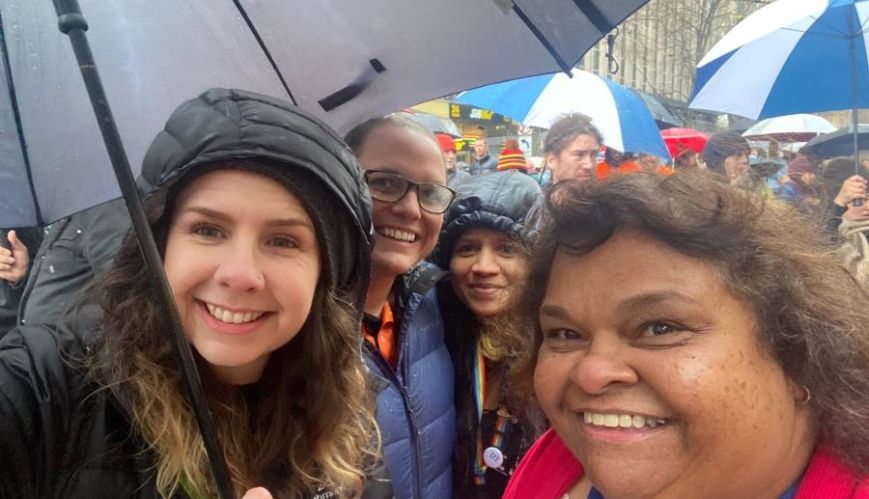 Domestic violence service breaks new ground
27 July 2022
Aunty Darleen (right) – with Captain Melanie Cop, a chaplain with the Family and Domestic Violence stream in Victoria – is looking forward to her new appointment.
By Simone Worthing
Aunty Darleen Christensen, a Mulinjahli woman from the Bundjalung nation, has broken new ground within The Salvation Army's Family Violence Services. She has recently been appointed as the first Aboriginal Liaison Officer and Specialist Family Violence Practitioner for the Victorian Family Violence Programs.
"I am grateful and proud to be the first Aboriginal Liaison Officer and am looking forward to really getting into the role," she said. "Everyone knows The Salvation Army, and I have found them a safe and respectful place to be and work. They have seen something in me for this role, and I want to do everything I can."
Aunty Darleen, who will serve in the North West Family Violence team, will also continue some of the case-management work from her previous role, but the caseload will be reduced.
A large part of the new position will entail engaging with communities in the northern suburbs of Melbourne, situated on Wurundjeri country, which is part of the Kulin nation.
"I will be respectfully introducing myself to the Elders and traditional owners of the land and sharing about The Salvation Army – who we are and the work we are doing," Aunty Darleen explained. "I will be inviting them to different cultural events and celebrations and building relationships with them. We would like to make pathways available to them to work with us and other organisations."
Aunty Darleen, a Mulinjahli woman from the Bundjalung nation, is focused on helping to stop family violence.
Aunty Darleen will also focus on building a network of connections with other Aboriginal and community organisations in the area that monitor family violence and support those impacted by it.
"We want to work together to help stop family violence and create safer environments through our mobs," she said. "There are already many organisations promoting and speaking highly of the work we do and the services we offer.
"We haven't seen many Aboriginal and Torres Strait Islander families coming through our service and, with me as an Aboriginal worker in this space, we want to encourage families to consider us as an option."
Aunty Darleen sees being in the community and joining other community groups as vital in her role. "How this will work and whether it will grow is not clear yet, but I hope the partnerships we can form will, for example, also help us to teach others about who we are and about our culture.
"This can be difficult for us as we were not brought up to be proud of who we are. There is a lot of shame, but this is changing. The lost years of the Stolen Generation and the colonisation into the system of White Australia are being worked through as more people are trying to connect back into their culture. We have come a long way in mainstream society and have made steps towards being seen as Australia's first peoples, but there is much that still needs to be achieved, such as a treaty and being part of the constitution. This is an exciting time."
The North West Family Violence team is supporting Aunty Darleen in her new position.
"We are really looking forward to the amazing work in store for Aunty Darleen and being witness to the transformation in the lives of people she will be working with in this capacity," said Sonali Correia, Acting Program Manager for North West Family Violence Programs.