A toy story with a difference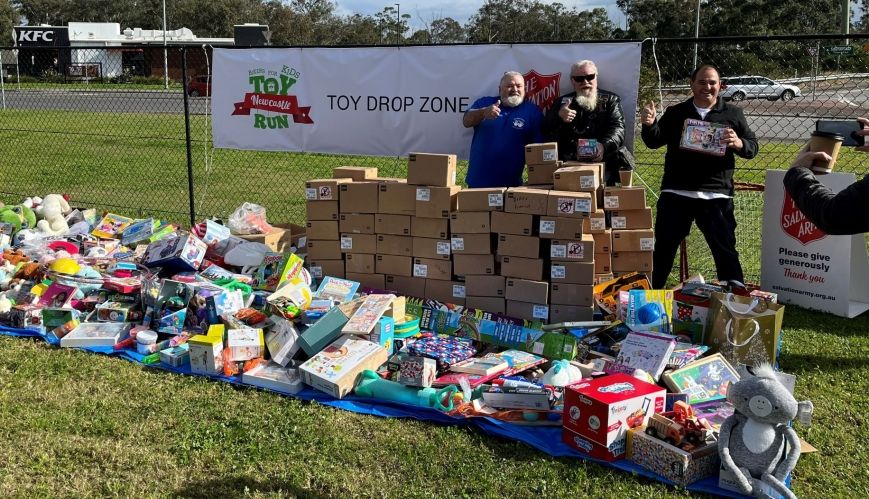 A toy story with a difference
17 August 2022
Members of the Newcastle Bikers for Kids at the drop-off zone as part of the 'Christmas in July Toy Run'. 
By Cliff Worthing
Earlier this year, a warehouse fire destroyed all the gifts donated to the Norwest Lake Macquarie Salvos' Christmas Appeal. This included gifts collected by the Newcastle Bikers for Kids as part of their annual toy run.
To rebuild supplies, Kaz O'Hara, Norwest Lake Macquarie Salvos Community Worker/Christmas Coordinator, with the help of Bikers for Kids, organised a Christmas in July Toy Run to kickstart the Christmas toy donations for 2022.
The toy run, postponed in July and rescheduled on 7 August, was held at Mortels Sheepskin Factory at Thornton, with hundreds of people coming out to support the event. 
"It was an amazing day," Kaz said. "It was so nice to see people coming together, to really care about what we are doing."
The bikers and community members brought toys to the drop zone, and everyone enjoyed a barbeque.
"The bikers always turn up, come rain, hail, shine or COVID," Kaz said. "People of all ages kept on coming along with heaps of toys."
With a truckload of toys collected, The Salvation Army Christmas Appeal and Bikers for Kids Donations now have the basis for their Christmas toy collection. The bikers have plans for a trivia night, Kmart wishing trees and other events to add to the supply.
"We have already started discussing how to make this Christmas one to remember," Kaz said.