IN BRIEF - Snapshots from around the territory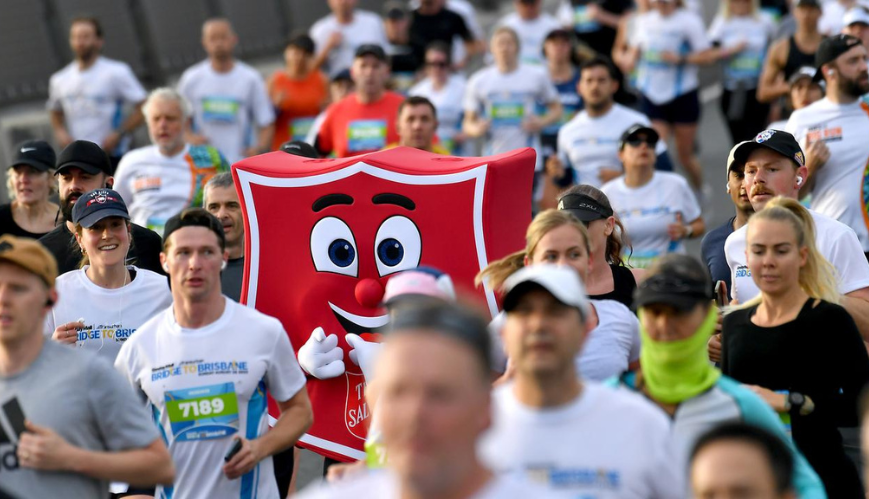 IN BRIEF - Snapshots from around the territory
12 September 2022
'Shieldy' the Salvos mascot at the starting line of the Bridge to Brisbane in August. More than 170 people signed up to run for The Salvation Army at the community event. 
By Others writers
Run for a cause in Brisbane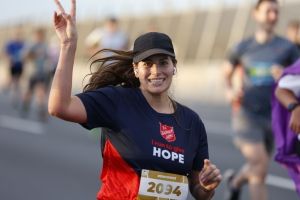 Jessica Gordon from HOBAN Recruitment committed to running for hope at the 26th Bridge to Brisbane fun run on 28 August.
Since 1996, people across Queensland have gathered for the Bridge to Brisbane – a 4.5km run from Hercules Park in Hamilton to the Brisbane Showgrounds. For the second year running, The Salvation Army was chosen as a VIP charity for the event, and more than $8500 has been raised so far.
More than 170 staff, volunteers and corporate group members signed up for the run, including HOBAN Recruitment, Peak Services and the Department of Transport and Main Roads.
To help the team reach their $10,000 goal, donate here: https://aplacecalledhope.salvationarmy.org.au/donate
---
Salvos Sleepout at Southbank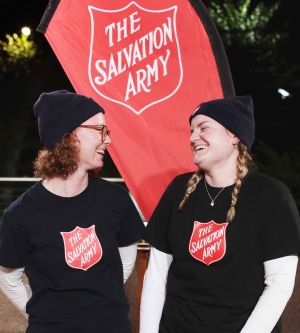 Salvo workers Shari Birse and Hannah McCauley enjoy the second Salvos Sleepout in Brisbane. 
Fifty people braved a night in the cold at the second Salvos Sleepout at Southbank in Brisbane. To date, more than $27,000 has been raised for The Salvation Army's Brisbane City Women's Homelessness Service.
Aaron Pimlot, Homelessness Manager for The Salvation Army Queensland and Sally-Anne Clark, Regional Manager for Homelessness, both spoke to attendees about homelessness in the region. Kim Skubris facilitated the conversations.
Testimonial speaker Tarnji also shed light on the challenges women who experience homelessness face each day.
Donations can be made to the Salvos Sleepout until 15 September. Donate here: https://aplacecalledhope.salvationarmy.org.au/donate.
---
God opens doors in Eastlakes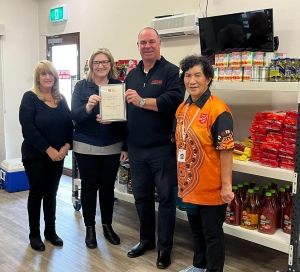 Salvos Pantry volunteers Trish Bigelow, Aux Lieutenant Terri Muendel, Greg Blackler from Dexion Shelving and Tangi Adams in the new Salvos Pantry. Dexion custom-built the shelves for the ministry.
Tuesday has always been a busy day at Eastlakes Salvos in Belmont (NSW). Café 360 and the CAMEO morning tea means there is plenty to do – and eat – on any given week. But since the launch of their Salvos Pantry earlier this year, more community members have flooded through the doors.
Open from 11am-1pm every Tuesday, volunteers and staff have been able to offer locals a free bag of groceries courtesy of Oz Harvest, and many people stick around for a cuppa and a chat.
"Since our Salvos Pantry opened, a lot more people with complex needs have started coming through our doors. But God is so good and has gathered an amazing Tuesday team to care for his sheep," shared Aux-Lieutenants Bernie and Terri Muendel.
Volunteer Jim drives the bus to a local community housing estate so people can access their free groceries, while Margaret welcomes them at reception. Connect Site support volunteer Michelle helps community members figure out their next step, and new Doorways case worker James specialises in complex needs. Meanwhile, new Area Homelessness Support Worker Alyce is also present in the café or in the halls, connecting people to stable accommodation.
"Only God can do that kind of thing," said Bernie. "It's amazing to watch God at work and providing for the needs of our community. That sure is good news."
---
SAGALA camp on target in Queensland
Damien Surch from the Gold Coast takes aim during the SAGALA camp at Redland Bay, Queensland. 
SAGALA groups from around South East Queensland recently gathered for the first Divisional camp since 2019 – and they were ready for adventure! Held at Kindilan Adventure Camp at Redland Bay, Saturday's activities included canoeing, archery and aeroball.
"It was fantastic to hear the excitement of the children as they got set up in their tents and prepared for some time in the great outdoors," said Maree Southall, Children's Secretary for Queensland. 
Over the weekend, the Sunbeams and Adventurers worked towards their 'Take a Hike' badge, which involved learning tracking signs and survival skills. The Guards and Rangers did their Extreme Sports badge. And, as usual, toasting marshmallows on the campfire was a hit with all ages!
Over the weekend, Maree led the campers in some discovery segments using the theme, 'God's Big Story and Me'. After hearing stories of Bible heroes, the campers were encouraged to share their stories with each other. Campers reflected on the thought that 'what makes us different makes us special', and during the final church parade of camp, a Sunbeam shared that she came to SAGALA because she thought that it would be fun and stayed because she found Jesus.
Major Wendy Watts presented General's Awards to Corbin Easton and Chelsea Davis during the church parade.
"It was encouraging to see and hear the journey that these young people have been on to earn this award. SAGALA provides a great connection for corps to engage with young people in their local area," said Maree.
---
Signs of growth in Bathurst and Leeton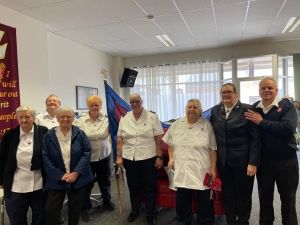 Aux-Lieutenant Lesley Ward (second from right) welcomes new soldiers Lyn, Louise, Katrina and Christina at Leeton Corps.
They may be in different areas of New South Wales, but Bathurst and Leeton corps are both showing signs of growth as many make personal commitments to become Salvation Army senior soldiers.
Four church members in Lithgow will soon begin training to become soldiers, with discipleship taking place at nearby Portland Corps. While in Leeton, there were four new soldiers in July – Lyn, Louise, Katrina and Christine.
The rise in soldiership at Leeton also mirrors the popularity of its external ministries. The Kids in the Kitchen program sees up to 20 children each week, and the community pantry sees more than 20 people a day.
---
Sunraysia celebrates SAGALA awards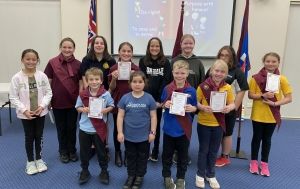 Six new SAGALA members are proud of their enrolment at Sunraysia Corps.
Sunraysia SAGALA members welcomed new members into their ranks last week when six children were enrolled during their Thursday night session.
Their Sunbeams, Guards, Explorers and Rangers continue to earn badges each week as they learn more about God.
Congratulations Sunraysia!
---