Equip camp returns with new energy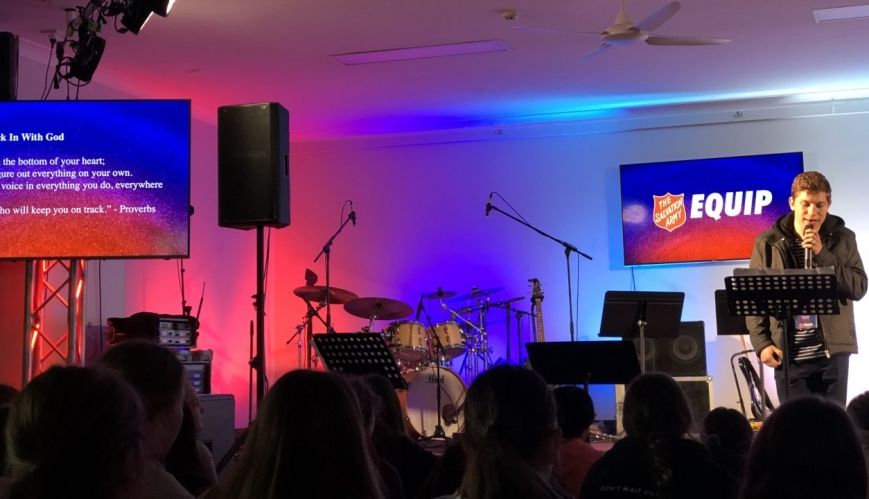 Equip camp returns with new energy
21 September 2022
Young people gather to hear speaker Callum Greenaway at a main session at Equip.
By Anthony Castle
Equip camp has returned to South Queensland after two years of COVID cancellations, introducing mission and ministry to a new generation of young people. 
These camps have run across Australia in some form for decades, but the pandemic saw a disruption to the annual events, with last year's camp in South Queensland cancelled just one week prior due to a snap lockdown. 
"COVID saw 2020's event blanked out. 2021 we had to cancel less than a week out, meaning this has been the first Equip in South Queensland since 2019," said Adam Purcell, Territorial Youth and Young Adults Secretary. "With our target for camps being 12 to 18-year-olds, the years of cancellations meant that a lot of young people are getting their first opportunity to experience camp now. We thought of these camps as a chance to get back together, but many were first-time campers."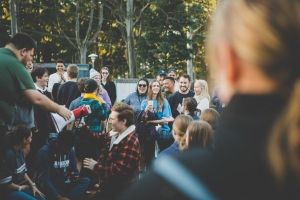 Equip campers meet and mingle in the afternoon.
The camp saw 80 young people and 12 young adults come together for a week of worship, teaching and training. The event also included games nights, a formal night and a carnival day with attractions and activities. 
"As an organiser, I was getting nervous about late registrations," says Leisa Humbley, Youth and Young Adults Secretary in Queensland. "The numbers were a bit scary. In that last cut-off week, about 20 young people signed up. People had to overcome the fear of the event being cancelled. Once kids arrived, there was a real sense of it happening. It was surreal; a real energy amongst the leaders and kids." 
Equip camps host 'encounter' nights and 'overflow' mornings, where young people can worship, learn and reflect. Life Lab workshops give campers a space to reflect on how they can apply what they are learning to their own lives. 
"The biggest outcomes are the connections to God and to each other," Leisa explains. "Some of our young leaders have been motivated to keep the momentum going and keep that connection alive. We've had one youth event since camp, and now another one is planned. Local leaders are planning these off their own back." 
Learning new skills
Equip isn't just a space for connection, however, but is designed for participation as well. Young people choose from training streams each day and electives designed to upskill them in practical ways. Campers train in sports ministry, construction, dance, and even have the chance to learn how to make coffee. 
"The research shows that camps are formational because young people learn about God and spend time with their friends," Adam said. "Equip is also formative for young people because it sends them back to their communities to engage practically in mission." 
Youth play sport at Equip, for instance, but are also given the opportunity to workshop ideas around using those skills in sports ministry back home. Young people come to Equip for the connection but go home from camp with the skills for participation in their own mission contexts. 
"Our mission hasn't changed, but the methods have," Adam said. "Once upon a time, a brass instrument was an open door to mission and ministry. It was a way in, through participation. Learning how to make a coffee in a barista course is also a pathway to participation. The same with sports and media, and tech. These are the avenues that create mission and ministry opportunities." 
Equip camps are happening more and more across Australia as lockdowns and restrictions become increasingly a thing of the past. The model of connection and participation isn't limited to any one event but is the foundation of Equip camps wherever they are held. Equip camp is preparing to take place in New South Wales (25 September-1 October). 
"The importance of Equip is not just that it happened in South Queensland again, but that this is happening across the country," Adam said. "It's the same camp with the same outcome. The purpose of Equip is to equip young people for mission and ministry in their own communities today. These are the young people that will lead our mission into the future." 
To view a video showcasing Equip camps, click SQLD 2022 EQUIP SHOWCASE