Book Review: Crown of Glory, Crown of Thorns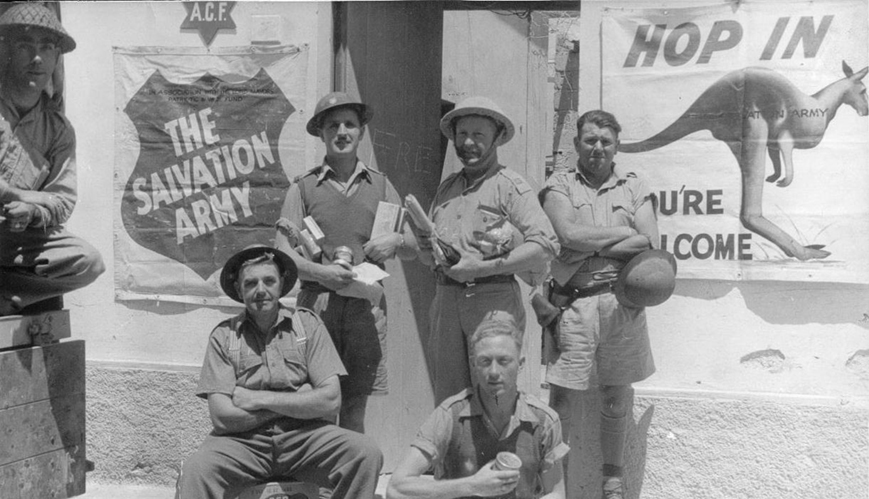 Book Review: Crown of Glory, Crown of Thorns
16 January 2021
Members of The Salvation Army ministered in an official and unofficial capacity through the Boer War, WW1 and WW2. Pictured here outside The Salvation Army Red Shield House in Tobruk in 1941 are three Red Shield Representatives with two defence force personnel (back row from left) Adjutant Jock Geddes (Salvation Army), Brigadier Arthur McIlveen (Salvation Army) and Sergeant Lindrea (AIF); (sitting in front from left) Major Arthur Mawson (Salvation Army) and Lance Corporal Lane (AIF).
Reviewed by Jessica Morris
The history of war is more than facts and figures – it is stories. And in this extensive book by General Shaw Clifton, world leader of The Salvation Army from 2006-2011, we are given the best of both worlds.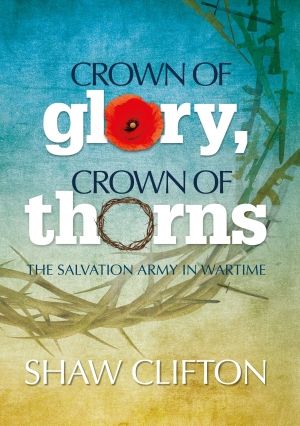 For more than three decades, General Clifton has studied the role of The Salvation Army and other churches in the Boer War (1899-1902), World War One (1914-1918) and World War Two (1939-1945) – and the outcomes are fascinating. By framing his research around the history of The Salvation Army, we see how war challenged people of all nationalities as they held to their belief in Christ is for everyone.
As someone who has studied 20th century history, it was enlightening to explore these prolific events through the lens of The Salvation Army. The fact we are an international movement based around the spiritual act of saving souls and serving by any means, makes us unique among the religious bodies also present during these wars. Yet, we also stand out because our leadership held a bipartisan stance on war, refusing to take sides for multiple reasons.
General Clifton does a brilliant job of extrapolating why this is the case, and I thoroughly enjoyed how he discussed the personalities and inbuilt relationships among The Salvation Army's most senior leadership over the years. I was also happy to see that he thoroughly addresses the pacifism movement in The Salvation Army, and discussed how Salvationists through history have grappled with differences of opinion in their ranks.
Questions like "Is war ever okay?" and "Should ministers be allowed to fight in war?" are interesting, but the highlight is the human stories woven through prolific events. The unnamed Salvationist at Dunkirk who gave up his place on a fishing boat for two wounded men, and Digger and Chaplain William 'Fighting Mac' McKenzie, who conducted burials under shellfire in Gallipoli.
I grew up in The Salvation Army and am all too familiar with our rich heritage, yet I have never fully understood why we hold tradition so close. After reading this book, I now understand that what I have seen as 'irrelevant' are actually the things that made the Army stand out and minister to souls when the world was falling apart. It gives me pause to consider how we move forward in 2020 with our Christ-built mission, knowing that the uniform, flag, brass banding and even iconography have given the Army the standing they have today in society.
This is a fitting tribute that has the potential to shape the future of the Army – if we learn from it.
Crown of Glory, Crown of Thorns is available at Sydney Salvationist Supplies (1800 634 209) or thetrade.salvos.org.au, and Melbourne Salvation Army Supplies (1800 100 018) or commerce.salvationarmy.org.au
JESSICA MORRIS IS A STAFF WRITER FOR OTHERS.