Book Review: The Family Business by Geoff Peters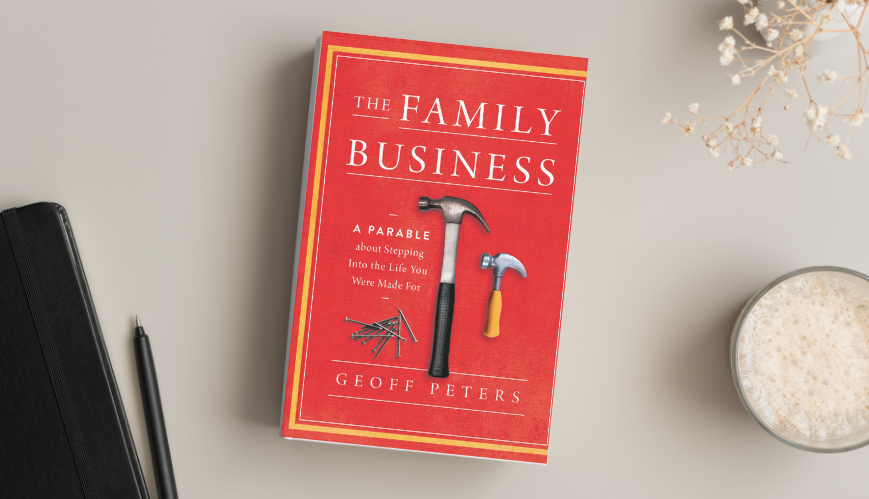 Book Review: The Family Business by Geoff Peters
3 May 2022
In The Family Business, Geoff Peters uses the ancient storytelling form of a parable to engage readers with the Kingdom of God.
Reviewed by Jessica Morris
Speaking in parables is nothing new, but reading about them in a modern-day context is. In The Family Business: A Parable About Stepping Into The Life You Were Made For, released through Operation Mobilisation, Geoff Peters empowers believers to fulfil their purpose.
Narrating the story through the lens of seven characters in a close-knit family, we see Peters cleverly address the findings of a study run by The Mission Gap Project, which seeks to close the divide between what Christians are called to do and what they actually do.
As the director of The Mission Gap Project, in addition to being on the international leadership team of Operation Mobilisation, Peters and his team's research found that three fears can keep Christians from stepping into the fullness of God's work: fear of sacrifice, fear of failure and fear of personal safety.
The figurehead of the story is widower Jesse – the father and head of the family hardware business. As a representation of God, he invites his adult children to take more responsibility in Jesse's Hardware. What does that look like? Well, that depends on the child. And as we see, this also depends on their unique set of skills, insecurities, and familial relationships.
Oldest child and socialite Evie must grapple with the idea of leaving behind a shallow lifestyle. Single musician Dave considers if he wants to leave his psychological practice behind. Businessman Zach must consider his worth in light of nepotism. Young mum Becca struggles to protect her reputation after marrying an older man, and progressive-leaning Mo is encouraged to let go by her starkly opposite husband. All the while, housekeeper Holly is the quiet yet trusted voice of wisdom in the background – a reminder that the Holy Spirit is always at work in ways we don't see or understand.
By pairing each character with a core fear that Christians face, Peters challenges us to look deep within and consider what we have to offer the Kingdom of God. Then, with innovation, he dares us to use that for God's glory.
The parable can feel a little clunky at times, mainly because comparing any human, family or business to the Divine is but a reflection of how vast God is. Due to this, the decisions of the characters and the open-endedness of how they serve are not necessarily realistic –in their shoes, I'd be asking a lot more questions and exercising more boundaries to preserve family relationships. However, given this represents our relationship with God, there's some grace for the interpretation. And isn't that the whole point of a modern-day parable?
The Family Business is available at Koorong.