Book Review: Wings of Faith by Dawn Volz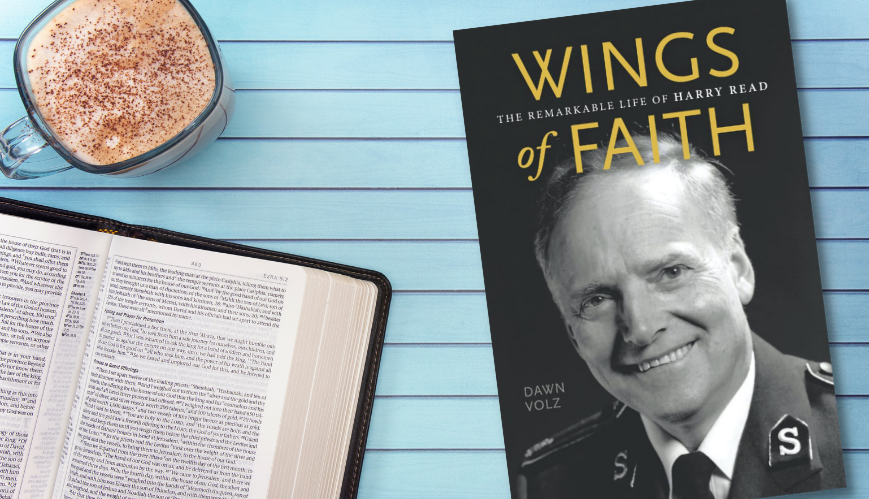 Book Review: Wings of Faith by Dawn Volz
21 June 2022
Author Dawn Volz expertly tells the story of the late Commissioner Harry Read's life in the new biography Wings of Faith.
Reviewed by Merv Collins
Where do you start writing the life of Commissioner Harry Read OF, one of the Army's finest officers? Well, obviously, with him as a 19-year-old wireless operator dropping by parachute into Normandy on D-Day 6 June 1945. Then you write his rise through the ranks of The Salvation Army to British Commissioner, missing out on the Generalship to General Eva Burrows by one vote in 1986.
You introduce his empathetic poetry, some of which embellishes Dawn Volz's fine biography, Wings of Faith, and his songs written in collaboration with the Army's best tunesmiths, many of which like 'God's Soldier' and 'Become Aware of Him' have become Salvation Army standards. In 'retirement', Harry wrote Words of Life for 10 years, creating 3500 daily readings.
You round it all out with the 75th-anniversary celebrations of D-Day when Harry, aged 95, skydives into Normandy again to worldwide acclaim and raises funds for the Army's anti-slavery campaign. Volz catches the horror of the first jump and the excitement of the second brilliantly to top and tail her excellent book on the exceptional career of a remarkable Salvationist.
Wings of Faith is available on Amazon.com (hardcover, paperback and ebook), with all proceeds going to The Salvation Army Anti-trafficking Department in London. Click here to purchase a copy.
Read more about the compelling biography of Commissioner Harry Read OF in this interview with author Dawn Volz by clicking here.
MERV COLLINS IS A SALVATIONIST WRITER AND MUSICIAN