Brillante
Brillante
8 November 2016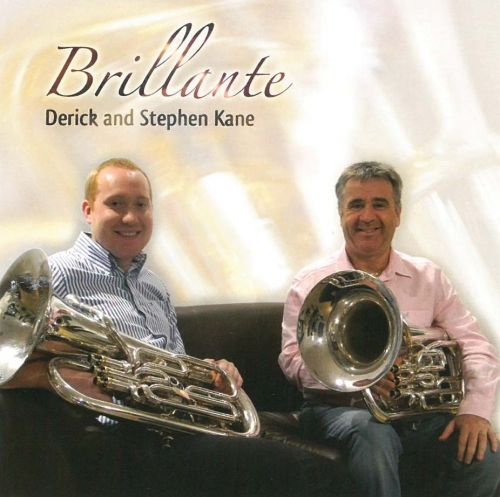 Brillante is the latest in a long list of fine instrumental CDs produced by The Salvation Army's World of Sound in the United Kingdom. This album features the father-and-son euphonium duo of Derick and Stephen Kane, who both have impressive musical CVs – Derick with The Salvation Army International Staff Band, and Stephen with the Welsh Cory Band.
Their high level of musicianship is on display in every facet throughout this recording. Ably accompanied by piano, of particular note are the beautiful warm sounds produced by the Kanes in every register of the instrument in the slower tunes. The width of sound provided in The Old Rugged Cross and I Need Thee resonates through your sound system, proving that the euphonium really is the instrument best designed to handle slow melodies and hymns.
Naturally, there is some musical flair as well. Timepiece, by Norman Bearcroft, was one of the first "technically demanding" euphonium duets to be introduced into The Salvation Army. Brillante, by Peter Graham, is all skill and talent as Stephen and Derick take us through some classic English and Welsh tunes (and lots of semi-quavers!). This track would have been enhanced by the energy and colour of the full brass band accompaniment; however is still worthy of being the title track for the album.
For this author, the highlight of the CD was the track I'll Not Turn Back, the song written by General John Gowans, arranged here by Ivor Bosanko. It is a timely reminder that "I'll not turn back, whatever it may cost, I'm called to live, to love and save the lost". Throughout this we hear sensitive playing by both musicians, and a fine example of how to play a slow melody in a lyrical and singing style. The result is quite moving.
However, with Brillante, the album's strength is also its weakness. As the instrumentation never varies from euphonium and piano, the CD can at times become one-dimensional as the listener's attention fades in and out. Some alternate or added instrumentation, even for a track or two, would have greatly enhanced the overall listening.
Despite this, the collaboration results in an album of moving, inspirational and most importantly, blessed music, as Derick and Stephen offer up their talents for God's glory and praise.
Brillante can be purchased for $24.95 at Salvationist Supplies. Go to thetrade.salvos.org.au or phone (02) 9466 3257.
Win
Simply email your name and address to eastern.editorial@aue.salvationarmy.org, with the words "Pipeline Online giveaway" in the subject line for your chance to win our giveaway copy of Brillante by 5pm, Monday, 14 November.