Movie review: Good Sam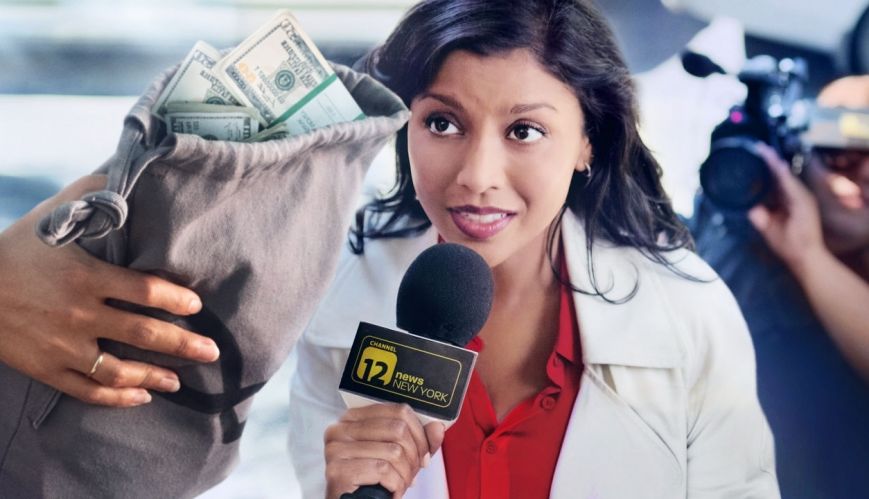 Movie review: Good Sam
6 July 2019
American TV news anchor Kate Bradley (played by Tiya Sircar) is cynical about the generosity of anonymous donations being given to those in need in the Netflix movie Good Sam.
By Jessica Morris
Does an act of kindness still count if our motivations are self serving? And is it possible for someone to be kind, and expect nothing in return?
The new Netflix original movie Good Sam compels us to look for the good in humanity by asking these questions ourselves.
When a good Samaritan starts anonymously dropping bags filled with $100,000 to residents across New York City, TV news anchor Kate Bradley is cynical. Sure that there must be an ulterior motive, the headstrong reporter begins her hunt to find 'Good Sam'.
Along the way, she must deal with the pressures of a competitive workplace, navigate a long-distance relationship with her senator father and find the underlying motives behind the romantic interest of swanky hedge-fund broker Jack Hansen, and mysterious fire-fighter Erik Hayes.
Granted, this plot is about as predictable as a Hallmark movie. The journalist trope has been done to death, and there's always pause for thought when a film bases its worth on morality at the expense of production. However, under Netflix's budget and through a somewhat secular lens, we find that the plot is given legs – largely due to the believable performance of Tiya Sircar.
Her personification of the move from cynicism to a belief in miracles is heart-warming, and it was a breath of fresh air to see a woman of colour as a healthy, successful lead. Rather than using romance to temper the movie or dilute Sircar's strength, it is an additional facet of her story that highlights her intuition and, ultimately, points to something greater than herself. The fact that Netflix portrays a diverse cast that celebrates the tenacity of the working class makes this even more palpable.
Christ's words in Matthew 6, "When you give to the poor, don't let anyone know about it. Then your gift will be given in secret", echo loud and clear through this family flick, challenging us to embody his spirit of humility and servanthood. The ripple effect of our kindness – and what we might call the work of the Holy Spirit, is set as the benchmark of the mysterious 'Good Sam's' success. And through this, we see how a simple act can transform an entire community.
Sure, we don't all have a spare 100K lying around to give to a neighbour, but by embracing daily acts of kindness and peace we, too, can be used by God to transform lives one person at a time. That is what makes Good Sam an admirable addition to Netflix's catalogue, and a film well worth your time.
Good Sam is rated PG for mild themes.
Good Sam is available on Netflix now.