Movie review: Paul, apostle of Christ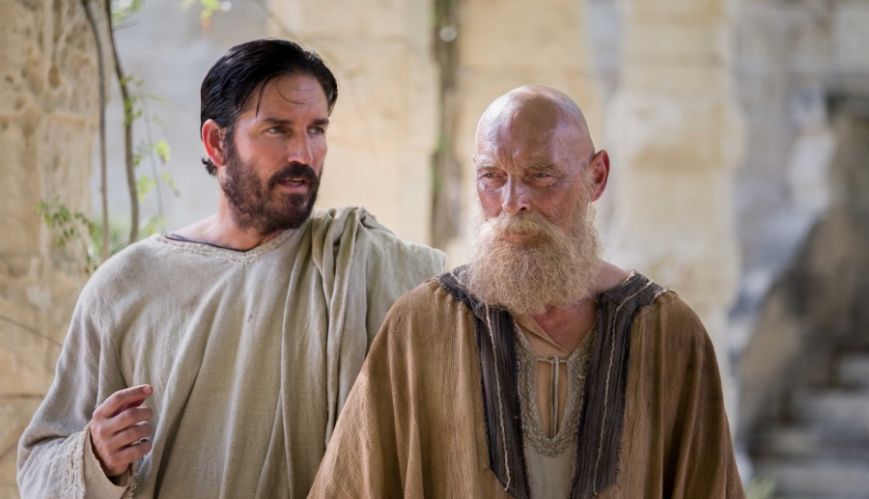 Movie review: Paul, apostle of Christ
2 April 2018
Paul, Apostle of Christ is an "insiders" film. It contains much to encourage the Christian who wishes, like Paul, to follow the clear commands of Jesus in a difficult period of history. But for those who are yet to believe in the saviour of the world, it might end up doing as much harm as good.
Paul, Apostle of Christ centres on the last days of Saul of Tarsus' life. Better known to the world as St. Paul, this pivotal leader of the early Christian church is played by James Faulkner.
He's pictured suffering in the depths of Rome's Mamertine Prison, while the Emperor Nero carries out a brutal oppression of the city's Christians. Paul has been condemned to death and is awaiting the orders for his execution.
During those final days, he is visited by his friend Luke (Jim Caviezel), who hopes to record any "final wisdom" the apostle might have to offer the struggling church. What emerges is a strong call to follow in the footsteps of Christ and forgive their persecutors, even if that persecution leads to the cruelest death.
There is much in Paul, Apostle of Christ to like. Both Faulkner and Caviezel deliver believable performances as men who've borne every form of suffering imaginable for Jesus, and still hold firmly to their faith. There is much also to be said for the way the film reminds us that persecution is regularly the fate of those who stand up for Christ.
The imagined community of Roman Christians, living under the leadership of Priscilla and Aquila, captures all of the tensions of those trying to safeguard their families while staying true to their beliefs. Also, in an age where today's followers of Jesus are facing increasing criticism for the same beliefs, Paul, Apostle of Christ provides a worthy reminder of the love that's supposed to validate our witness:
Persecuted Christian: "This world doesn't know a thing about love!"
Aquilla: "Then you would give up on this world that doesn't know Christ?"
Finally, and probably best of all, as a script-writer, I was amazed at the way writer-director Andrew Hyatt has managed to naturally translate Scripture into its characters' everyday speech.
The viewer is constantly reminded that phrases like, "We cannot repay evil with evil – evil can only be overcome with good," were tested in the lives of real people, before they became bookmark verses. Hyatt says this is a result of letting the Bible lead the way.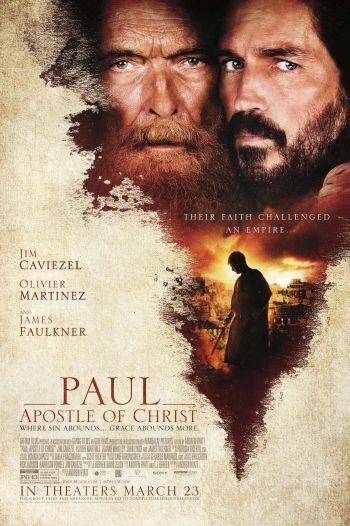 "Always the first step ... is study Scripture," he says. "We just stay with Scripture as the only source material. And then when we start to bring the humanity side of it, it just comes very naturally because we've done all the research and we've gotten all the experts to sign off."
But sadly, that's where the film's challenges begin. Historically, next to nothing is known about the final trial of St. Paul, his last days on earth, nor his execution. The Bible also has nothing to add, and so Hyatt nds himself beginning with conjecture and arriving at fantasy.
The film is repeatedly undermined by historical problems. To begin with, Luke spends a significant amount of time sneaking into a forbidding Mamertine Prison.
However, in Roman times he wouldn't have required this subterfuge. Friends of prisoners were regularly permitted access to care for their needs – it saved the guards the effort.
The film's suggestion that frustrated Christians could find swords and successfully storm the prison is still less likely. Even the truth that Nero turned Christians into human torches is weakened by unnecessary exaggeration. Images of burnt bodies lining the streets of Rome ignore historical accounts that indicate this torture was probably confined to the emperor's gardens.
In regards to the Bible, Hyatt has been unfortunately selective. Paul does write that, "only Luke is with me" (2 Timothy 4:11). Yet, the same passage that marks the gospel writer's presence, also notes that two of the film's other heroes, Priscilla and Aquila, are living on the other side of the Aegean Sea.
Other real-life dramas, like the betrayal at the hands of Alexander the metalworker, are set aside in favour of fictional "death's door" healings by Dr. Luke. In fact, the film spends more time inventing the actions of Luke in Rome than it does talking about the known events of Paul's life.
Now, you might rightly ask at this point, "Surely it's good enough that someone is finally telling an inspiring Bible story on the big screen?"
Believe me, I'm well aware how finicky my objections might sound. But speaking of Bible stories, a wise scriptwriter once taught me, "Never teach an audience something they'll later have to unlearn".
You might achieve a welcome emotional effect, but when what moved them becomes linked to fiction, it calls into questions every truth the film might offer. You don't have to look far to find those who suggest the Bible is a fiction. Why hand them the ammunition?
Paul, Apostle of Christ is a film I really wanted to celebrate – it's lovingly made, about a topic I really love. I just wish it was more about what we really know about Paul, and less of what we don't.
Paul, Apostle of Christ is rated M and is now showing.
Mark Hadley is the culture writer for Others and is one of Australia's leading Christian communicators.