Movie review: The Girl on the Bridge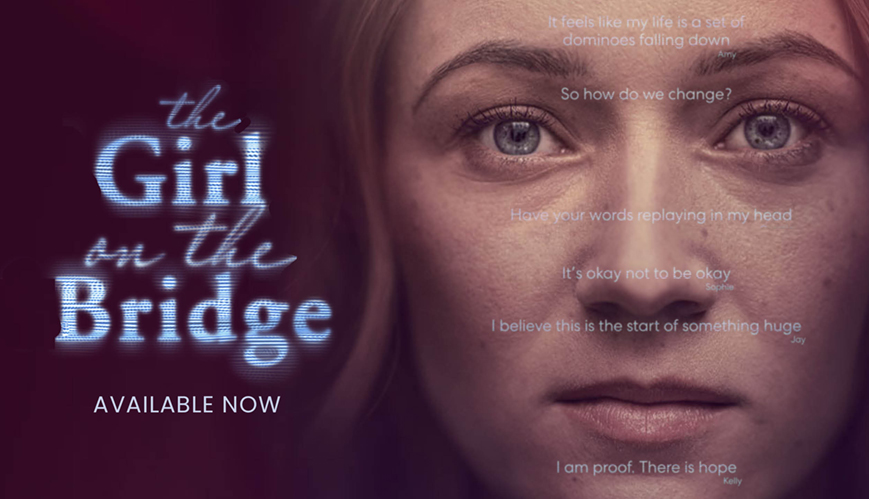 Movie review: The Girl on the Bridge
24 October 2020
New Zealand-based mental health advocate Jazz Thornton tells the story of her friend Jess in the documentary 'The Girl On The Bridge', revealing profound truths about her own journey overcoming suicide and abuse.
Reviewed by Jessica Morris
Trying to find words to describe the new documentary The Girl on the Bridge, about Jazz Thornton, is difficult when you are also a suicide survivor – because you know the world needs to see this story.
Jazz Thornton is unflinchingly vulnerable in the documentary.
Jazz Thornton is a pioneer for mental health in New Zealand. She is a survivor of suicide and sexual assault, an author, founder of the non-profit Voices of Hope, and director of the docuseries Jessica's Tree. And that is how The Girl on the Bridge introduces us to this powerful woman. We see her pitch, create and deliver the series, based on the final day of her friend Jess' life.
Her friend Jess died by suicide in 2015. Their stories are almost exactly the same, making them both 'the girl on the bridge' – but the endings are different.
This documentary is built as a behind-the-scenes of the docuseries and shows us how Jazz emotionally navigates two years of her life creating it. By intersecting their stories, we are given a glimpse into the ripple effects of suicide, and that means any person will resonate with this documentary.
Parental figures will find themselves in the father and stepmother of Jess. We watch Jazz interview them about their perception of their daughter's suicidality and how they didn't understand it during the first few attempts. And we see them grapple with the guilt of not being able to save their daughter.
Pastors and mentors will find themselves in Jazz, as she receives message after message from people telling her they have no hope. You will identify with the angst, the panic and the sense of duty that comes with stewarding lives and the need to change a flawed system. Friends and loved ones of people experiencing mental illness, or who have lost someone to suicide, will tear up when Jazz interviews Jess's friends. And we see them wrestle with what is confidentiality when a friend is at risk, and the fall out of losing a friend so young.
Me? Well, I found myself, and many of my friends, in Jazz Thornton. And it's because I could have been the girl on the bridge and carry my story of survival from suicidal ideation with the same sense of flint-like purpose.
Irrespective of where you see yourself in this documentary, you will find that something inside you shifts once you watch it. Because when we see Jazz talk to students, a radio announcer, a journalist – about tackling the stigma of suicide, you sense the fire of God in a woman who overcame the darkness.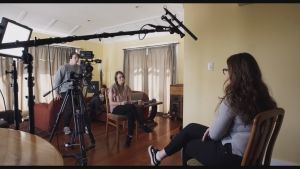 In 'The Girl on the Bridge', we see Jazz interview the family and friends of her friend Jess, who died by suicide in 2015.
And you will also catch the Holy Spirit-inspired flame of determination that drives Jazz Thornton to give up her life to save everyone else's – a mindset that healthily shifts by the end of this film when Jazz says, "It's not our job to save people. It's our job to care, to care enough and to care in the right way that people who are struggling can save themselves."
A common concern that comes up when talking about suicide is that it actually increases death by suicide. As Jazz shows us beautifully through this documentary, not talking about suicide is not an option – it is the leading cause of death in Australia for people aged between 15-44. And for the more than 3000 individual lives we lose to suicide each year, an additional 65,000 Aussies attempt suicide (The Black Dog Institute). It is clear that this is real, and unless we do talk about it, it's not going anywhere.
That is why how we talk about suicide makes all the difference – and this film tackles the nuances of that head-on. We see Jazz fight the glorification of suicide, and she works with her team of filmmakers, lawyers and mental health professionals to combat stigma as they make a docuseries that saves people from suicide, rather than triggering a copycat response – a responsibility that Jazz carries heavily.
This is an incredible documentary that every person will find themselves in. It is not easy to watch, and the importance of Jazz's message will reach you at the core of your being. This is a rallying cry, telling us that we each have a part to play in fighting the epidemic of suicide.
And, in The Salvation Army, we do it 'one life at a time', with compassion, knowledge and empathy – in Jesus' name. And it starts by watching this film.
The Girl on the Bridge is screening in selected cinemas and online now at thegirlonthebridgefilm.com.au.
If you are struggling and need support, please call Lifeline on 13 11 14. For international helplines, visit the official The Girl On The Bridge website here.