Music Review: I Give You My Heart by Sylvie Paladino
Music Review: I Give You My Heart by Sylvie Paladino
3 January 2017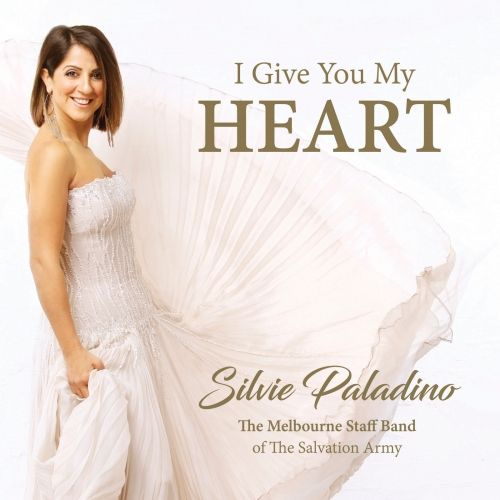 By Chris Brindley
Inspiring, powerful, uplifting. Silvie Paladino and the Melbourne Staff Band are together again on an immaculately presented album that unashamedly presents the gospel message. Whether it is Silvie's breathtaking vocals, a world-class band or simply great music, this album is both an experience and a ministry in itself. From classic hymns to energetic contemporary pieces, the selection of music is both engaging and enjoyable.
We jump straight in with a flawless rendition of Chris Tomlin's Crown Him [Majesty]. From a majestic beginning and a verse filled with awe, the song builds to a chorus with Silvie in full voice and backing to match, proclaiming the glory of the King. While the title may be unfamiliar, Nella Fantasia is based on one of the most famous and wellloved oboe solos in the repertoire: Gabriel's Oboe by Ennio Morricone, the theme from the movie The Mission. Silvie's Italian heritage allows her to navigate the lyrics with the beauty and peace that they speak of.
Of the several brighter pieces on the album, the rhythmic and Latin-styled Almighty lifts up praise with tight accompaniment and high-energy solos. There are three pieces by Carol Cymbala (Director, Brooklyn Tabernacle Choir) which Silvie sings including the narrative-styled Oh The Cross, and the energetic Declare Your Name. Bringing the message of the gospel home, however, is King of Glory, in which Silvie includes a challenge to the listener, describing Jesus and the gift of salvation.
During rehearsals, Silvie talks about the challenge that it is to be a Christian in the musical-theatre scene, risking reputation, acceptance and her livelihood when she shares her faith. Despite this, she has been faithful in boldly declaring the message of the gospel, and with the support of the band, has challenged thousands in their faith at concerts across Australia, the UK and USA. On this album, she has presented moving renditions of the classic hymns Amazing Grace and Abide With Me as well as more recent worship offerings including Reuben Morgan's I Give You My Heart. Jesus Paid It All is a beautiful piece also appearing on this CD and was performed as part of Silvie's 2015 "When You Believe" tour.
Jesus I Love You is a simple, honest and heartfelt acoustic arrangement featuring Silvie and music industry veteran David Cameron on guitar. As the final track on the album, More Than Wonderful is a piece which Silvie regularly shares was a pivotal point in her faith. She collaborates on this piece with Fatai, semi-finalist from The Voice (Australian, season one).
I Give You My Heart can be purchased from Salvationist Supplies: thetrade.salvos.org.au or phone (02) 9466 3257.