Music review: We are forever yours by Devin Williams
Music review: We are forever yours by Devin Williams
20 January 2018
Review by David George

Devin Williams is a singer/songwriter leading the worship congregation at Grace Baptist Church in Springfield, Tennessee, USA.
Williams, a six-time Billboard Top 30 Christian artist, has served in Christian ministry for over a decade in active pursuit of the King's desire for heartfelt worship.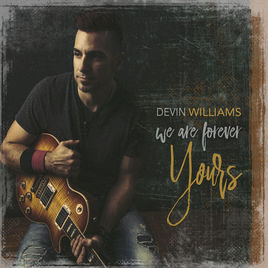 We are Forever Yours is the latest in a diverse line of albums and EPs Williams has released into the Christian market. It features six new guitar-driven, vocal lead tracks bound to usher the listener into the Father's heart.

Williams' style is reminiscent of worship music of the late 90s and early 2000s when honest lyric truth and melodic simplicity reigned supreme. With sparse layered guitar at the essence of the accompaniment, elongated electric guitar chords in place of piano synthesiser, driving drumkit and guitar "chugging" for momentum, the style remains accessible and comfortable to those of this era.

The lyrics remain focused on the individual and personal relationship with Christ, with particular emphasis on God's ever-present, ever-accessible nature. Williams avoids any vocal gymnastics and instead leads a set of moderate "tessitura" worship songs, that is those in a mid-vocal range, designed for use in congregational worship.

Upon first listen, those of country ilk will not be disappointed by its distinctive Nashville feel. These worship songs easily fit the current style of the contemporary worship music with a slight twist of the soft rock prevalent in music of recent years.

Williams speaks the great truth of God's character in these tracks and with modest musical style and truth-filled lyric, this album is a great reminder of the simplicity of connection in heartfelt worship with our Saviour.

We Are Forever Yours is available now on iTunes.