Streaming review: Raised By Wolves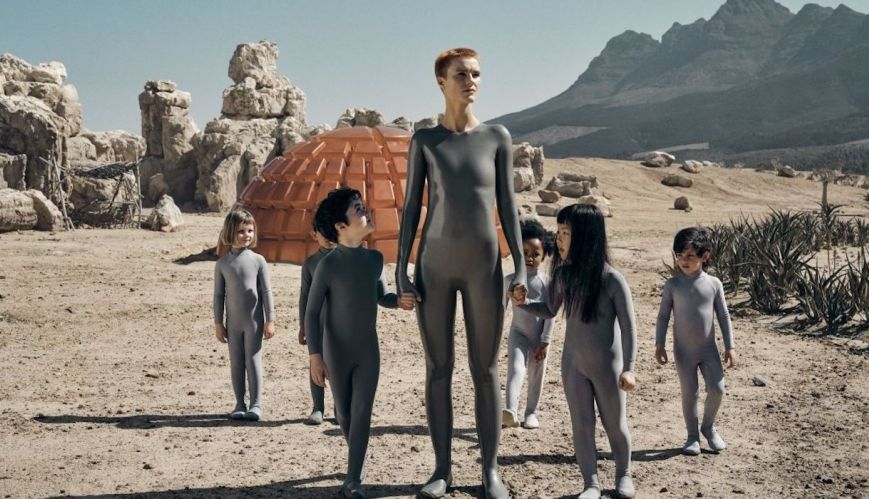 Streaming review: Raised By Wolves
17 October 2020
Raised By Wolves clearly aims to convey that there is good and bad on both sides of the faith debate.
By Mark Hadley
Ridley Scott is a venerated name in the annals of science fiction history. He's directed numerous benchmark films – Alien, Blade Runner, The Martian – and that would be enough for anyone. But what happens when he applies his director's flair to a high-concept television series? An epic battle between atheists and people of faith.
Raised By Wolves is set in a possible future where a polarised conflict has devastated the earth. On the one side, atheists vehemently opposed to anything but cold hard fact. On the other, believers in a higher power, determined to cleanse the world of their ice-cold enemies. The damage is so extensive, though, that both sides make plans to travel to the uninhabited world to rebuild their versions of civilisation.
It's in this context we meet two androids: Mother and Father. They have been entrusted with 12 embryos who they will raise as complete atheists. As Mother says, "It was belief in the unreal that destroyed the earth".
However, their abilities to care for the result­ing children are unsuccessful and only a single boy survives. And young Campion's life is complicated still further when a ship carrying hundreds of Sol (sun) worshippers arrives.
Scott's division of humanity into atheists and believers is deliberate and stark. Mother is characterised as a heartless killing machine who despatches her victims with shrill screams. The worshippers of Sol are presented as a peaceful community who love their children and are determined to rescue Campion. But as the series progresses, Scott begins to mix up their black and white hats. Mother displays a capacity for love and an instinct that will do anything to see Campion thrive. It also becomes clear that the religious commu­nity is built on a caste system, corrupted by self-interest, and contains a leader responsi­ble for numerous sexual assaults. After a few episodes, it becomes unclear who the 'wolves' are in the show's title.
Raised By Wolves clearly aims to convey that there is good and bad on both sides. What Christians might need to hear in particular, though, is that atheists love their children too. It's very easy to picture those who preach a godless universe to be as cold as the rhetoric they espouse. But neatly cate­gorising them as the enemy allows us to just as easily forget our responsibility:
"Then Jesus came to them and said, 'All authority in heaven and on earth has been given to me. Therefore go and make disciples of all nations, baptizing them in the name of the Father and of the Son and of the Holy Spirit …'" (Matthew chapter 28, verses 18-19) – atheists included.
It seems Scott also believes faith isn't anath­ema to rational thinking. Even before he meets believers, Campion instinctively learns to pray. This ties in with the research behind Born Believers, by developmental psycholo­gist and anthropologist Dr. Justin Barrett, who demonstrates that children enter this world with an intuitive knowledge of the divine: "[Richard] Dawkins has suggested a view of the developing human child's mind that assumes the young mind is a blank slate just waiting to be filled in …[But] those of us who study religious thought and actions – scientists and scholars – do not see religious ideas as intruders into human nature but as a wholly expected extension of the way humans are naturally put together (Justin L. Barrett, Born Believers: The Science of Children's Religious Belief, 2012)."
And so, Campion grows up holding rational thinking in tension with his faith, realising there are things he doesn't know that rest in the hands of an omnipotent God.
Raised By Wolves, rated MA15+, is free to watch on Binge under a trial plan, and well worth considering for those interested in the culture wars between atheists and believers. Its strongest message, though, can be viewed right here. We're free to oppose every argu­ment offered by those who oppose the good news about Jesus Christ, but we must speak that truth in love. After all, atheists are not the enemy, just people who've yet to meet God.
Mark Hadley is the culture writer for Salvos Magazine