'It took time, but I got there, thank God!'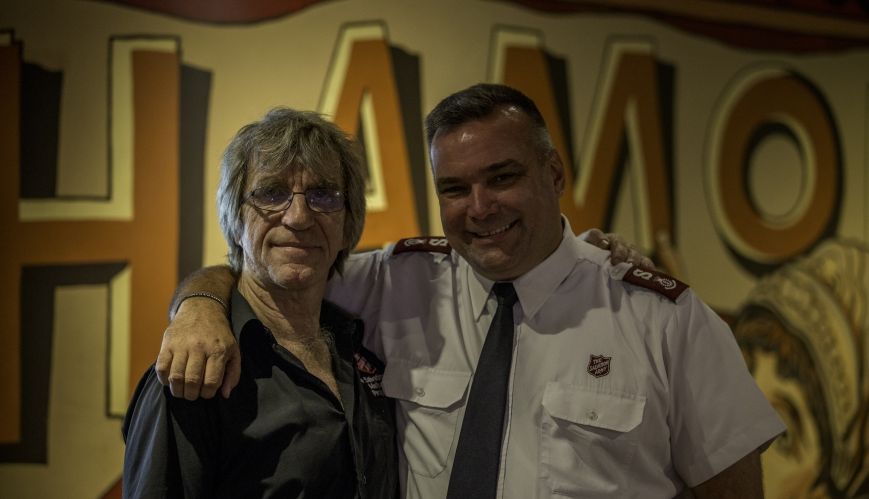 'It took time, but I got there, thank God!'
Trevor (left) with Major Brendan Nottle. Trevor now works at the Magpie Nest Cafe at The Salvation Army Project 614 Corps in Bourke Street, Melbourne. In the past decade he has gone from receiving help and hope, to serving it to people doing it tough across Melbourne.
After being retrenched, Trevor struggled with drinking and gambling. Things began to change when he came to The Salvation Army 614 in Melbourne – and he was given more than housing and a job – he found hope in Jesus.
By Trevor Wulf
I'm a born-and-bred Victorian, and I came into the world in Dandenong. I'm 63 now.
I had a long-term job with Kodak, starting in 1992, and that was a large chunk of my life until I was retrenched at the end of 2004. I was shocked, because I thought I'd be there until I retired.
At the age of 48, going on 49, I found it hard to get back into the workforce. I had a job at a meat factory that went well until the company went bankrupt.
I wasn't raised as a church person; I used to drink and gamble my money away. I came to the Salvos at Melbourne Project 614 in 2010 because I was broke. They listened to me, understood me and they helped me. That made an impression. I started volunteering the next year.
We used to have Recovery Church in the temple on a Tuesday night and I started attending, then started going along to the Sunday meetings. I started helping with things.
I gradually became a Christian – it took a while to sink in, and for my life to change. It took time, but I got there – thank God!
In 2013, the Magpie Nest Program started, and I got housed. The next year, Major Brendan Nottle asked me if I wanted to work for the corps as a cleaner. I took him up on the offer, and I have worked and worshipped here ever since.
In 2015, a position opened up, working in the cafe; I applied for it and got the role. I later did three years of the night cafe, which was fun. But I wasn't getting any younger, so I asked to go back on the daytime shifts.
God is a big part of my life. These days I wake up and I am rapt to be alive. Life is good. I've recently moved into my own place in Footscray and I am happy.
As told to Barry Gittins.