It's a GOOD Friday for Craig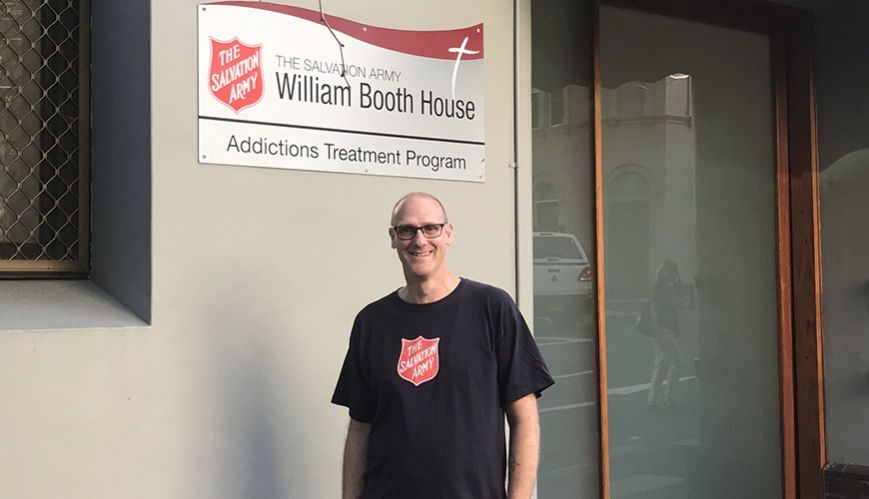 It's a GOOD Friday for Craig
Captain Craig Harlum celebrated 20 years clean and sober on Good Friday 2021.
By Naomi Singlehurst with additional reporting from Lauren Martin
This Good Friday, Captain Craig Harlum will join Salvationists and Christians around the world to remember the sacrifice Jesus made to bring us life to the full in relationship with God. He will also be celebrating his own life – Good Friday 2021 marking 20 years of being 'clean and sober'.
It was on Good Friday 2001 that Craig finally realised he had a serious addiction problem. He spent the day calling rehabilitation centres, but each one he tried to contact was closed until he reached the last on the list – The Salvation Army's William Booth House. He got through, and that one phone call put Craig on a challenging journey that eventually led to Salvation Army officership.
Although he doesn't use it as an excuse, Craig believes his struggles with self-image and addiction started after years of violent bullying when he returned to Australia after being at school in the United States for three years.
At 16, Craig finally found acceptance with a group of older guys who smoked marijuana. He later became addicted to gambling, marijuana and even heroin. By his late 20s, his weight had plummeted to less than 40 kilograms.
His voice still chokes as he talks of his time at William Booth House: "I was so ashamed and guilty about who I had become, but they just loved me anyway," he says.
Determined to find the source of that love, Craig says he slowly came to recognise it was Jesus. In his third week in recovery, he was given a copy of the New Testament, and read it all. Craig was later invited to an Alpha Course run by Major Colin Maxwell and Captain Sandra Edge, who was a soldier at that time. It was at the Alpha 'Holy Spirit weekend' that Craig accepted Jesus as his saviour and asked for prayer to be filled with the Holy Spirit.
"I started shaking profusely, almost convulsing. It was a full-on conversion experience!" he recalls. Craig graduated from recovery and in 2004 became a Salvation Army soldier at Sydney Congress Hall. The moment he saw himself in uniform, a powerful memory hit him.
"I remembered when I had only been three weeks at William Booth House, seeing these people in Salvation Army uniforms," he says. "And I remember clearly in my heart hearing the words 'You are going to be doing that one day'.
"And I had no idea at the time what that meant. I didn't know anything about The Salvation Army."
Now, as a captain in The Salvation Army, Craig is back in Sydney serving at the same mission expressions that changed his life 20 years ago. As Inner-City Network Chaplain in Sydney, he provides spiritual support and offers faith pathways for Salvation Army employees, volunteers and community members who access Army services in the city.
And every Wednesday night, he is part of a team of city Salvos who meet at Sydney Congress Hall for a city-wide faith expression called 'Wednesday Nights with City Salvos'. He says it is heart-warming to journey alongside people with similar issues to the ones he was facing two decades ago.
"These are my people," he says. "I became a soldier here, 20 years ago. This has been a very special space for me."
As to what he'll be doing on Good Friday, the 20th anniversary of his new life, Craig says he won't be celebrating himself, but will "celebrate Jesus!"
Naomi Singlehurst is Content Specialist - Mission for The Salvation Army's Brand and Marketing Department.