Love of God shines in the darkness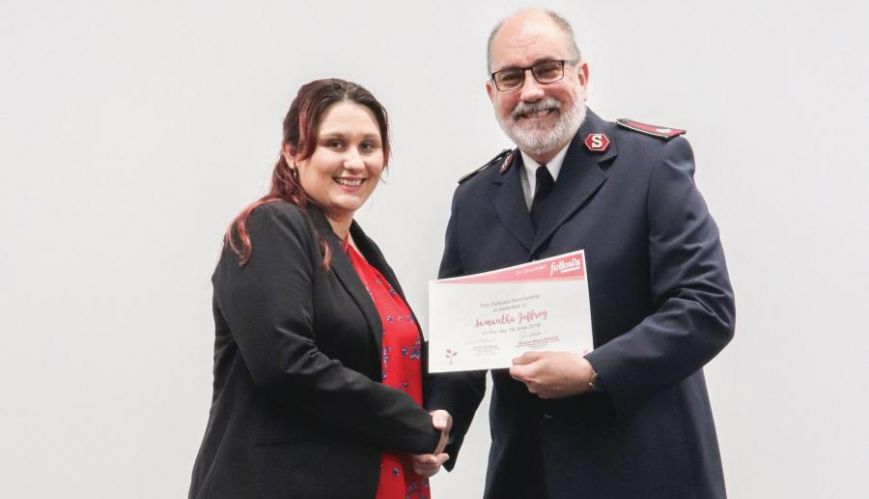 Love of God shines in the darkness
Samantha Jeffrey receives her Aged Care Plus Fellows Program scholarship from Colonel Wayne Maxwell.
By Samantha Jeffrey
I come from a non-Salvation Army background - my parents never went to church.
So, I've married into The Salvation Army! My husband's grandparents used to run Salvation Army corps, and they went to Vietnam during the war for the Salvos. His family is very much a Christian family.
We would go to church every Christmas just for the Christmas service and I loved it. I said: "We should go more often."
So, we started to go every week for the kids. Then I started volunteering.
I have been going to the Mandurah Corps (in Western Australia) for about five years now, but it's really been over the last two or three years that I've actually started my journey with God.
I originally started going to Mandurah Corps because the people were lovely.
They kept me going because I felt welcomed and wanted. Then I began to realise, "Well, I'm not meant to be going just for the people".
I did the Alpha course, which was a fantastic course, and that really started making me ask questions and really start to think about God. I then did the Experiencing God course, which was really very much my "jumping off the fence" or "getting through that wall".
That was the start of my love relationship with God. It was very much a turning point. It made a huge difference in my life because up until that point I had been struggling with depression.
Having a young autistic child was really hard and everything just seemed so dark and horrible, and then I came to this realisation that there is a God and that he does love me.
Everything since then has been so much more brighter and easier, and even when I face troubles it just doesn't seem anywhere near as horrible as it used to be.
Now, I'm studying a Diploma of Ministry after being awarded a Salvation Army Aged Care Plus Fellows Program scholarship.
Without the scholarship I would never have been able to set aside the money to do it.
The course is a program that is based on an internship, so I can do 15 hours a week in my corps plus 10 hours a week study and still fit in all my volunteering at the corps.
I've got the love and the spiritual side, I just need the knowledge. I also do youth leadership and the Mainly Music program and a Saturday program, which is basically "messy church".
I am passionate about youth - building relationships with the kids and knowing that they've got somewhere they can go and someone that cares for them.
I want them to feel that they can come to The Salvation Army, that it's a safe place, they can grow and they can have friendships here. It's really important.