My Christmas wish is to spend it in church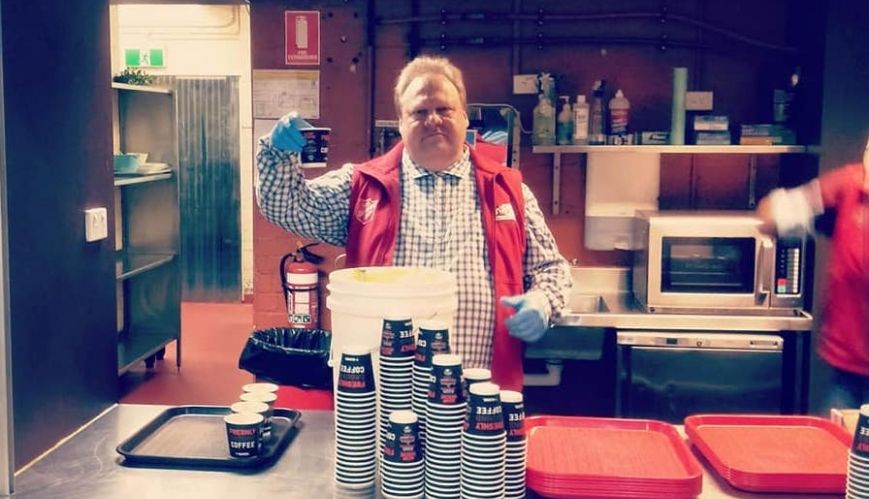 My Christmas wish is to spend it in church
Scott says he has found a family and renewed purpose through The Salvation Army Project 614 in Melbourne, where he spends time volunteering in various capacities.
Scott Chamberlain says he has known God all his life but went "off track" when he started partying. When he joined The Salvation Army at Project 614 in Bourke Street, Melbourne, he reconnected with God and found a community who loved him. He shared his story for Others Online:"
Scott is known as 'Mr Fundraising' for The Salvation Army.
Hi, I'm Scott Chamberlain. I'm 49, I live in Melbourne and I belong to The Salvation Army Melbourne Project 614.
I'm a born-again person, and I've known God all my life. I have found in my life that if I don't do church, then things go downhill for me.
I used to be homeless and I was an alcoholic who used drugs and partied. I did not look after myself. I've been there and done that, you know? Life's not easy. I am not the person I used to be, thank God, and I am a lot happier now.  
I joined the Salvos at Melbourne Project 614 in 2016 and they are my family. I was a concierge at the corps as part of my service. Majors Brendan and Sandra Nottle [church leaders at Project 614] are wonderful people; they get to know you and really help you out.
I am known as 'Mr Fundraising'. I like collecting for the Salvos, and I am their best donut seller. I had fun appearing on the Channel Nine Sunday morning show when they sent a crew to Project 614 for the Red Shield Appeal. We did live crosses with Dickie, and I was a big hit. I did community radio for many years. I love to have a laugh and a joke, and I love hanging out at 614. I really miss that right now [during COVID-19 restrictions].
Every Sunday, before this year, I liked to help get lunch ready and hand out booklets. I am also involved with the 614 choir on Tuesday nights. We have gotten together over the phones and video chats, but I miss going to church.
God is always with me; God never lets me down. He hears my prayers and he is with me – he's got my back. It would be so good to have church face-to-face again. It's hard to be a Christian in lockdown; you get lonely. Sometimes your faith goes downhill when you can't be with your [church] friends, you know? I really miss them.
COVID-19 is horrible. I miss my church and I miss my mates. Because of my asthma I am in danger of getting sick, so I have had to mostly stay home for nearly all of this year.
I pray to God for peace, for 614 and my friends, and for everyone who is doing it tough. I am a caring person and I choose to pray because I want God to remember my friends.
I have not been well and I may need to have surgery later this year. I lost my father, my brother and my uncle to bowel cancer and I don't want to go through that myself or lose anyone else. It was so sad. My friends and family at the Salvos have been supportive of me and everyone has been really good.
I pray that we can be back at church for Christmas. I want to spend Christmas Day with God and my friends at church.
If people haven't gone through what we have, if they haven't suffered what we have in Melbourne, then they don't get how hard it has been. They don't understand what we are still going through.
I am going to do soldiership classes when I can. I want to encourage you as you read this; God will hear your prayers. God bless you all. God loves you.
Editor's Note: Scott wrote shared his story with Others Online during the height of the COVID-19 lockdown in Melbourne