Pain with purpose gets Brad up and running again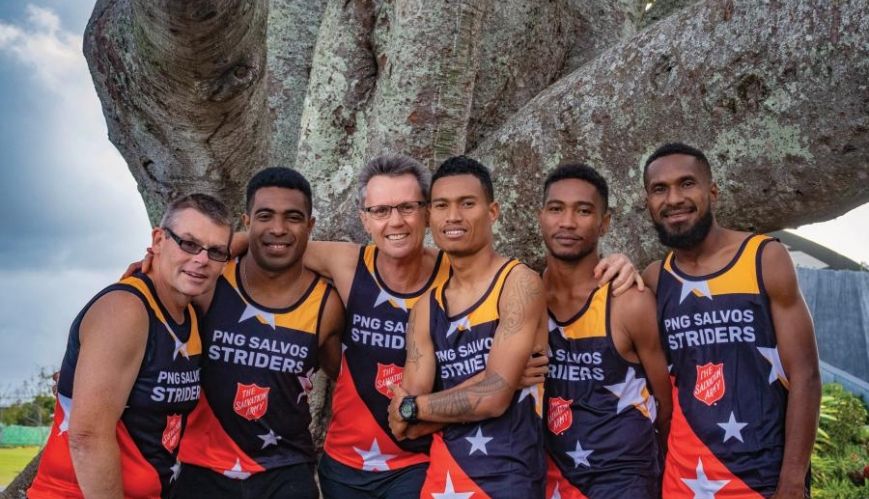 Pain with purpose gets Brad up and running again
Captain Brad McIver (left) was part of The Salvation Army's 2019 Hope and a Future running team, which mentors young Papua New Guinea leaders.
By Brad McIver
I have never thought of myself as an athlete, let alone a marathon runner. But, after many years of struggles with my body and food, it was a body, mind and spirit transformation over 10 years ago that allowed me to experience freedom in all of the senses of the word. And yes, I have run many thousands of kilometres since that time.
Having grown up in the Salvos as the child of parents who were officers (pastors), and knowing the Salvos and our theology as the basis for my faith as a young man; I, like many others, sought fame, fortune and career through a range of pathways. These included hospitality, construction, sales and community service work.
I was married and became a father at a young age. Through my early adulthood, I became drawn to alcohol and tobacco as ways to cope with stress and, I guess, to also be accepted among my peers. I kept up the attendance at church and the service aspects of being a Salvo for many years. Certainly, there was for me an ongoing struggle of values at play in my life. At times, I was feeling very close to God, and at other times feeling very far from him and anything but a representative of Christ and his love for the world.
Don't get me wrong, if you asked most people, they would probably say that I was a pretty good bloke, a pretty good husband and father. But I knew that I really was living two lives – the inward and the outward self were not in sync and certainly not in step with God.
This escalated once we arrived in the Northern Territory in late 2004 as a family of six, and I had a really well-paid leadership role with a construction product supplier. By this stage, my chubby boyish weight that I had always been embarrassed about, and which often limited my involvement and capacity for sport and being active, had blown out to a crazy 140kg. I was stressed, and my drinking and smoking were pretty well out of control.
Despite going through the outward observance of religion at that time, I did not have a living experience of the Holy Spirit at work in my life. I'm sure he was there, and I'm sure that he was probably the voice that would call me to account for some of my dumb decisions, but I was choosing to ignore that voice.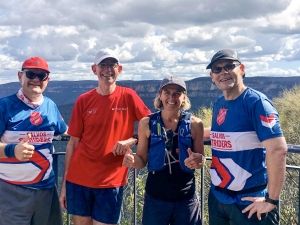 Captain Brad McIver (right) regularly runs with other Salvos including (from left) Major Bryce Davies, Major Clayton Spence and Lauren Martin.
Ultimately, I experienced a workplace breakdown and lost my job because I was so dysfunctional. This triggered Fibromyalgia and Isaacs Syndrome (which took three years to diagnose). Through it all, my amazing wife and family, as well as friends, supported and cared for me. It was at this lowest of low points for me that I fully surrendered to God, literally crying out for him to take control and, of course, he did. I really can't describe the experience in any way, other than being completely washed clean by the presence of God through the Holy Spirit.
This commenced a slow but deliberate focus on developing healthy rhythms physically, mentally, emotionally and spiritually. Little steps, baby steps, but always a forward step. A short walk, a mentoring conversation, a time of silence and prayer, a time of sharing with other men about my feelings. Simple things that, together, started to allow me to accept and love myself, to see myself as God sees me.
With each step, prayer, scripture reading and mentoring session, I felt stronger and healthier, Eventually, marathons, cycling, swimming, bushwalking and team sport became the spaces where I could meet with God and meet with others. There was a wholeness in me I had never experienced before. Oh, and I had lost 60kg along the way, so that was kind of cool.
My encouragement to you, the reader, is this: How might your full surrender to God, to his will and purpose for your life, transform you in ways that you never expected or have never experienced before?
Captain Brad McIver is the Salvos' State Manager for Homelessness in NSW and the ACT.