Taking a punt on God the best decision of my life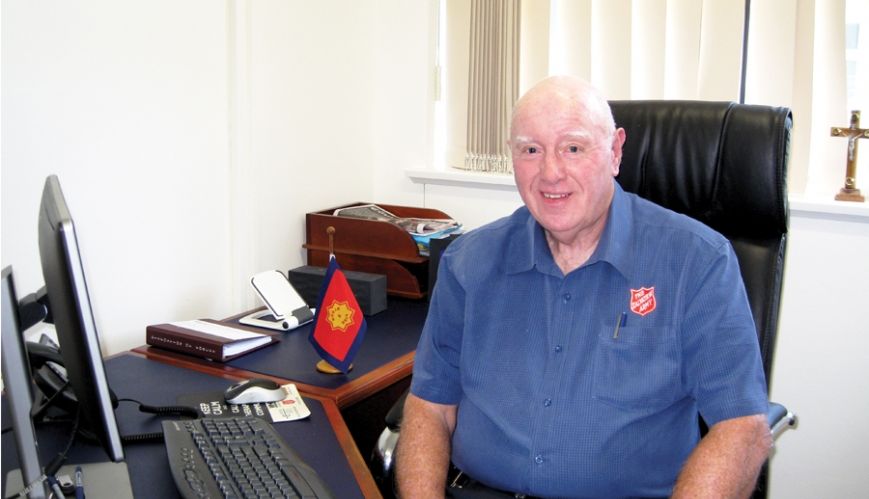 Taking a punt on God the best decision of my life
I grew up in the Salvos and was really involved with things, but I didn't have a relationship with Jesus and took some wrong paths with the wrong people along the way. I was addicted to gambling, mostly dog racing.
I would work at my government job for a few minutes each morning, play poker until lunchtime, be seen by the right people over lunch, and sleep in my car all afternoon to be ready for the night's gambling. I went to different greyhound racing venues each night and would visit friends with dogs. I was also abusing alcohol and cigarettes – I'd been smoking for 15 years.
Christine and I got married and then children started coming along. Christine asked whether I was going to continue to live like this in front of my children and I said no, but change didn't happen for a while. I soon felt, though, that it was time to change and was attending an Army corps. I went to a corps seminar and there was a challenge to memorise three Bible verses. I thought I'd give it a go and it changed my life. One of the Major Graham Tamsett has been freed from a life that was weighed down with 'baggage, junk and rubbish'. verses was 1 John 5:1-12: "God has given us eternal life, and this life is in his Son. Whoever has the Son has life; whoever does not have the Son of God does not have life."
Here I was, a person who'd been in The Salvation Army all his life, but had never been convicted by this. The leader asked who had never invited Jesus into his heart and life. I was that person; I had been around but never done those things, never become a Christian. I invited Jesus into my heart and life and started learning more scriptures. I learned to ask God about things, my life changed, and joy became a part of my life.
I was sometimes tempted to do some of the things I did before, but then I realised I can have victory over temptation. All I had to do was read 1 Corinthians 10:13: "No temptation has overtaken you except what is common to mankind. And God is faithful; he will not let you be tempted beyond what you can bear. But when you are tempted, he will also provide a way out so that you can endure it."
I had so much baggage, junk and rubbish in my life, just like the people I now minister to at Moonyah (The Salvation Army's Brisbane Recovery Services Centre), but I now knew I could be released from that. I claimed the promise of 1 John 1:7: "But if we walk in the light, as he is in the light, we have fellowship with one another, and the blood of Jesus, his Son, purifies us from all sin." This promise was for me and it changed my life. So did Proverbs 3:5-6, about acknowledging God in all our ways so he will make our path straight. Most of us don't do this because we don't want to submit to God in all our ways but if we do, always, and not just when we feel like it, he will make our paths straight – but they won't be easy!
As I grew spiritually, my work ethic changed and I tried to work harder, and make up for what I'd taken. I heard God telling me to leave that job and become a Salvation Army officer. I eventually obeyed him and have been on the journey ever since. So, I challenge you to do whatever it takes to get your life pointed in the direction it needs to go.