The best Christmas present ever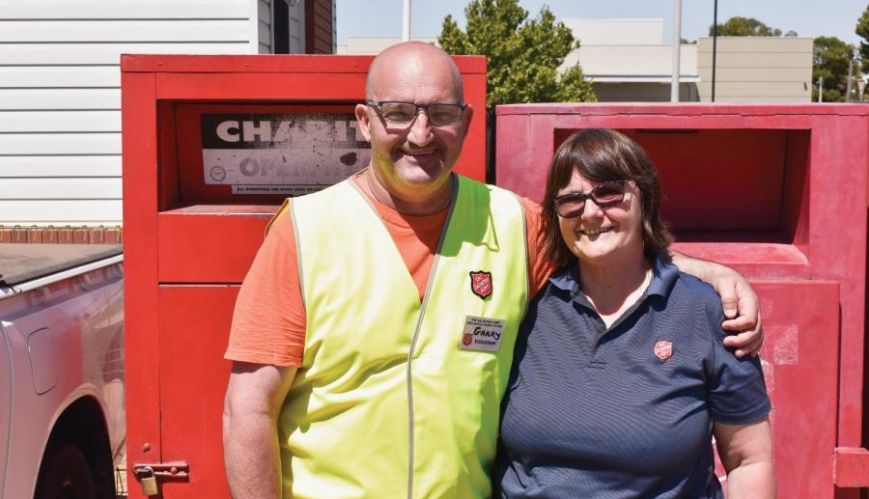 The best Christmas present ever
Garry at the Family Store in Griffith with Corps Officer Major Lyn Cathcart.
By Garry
For most people, a rehabilitation centre at Christmas would be the last place they'd want to be.
For me, seven weeks into my second attempt at recovery from an alcohol addiction, being told my rehabilitation centre would close for two weeks over Christmas was devastating.
I'd tried rehab the year before and had relapsed the moment I got home. I didn't want that to happen again, so I asked the centre if there was any other option to remain in residential recovery over Christmas.
Someone mentioned The Salvation Army might be able to help. A lady from the Salvos in Canberra got in touch and told me I could stay at their Recovery Services centre.
Looking back, I believe it was a God thing. It was just such a coincidence that the rehab I was at closed for two weeks, and so I ended up at the Salvos.
My whole attitude to recovery changed after that. It was the spiritual side with The Salvation Army that made all the difference. On Tuesday nights they had family night, and if you had family in Canberra they could come in and have dinner with you.
Then afterwards, you had chapel. The way Captain Amanda and Daniel (Ross) preached, the way they brought the Bible to life through the way that they spoke, was really uplifting. I started to reconnect with my childhood faith.
When I got to Canberra Recovery Services it was like a faith renewed, and I'm forever grateful.
I'd lost two marriages due to my addiction, and also my job. I would go to work drunk, and then drink while I was there. I would have alcohol in the car, and I used to sneak out and have a drink. I couldn't live without it.
But spending Christmas at the Salvos centre, sober, free and safe from temptation, was the best Christmas present I'd ever had.
And it was the start of a wonderful transformation. I slowly learned to take responsibility.
Before, when I was in my addiction, I had no responsibility. I was blaming everyone else, but at the Salvos centre I got better every day.
After spending nearly a year at Canberra Recovery Services Centre, then living for a few months at a Salvation Army transitional housing accommodation service, which kept me connected with chapel and supported by my counsellors, I felt strong enough to return home to Griffith.
The first thing I did was go to the Salvos. I initially stayed in Salvation Army crisis housing in Griffith and I also began working 15 hours a week at the Griffith Family Store, driving the truck, making and picking up deliveries.
I then found my own accommodation and at the end of October I got enrolled as a senior soldier at Griffith Corps. The feeling of freedom from not having to feed my addiction is amazing.
I've made new friends and reconnected with old ones, and I'm looking forward to undertaking further study in the community services sector so that I can give back to others, just as God, through The Salvation Army, has given me so much.
And I'll never forget the best Christmas present I've ever received – when I got to spend Christmas Day at a Salvation Army Recovery Services centre.