The freedom of forgiveness
The freedom of forgiveness
Ildephonse (left) prays with Edward Conteh, the Assistant Corps Officer at Auburn, during a church service.
By Ildephonse, of Auburn Corps
I was born into a Christian family in the African nation of Burundi. Our country, and neighbouring Rwanda, were thought of as one country. Our ethnic groups were Hutus and Tutsis, but I didn't really know much about them. I went to church and Sunday school, my parents loved God and life was good.
In 1993, soon after the civil war between the two countries erupted, the killing began. Members of my family were killed. We moved to a refugee camp where we stayed for 10 years. I was 10 years old at the time.
My parents tried to protect me, telling me that my cousin, grandma and others killed had gone to heaven. But I knew what was happening. This hurt me a lot.
One morning, I was playing with my two-year-old brother, Jonathan. I used to look after him when Mum was cooking or doing other things. Early the next morning, I heard mum crying. Her grief was deep. Dad told me Jonathan had died. I couldn't understand – he hadn't been sick; we'd just been playing together. Mum said it was the cold in the structure we were living in and not having enough blankets. He had died from the cold.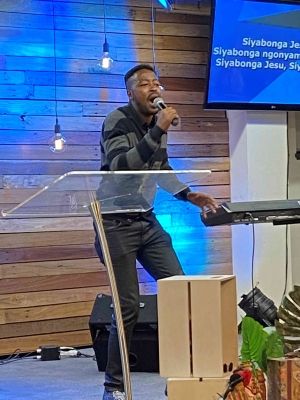 Ildephonse loves to sing and worship at Auburn Corps.
I was consumed with rage and hatred. I stopped going to church. I was angry at God – why had he created us like this, to hate and kill? It was a very dark time. So many of my generation have struggled with mental health, and many are in prison because of what we've gone through and what we saw.
One day, when I was 17, I didn't have anywhere to go, so I went to church. A lady was preaching, and it was like she was talking just to me. I gave my life to God, and through his power – only through that – I have been able to forgive the killers and find healing. It didn't happen in one day – it was a journey – but over time, it did happen.
From 2013, I worked as a translator for the American and British armies who were training our national forces in the fight against terrorism.
In 2015, after a constitutional crisis in Burundi, the killing started again. So I left the country and went to Rwanda and then to Kenya. My three younger brothers joined me, as they knew they would soon be killed if they stayed.
In 2016, I applied to the UNHCR in Kenya (United Nations High Commissioner for Refugees) to transition to a safe country. They told me to wait, as they were in negotiations with the Kenyan Government to keep the refugee camp open. We had nowhere to go and were terrified. I prayed and applied for a visa to get to Australia. It was granted.
I arrived in Sydney on 30 July 2016 and began the journey of seeking asylum. I applied for a protection visa, which was approved on 17 December 2020.
A few months after arriving in Sydney, I connected with The Salvation Army at Auburn Corps. They showed me so much love and support. They listened to me, made me feel welcome and helped me with food, clothing, prayers and in so many different ways.
I just kept going back to Auburn Salvos. I felt at home there; I heard the Gospel and felt it was my church. I am one of the worship leaders there now; I do some speaking and am very involved.
I am now working in a recycling plant, but I have applied to be a full-time officer with the Salvos. I would love the opportunity to serve God full-time. The Salvos trusted me, encouraged me and fed me physically and spiritually, and I now want to do the same for others.
My brothers are still in Kenya and are protected there. I have one sibling still in Burundi. My prayer is that God will open the door for them to join me here in Australia.
There have been many hard times for me, but God had shown me his grace and love, even through those times. That is why I love him.
I could not have forgiven those who killed my family and allowed my little brother to die without God's love. His love healed me, I was able to forgive, and my life has changed.