Boonie hits a hole-in-one for Salvos Housing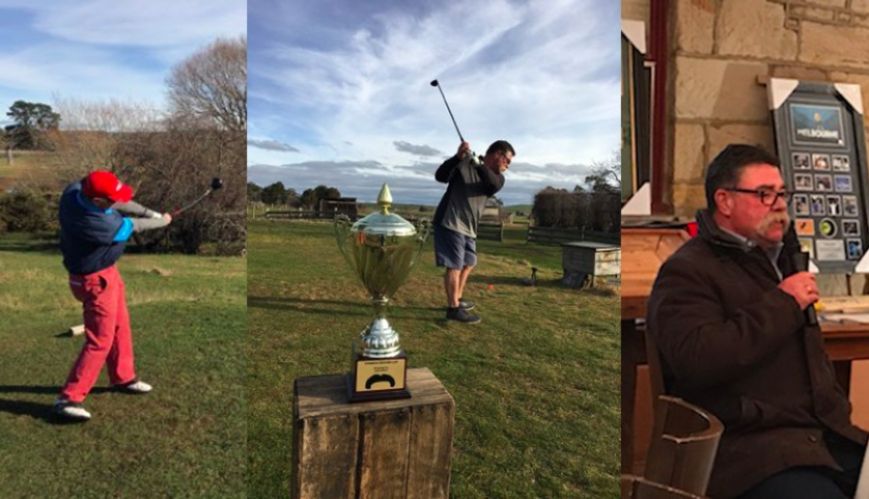 Boonie hits a hole-in-one for Salvos Housing
Cricket legend David Boon (right) joined business partners across Tasmania in a round of golf to raise funds for The Salvation Army's work at Campbell Street in Hobart.
By Jessica Morris
Most Tassie golfers pack away their clubs for the chilly winter, but many warmed to the idea of a round of golf with cricket legend David Boon last Friday to raise $20,000 for The Salvation Army.
Twenty corporate teams took part in the second annual Common Ground Cup, hosted by the former Test cricketer turned keen golfer, which raises money for The Salvation Army Housing in Campbell Street, Hobart.
Blue skies greeted more than 100 business partners at Ratho Farm golf course near Hobart, who took part in a day of golf followed by a dinner and silent-auction fundraiser.
"Boonie sat on the first tee and at the 18th green – and as the teams came around you could pay $5 per shot for him to shoot for you!" laughs Jade Munnings, a tenancy officer at the Campbell Street complex, which provides accommodation for vulnerable people who are most at risk of homelessness.
"We plan to use the funds to upgrade to a commercial kitchen, allowing us to engage with on-the-job training and education with tenants on-site."
With participants from as far as Ulverstone and Strachan to Hobart and Launceston, the competition was fierce, but the generosity was even fiercer.
Matt Minton Maintenance and Hobart Plaster contributed to a silent auction, and between their entry fee and money spent on the night, the two companies contributed close to a quarter of the more than $20,000 raised.
"The Salvation Army Housing facility in Campbell Street forms an integral part of the overall continuum of services we offer to those that experience homelessness, or are at risk of homelessness," said Major Brad Watson, Public Relations Secretary.
"Having the support of someone like Boonie helps us to draw attention to not only the programs we offer there, but also to the issues of hardship and injustice that lead to homelessness, while helping raise funds for key upgrades and projects for the team in the city."
The next Tasmanian event to support homelessness services is the Salvos Sleep Out on 3 September. The fully virtual event will feature more prominent Tasmanians supporting the mission of The Salvation Army to raise funds for the Street 2 Home program. For more information, visit salvossleepout.salvationarmy.org.au.