Buying into the circular economy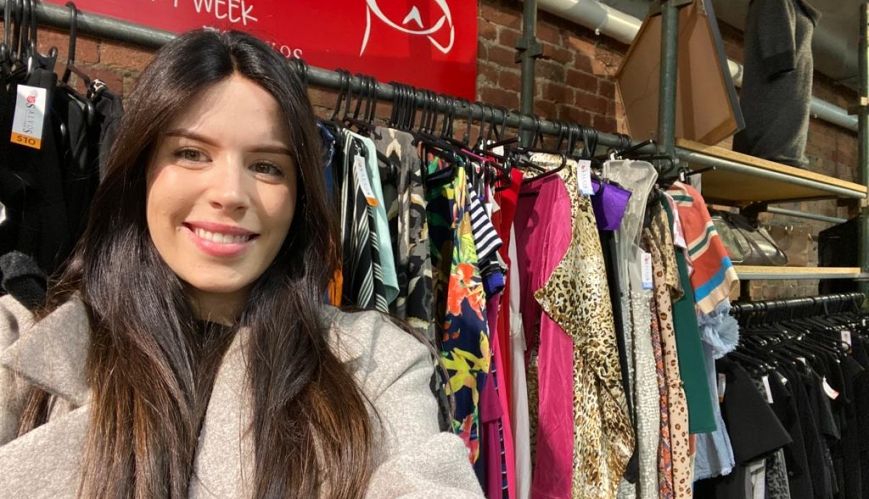 Buying into the circular economy
6 June 2022
Sarah Keogh, pictured at Windsor Salvos Stores (Vic.), has become more conscious of what she purchases in a bid to be a sustainable shopper.
by Sarah Keogh
I'd like to start by admitting that shopping for second-hand products is relatively new to me. I would love to claim that I am an avid, lifelong thrifter, but sadly that isn't the case. I'm a creature of convenience, a millennial that is used to having everything I need just a click away.
I've grown up with an internet that has adapted to the most convoluted search terms – 'white cotton midi dress with short sleeves and lace collar' – and during a time that has seen the rise of fast fashion mega giants. All this to say that spending time trawling through racks of second-hand goods just wasn't my thing.
This need for newness, to be on top of the latest fashion trends, is something that consumed me for most of my young adult life. When large online first popped onto my radar, I was amazed by the sheer volume of stock and ability to churn out the latest styles faster than any other high street store.
I never really stopped to question why or how these retailers could turn around their products so quickly and at such little cost. (Although I'm sure I must have had some inkling at the time.) Stories of factories collapsing and notes pleading for help found in clothing items had started to permeate through to the mainstream. They were met by words of anger and condolence online. However, they seemed to make little impact on the shopping habits of the masses, myself included.
I'm not sure when it clicked exactly, but in recent years, I have started to become far more conscious of what I purchase and where I purchase it from. I would be lying if I said I never darkened the doors of any high street stores; however, I now make a far greater effort to shop with intent.
That's where a shop such as Salvos Stores comes in. With a broader range of products than any other retailer and new items dropped in daily, I can easily find pieces that I love knowing that I am doing good with my dollar. Shopping pre-loved means I can find items that I am unlikely to find elsewhere and at a much better price!
One of my most coveted finds has to be my docs (Dr Martens boots), which I found in an op shop 10 years ago and still wear to this day. Now that's some serious cost per wear efficiency!
I'll admit searching through stock has taken a little getting used to, but it's always worth it. The additional benefit of shopping at Salvos Stores is knowing that the money I spend goes directly into programs and services that help the wider community.
We live in a time where it is more critical than ever to reduce the amount of waste we produce, and shopping at Salvos Stores means keeping products in circulation for longer.
Did you know that extending the life of an item of clothing by nine months reduces its water, waste and carbon footprint by 20 per cent? So next time you're looking for an outfit, consider shopping second-hand and do more with your dollar.
Sarah Keogh is a Salvos Stores Customer Experience Coordinator