Living in lockdown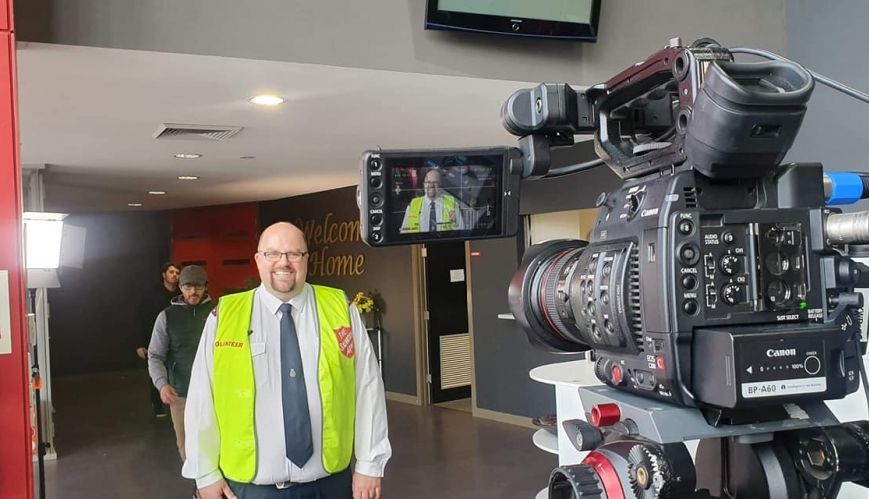 Living in lockdown
8 July 2020
Online church and video communications are different ways that Captain Pete Brookshaw is maintaining connection with the community during his Melbourne suburb's COVID-19 lockdown.
By Pete Brookshaw
Today was an irritable day. And I have to say, I'm not usually that moody; just ask my wife. On second thoughts, don't do that.
I couldn't put my finger on it. I was a little grumpy with a good dose of cantankerousness (if you don't know what that is, that's okay – you don't need to know). I whispered a little prayer and headed off to sleep, wondering whether the next day might be any better.      
Then it dawned on me. It was day number six of the latest lockdown in one of Melbourne's hotspot areas. I didn't have to think overly deeply to know why I wasn't feeling like my normal jovial self.
Lunch with friends – cancelled.
Soy latte by the local watering hole – cancelled.
Team meeting with those man hugs – cancelled.
Salvation Army Officer weekend with other colleagues – cancelled.
Local breakfast programs – cancelled.
Community lunches – cancelled.
You get the point. My routine and usual modus operandi was being upended by the pandemic. I was now dancing to a new tune, 'Livin' La Vida Lockdown', and I didn't know the choreography.
Hurting but hopeful
Across our municipality many have reacted differently to lockdown measures. Some are taking it in their stride, others are anxious and concerned and some are stuck in a worrying perpetual cycle of financial insecurity. Others think COVID-19 is some sort of conspiracy theory, while others have become social media monitors, with the latest health data uploaded within minutes following a press release from the authorities.
My suburb of Craigieburn is hurting but hopeful. I can feel it. The normal bustling shopping areas are scattered with health warnings and the only people seemingly making money are sticker companies with their social-distancing signs and, of course, toilet paper manufacturers.
I walked into the once packed cafe and I could see the pain in the young business leader's eyes as he wondered how he would pay the bills with the money from that $5 takeaway coffee. Our Thrift Shop is closed. I understand the feeling.
Grateful donation
With a little work behind the scenes, we were able to secure a $25,000 grant from the local Hume City Council to distribute between Craigieburn and Sunbury, for families doing it tough during COVID-19.  
I'm excited about that. But here's the grim reality – that's $250 for 100 families. And if you don't find a job by the end of September, when JobKeeper runs out and businesses become a little more brutal in who they keep on staff, you'll need to join those long queues at the regional Centrelink Office.
We have to do more. And as a Salvation Army officer, I'm committed to doing what I can and mobilising a team to make a difference.
Maybe it's just the occasional laugh: like that time I said, "Social-distancing is great; it works really well for my marriage!" Or that conference call I logged into, without dressing appropriately (and I forgot to disable the camera!).
It's about being there for people in their time of need, giving them a call and generally touching base.
It's that opportunity to send a care package, or deliver a meal, or refer someone to our welfare team, or spend a few more moments in prayer for the day ahead.
It's that online Bible study, with a refreshingly good turnout. It's that online service, with people on the fringe of our community joining us and feeling uplifted.
Finding the answers
I don't have many answers at the moment. I have nice Christian platitudes, like "God will never leave you nor forsake you", or "Fix your eyes on Jesus". But I do know that I need to shine the light of Jesus into a confused and anxious community. And that's not always easy. I feel like I'm the filament inside a light bulb, aiming to shine bright in the world, but honestly I'm a little fragile myself and being held together by the grace of God.
That biblical imagery of being broken clay pots rings true: As The Passion Translation says in 2 Corinthians chapter 4, verse 7, "We are like common clay jars that carry this glorious treasure within, so that the extraordinary overflow of power will be seen as God's, not ours."
The truth then is that in my weakness God is made strong. In my fragility and confusion (and my moodiness), God's love can be expressed that still reaches people, and still calls people to a deeper understanding and experience of hope found in Jesus Christ.
And in addition to all that, there is one other positive: I have plenty of time to work on my sense of humour!
Captain Pete Brookshaw, along with his wife Jo, are the Corps Officers (Senior Ministers) of The Salvation Army Craigieburn. He has been blogging since 2006 at petebrookshaw.com