Looking fear in the face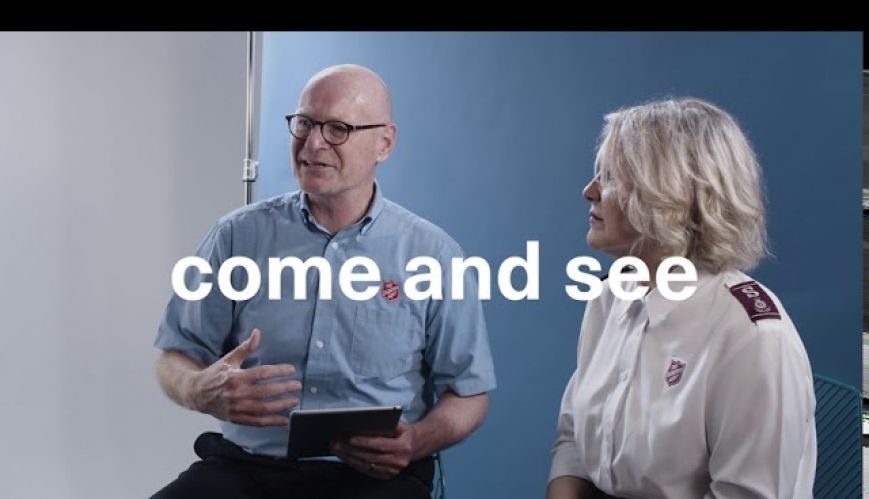 Looking fear in the face
3 August 2020
2020 has brought a lot of fear in people's lives. Commissioners Janine and Robert Donaldson remind us of God's instruction: "Don't be afraid."
We sincerely appreciate this opportunity to greet you and give thanks for you. We continue to live in these unusual days and navigate uncharted waters as COVID-19 impacts us. Details about how to respond are constantly changing as we face challenges of nature we have not faced before.
As circumstances have evolved and we have heeded advice from government and health experts, we have sought to implement this advice and provide security and safety for those we work alongside and those we serve. Our focus is on the wellbeing and health of all. We would continue to ask that you act on advice given to you in your state.
Thank you very much for all you are involved in during these days. We are overwhelmed with gratitude for all that is happening throughout this amazing territory. We encourage you to seek out the different and varied opportunities this time affords us for strengthening our discipleship and our expression of Christian community.
Over the past months, we have heard of and seen a number of communities of faith finding new ways of worshipping and keeping connected.

For some, there is a new sense of finding what is essential in caring for and upholding each other, and new ways have evolved of keeping in touch with each other as communities of faith. Some communities are finding new connections, especially with our most vulnerable.
We continue to need to set time aside (time not spent in gathered worship or meetings) to connect with other people in our community and to pray and grow. The realities of social isolation, the impacts on health and all the other factors pertaining to these times add much extra stress. As a community of faith we have an opportunity to witness to an alternative way of living and bear witness to each other.
We are called to be light and salt in this world. This call and hope are what lie at the heart of life: the love of God and the love of neighbours as ourselves. We are called now, more than ever, to be prayerful, supportive, encouraging, caring and to continue to work with one another as one body for a common goal 'for the sake of the world'.
When individuals are focused on the wellbeing of the wider community and when communities hold together for the sake of the wider community, every person is valued and upheld. Perhaps this in is indeed the true spirit of Australia.
God is with us, God walks with us, God is one with us, in all the realities of our lives. In God, we find hope and new ways of being. As Acts 17:28 reminds us, "In him we live and move and have our being."
Please know you are prayed for constantly. We give thanks for you, we are grateful to you for your hearts for others and your ministry stretched across this great land. It's at times like this we wonder how best to express our gratitude to you and how best to encourage you.
Eleanor Roosevelt penned these words: "We gain strength, and courage and confidence by each experience in which we really stop to look fear in the face ... we must do that which we think we cannot."
"Don't be afraid, for I am with you! Don't be frightened for I am your God! I'll strengthen you – yes, I'll help you – yes, I'll uphold you with my saving right hand" (Isaiah 41:10 NET)