On your marks, get set, go!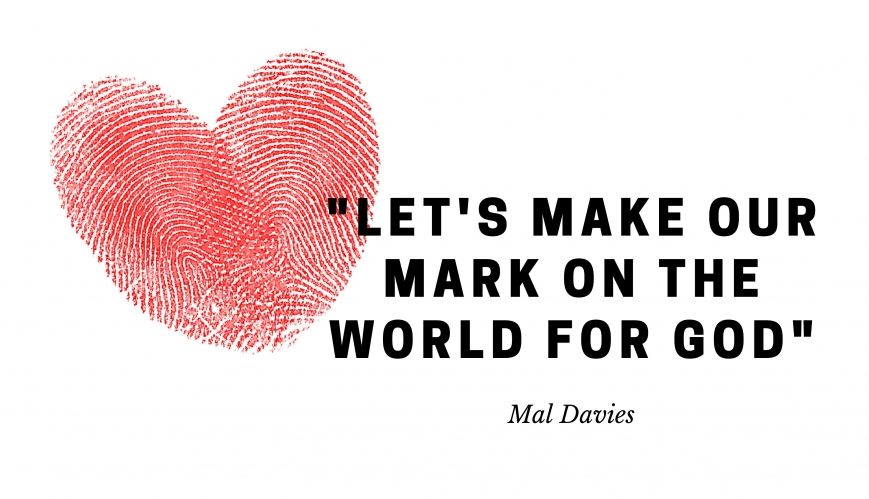 On your marks, get set, go!
6 January 2021
Major Mal Davies urges us not to let 2021 go by without making a mark on the world for Jesus.
By Mal Davies
In the late 1970s, English musicians Nick Laird-Clowes and Gilbert Gabriel met and formed a pop duo and then, a few years later, added instrumentalist Kate St John. They named the band The Dream Academy and began sending out demo tapes to recording companies in the hope of picking up a contract.
Well, it took two years but finally Warner Brothers Records signed them up in 1985. Later that year they released their eponymous debut album and with their very first single they made their mark in popular music. 'Life In A Northern Town' was a hit in England, Australia, the US and many other countries, and even gave us some added attention because of its opening lyrics: 'A Salvation Army band played / And the children drunk lemonade / And the morning lasted all day, all day'.
The band only released two other albums and broke up in 1991, never equalling the success of their first album and single. However, with 'Life In a Northern Town' they'd made their mark on the music scene and the song still gets airplay and is a popular party/karaoke track.
While the music world is known for its 'one hit wonders', there are many other areas in which people have made a mark and then done little more. Harper Lee, famously, only published one book while she was alive, To Kill A Mockingbird, and that was it. She won the Pulitzer Prize and was later awarded the Presidential Medal of Freedom, the highest award given to US citizens.
What does it mean when we talk about someone 'making their mark' or 'leaving their mark' on something? It doesn't have to be a hit song or a bestselling novel or a memorable sporting performance, it might just be someone who made an impression on you or said something that influenced you, possibly in a life-changing way.
I was struck by the phrase while watching a recent tribute show on television to Scottish comedian Sir William Connolly (better known as just Billy). Now 78 and suffering with Parkinson's, Connolly has retired from performing and has now indicated he won't be doing any more interviews and is, effectively, retiring from public life.
English comedian Lenny Henry said that Connolly was a unique performer even in an industry full of unique performers, and he spoke of how Connolly's approach to humour and performing had revolutionised the field in the 1970s, '80s and '90s. In a final comment to the interviewer, Lenny said simply, 'You know, there's not many who leave their mark, but Billy has.'
The phrase to 'leave a mark' or 'make a mark' has, like many centuries-old idioms, something of a confusing past. While some link its origins to archery (to hit a target was to 'make your mark') and even to the habits of animals (like marking your territory), most social historians say the origins of the phrase are in the humble signature.
At the advent of writing in England – around the fifth century – it began to become commonplace to create and store documents that recorded major events and transactions. Before signatures/autographs became common, witnesses or those accountable to a document would make their mark on it. While Hollywood movies tend to show this as only as an X, some people's marks could be quite detailed (akin to a Chinese character or even a small picture, for example a hunter might draw a bow and arrow as his mark).
A 'mark' showed you were present and had some status. To make your mark quite literally said: 'I'm here and should be noticed.'
Nowadays, when we talk of someone making their mark, we are speaking of some way in which their presence has been noted or they have had an influence on proceedings.
In terms of someone 'leaving their mark' on me, I can think of many people who had an influence on me and who have helped form my character and my faith. From school teachers to sporting coaches to family members to corps officers to fellow soldiers to close friends to bosses and work colleagues and so on…the list is long as I'm sure your list would be if you wrote down all those who have helped you become who you are today.
As Christians, we can leave our mark in small intimate ways or in 'big' observable ways. Some examples of the former are mentioned in the paragraph above: people who have influenced us or guided us. Examples of the latter might be those who become well-known for writing Christian books or starting new movements or guest speaking at major events.
No matter how we make our mark, we should accept that every Christian has a responsibility to leave a mark in the world. Jesus himself said we are to be like salt and light (Matthew 5), influencing the world for God and the extension of his Kingdom.
American theologian Carl Henry said, 'The gospel is only good news if it gets there in time.' The only way non-Christians will learn about Christ is if Christians make a mark in the world. We must make a difference. We must be the salt and light that Jesus spoke of. We must leave our/his mark.
John Lennon sang, 'So this is Christmas / And what have you done? / Another year over / A new one just begun.' As you look back at 2020: where did you leave your mark? Who did you influence for Christ? How has God's Kingdom grown over the past year because of you? How is the world, even in a small way, more Christian and God-pleasing because of what you've done?
As we launch into 2021, let's aim to make our mark. Let us each be responsible for someone moving a step closer to God. Let's do our part in growing God's Kingdom. Let's not get to the start of 2022 and look back over this year and say: 'Another year over and what have I done for God?' and come up empty handed.
Let's make our mark in the world for God.
Major Mal Davies is an Australian officer currently serving as editor-in-chief in the UK.