Support for Indigenous communities through COVID-19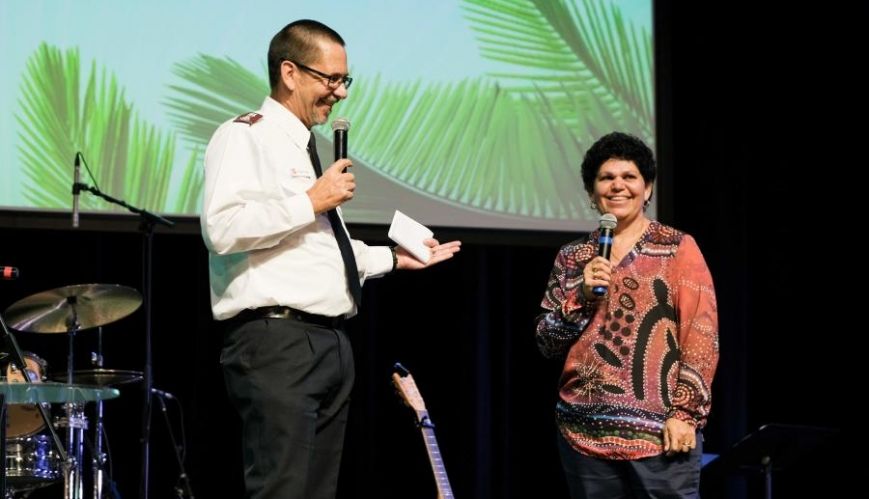 Support for Indigenous communities through COVID-19
21 April 2020
Lieutenant-Colonel Stuart interviews Shirli Congoo (Salvation Army General Manager, Aboriginal and Torres Strait Islander Ministry) during a celebration event in Western Australia last year. Photo: Joel Gibson 
By Shirli Congoo
Amid the coronavirus, Aboriginal and Torres Strait Islander peoples, like everyone else, have found the imposed changes hard. It has changed the nation in the way we connect with others, communicate with others, and how we live and work.
The government has identified Aboriginal and Torres Strait Islander peoples as a high-risk group during the COVID-19 pandemic, because of overall higher rates of respiratory disease, heart disease, and diabetes, as well as overcrowded housing. Everyone is important, but we have been overprotective of our Elders as they are the link to our past, and also to our future. If we protect them we protect our culture, our identity and our languages.
The National Aboriginal and Torres Strait Islander Community Controlled Health Organisation and local Indigenous health services have provided rapid responses in developing local and culturally appropriate mental health and wellbeing resources and making them available through social media, television, radio and local messaging. In the Northern Territory, the Northern Land Council has produced informative videos in 18 different Aboriginal languages to distribute among communities across the territory.
The situation changes regularly, and people need to keep up with the changes. More resources are being allocated to the front line to strengthen the ability of personnel to manage the ongoing threat and impacts of the pandemic. Organisations are having to find new and innovative ways of delivering their services and programs.
Panic buying in the larger towns and cities has had implications for all small communities. It is essential to acknowledge the extra challenges faced by our Indigenous communities who are mostly isolated and have limited access to basic items such as fresh food, toilet paper and baby formula. Before the coronavirus, many communities were paying over 50 per cent more for these same items, which leaves them open to price gauging. To decrease the risk of this, the government will need to provide subsidies and earmark essential supplies for communities.
The Salvation Army generally delivers critical services for social support including alcohol and other drug services, family support services, domestic violence, homelessness and youth services. It has been vital that we have connected and engaged with local Aboriginal and Torres Strait Islander organisations and networks. This engagement ensures we are getting our messaging right and accurately out to our clients in a culturally appropriate, sensitive and effective way.
I am encouraged by how The Salvation Army continues to work positively and collaboratively across the sectors and in communities to support the most vulnerable during this significant and challenging time. The collaboration with all levels of community among local service providers, local Aboriginal and Torres Strait Islander community people and government organisations is the key to being effective.
These collaborative opportunities provide an opportunity for The Salvation Army to engage, build trust and increase connectedness with local Aboriginal and Torres Strait Islander peoples.
For the most up-to-date, culturally appropriate and relevant information in relation to COVID-19 please click here.
* Shirli Congoo is The Salvation Army General Manager, Aboriginal and Torres Strait Islander Ministry.