Temptations in the pandemic wilderness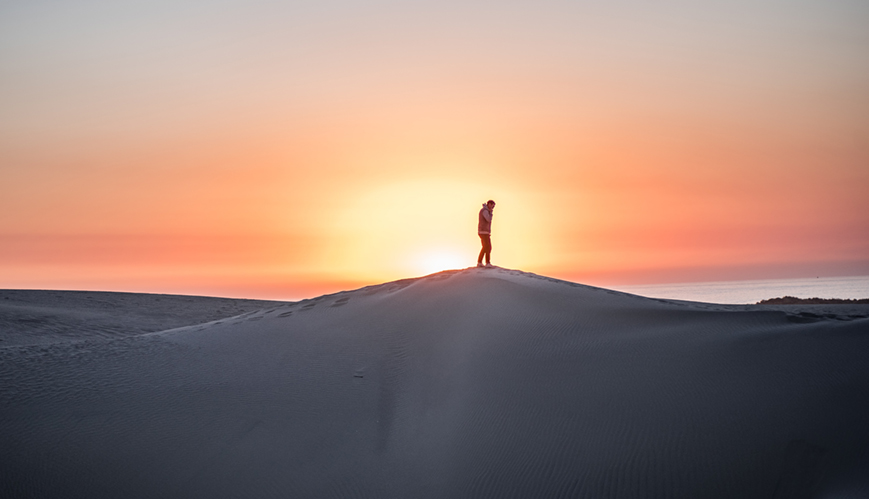 Temptations in the pandemic wilderness
29 April 2020
Christ faced three major temptations in the wilderness. As we walk through the unknown of COVID-19, Captain Claire Watson explains how we face the same trials. Photo by Sammie Vasquez on Unsplash.
By Claire Watson
The Body of Christ faces the same temptations as Christ during these 'wilderness' months of social isolation due to COVID-19.
Jesus faced three major temptations in the wilderness, as recorded in the Gospels, and we can apply the lessons from these experiences of Christ in our faith walk today.
The temptation of comfort
The first temptation Jesus faced in the desert was the temptation prioritise his desire for comfort above all else. We see this when the devil tries to provoke him, saying, "If you are the Son of God, command these stones to become loaves of bread" (Matthew 4:3 NIV).
During this time of isolation, it can be tempting for us to look inwardly at our own needs and desires and simply to look after ourselves and our immediate family. There is nothing wrong with eating well, catching up on sleep, discovering a new hobby or decluttering your house while spending more time at home. These are all good things and it is important to care for ourselves and our families. Yet God's desire for his people is that we keep our lives centred around him, not ourselves and the fulfilment of our own desires.
Jesus reminds us in the same chapter that "people do not live by bread alone but by every word that comes from the mouth of God" (verse  4). How could you prioritise spending time with God each day this week? When you receive something from God, like a word of encouragement from the Bible or an answer to prayer, how could you share that with others?
The temptation to test God
The second temptation Jesus faced while standing on the pinnacle of the temple was a temptation to test God. 
The Devil tried to bait Christ saying, "If you are the Son of God, throw yourself down from here" (Matthew 4:6 NIV). In doing so, he is daring Christ to prove God's promise of protection from the Psalms, where it states "He will command his angels concerning you and on their hands they will bear you up, lest you strike your foot against a stone," (Psalm 91:12 NIV).
It is likely that COVID-19 will remain a risk for us for many months to come. This calls for the church to make a balanced response.
On the one hand we are called to live by faith, not in fear. We do not need to be afraid of COVID-19 or even death, for Jesus has had the victory over all. Yet it is also important to respect the guidance of the authorities whom God has placed over us for our own good. If we ignore the health warnings and insist that God will protect us regardless, this is not faith but testing God.
Jesus responded to the temptation by saying, "Do not put the Lord your God to the test" (Luke 4:12 NIV). Throughout his ministry, Jesus regularly took risks for the sake of the Gospel, but he only took these risks when God directed him to do so. It is wise for us to do the same.
The temptation of turn away from God
The third temptation Jesus faced was on a high mountain where Satan offered him all the world. Satan invited Christ to turn away from God and become distracted by what the world offers instead, saying "All this I will give you, if you will bow down and worship me" (Matthew 4:9 NIV).
Each of us in The Salvation Army face this same temptation during COVID-19. We have the potential to grow closer to God and each other during this time, and we each face the danger of drifting away from God and Christian community by becoming distracted by the world.
In Adelaide, there are beaches where the sand continually drifts away further down the coast. The only way that the beach can continue to exist is by the continual trucking in of sand to replenish the beach. I think our spiritual life is similar. Unless we continually renew our relationship with God and his people, our natural tendency is to drift away.
The way to avoid this natural drift is to stay connected with God and his people. Some things that I am finding helpful at the moment are talking with Christians on the phone, praying, reading the Bible, taking a walk in God's creation, listening to online sermons and reading books written by Christians.
What are some ways that you find helpful to stay connected with God and his people? If you find you are becoming too distracted by the world and all it offers, try putting an 'appointment' with God on your calendar or a reminder to call someone in the corps on your phone or fridge.
Captain Claire Watson in the Corps Officer at Murray Bridge in South Australia, and the author of Fingerprints of Grace.