The sum of our humanity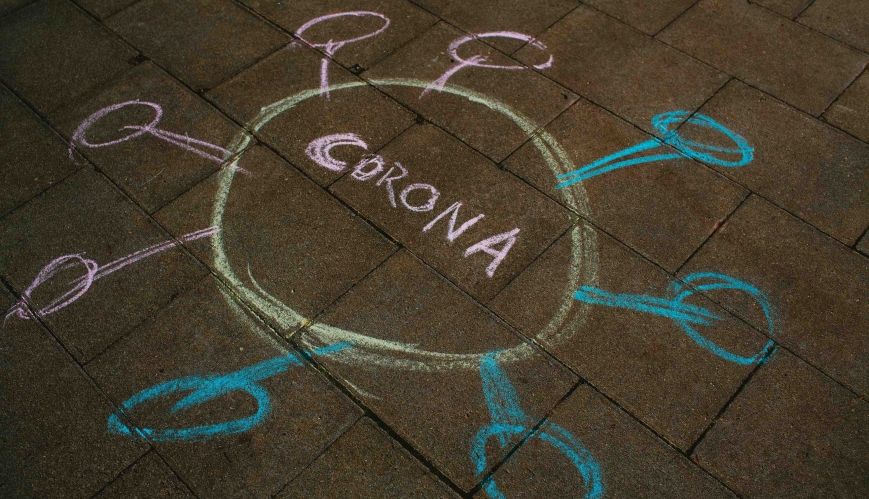 The sum of our humanity
8 April 2020
The coronavirus has emptied pavements on city streets around the world. Photo by Marcus Spiske on Unsplash.
By Peter McGuigan
What do we say to the imposition upon our lives that appears to have sent the entire world into a frenzy, whisked away our freedoms, and to which the World Health Organisation has allotted the monochrome, opaque-like acronym COVID-19 (coronavirus disease that began in the year 2019)?
Australians and foreigners alike have responded differently to the Prime Minister, the state premiers and the chief health officers who have regularly implored us to act responsibly, keep our distance and stay at home. Some of us have, some of us haven't. Compliance has not been easy to enforce in today's 'don't-tell-me-what-to-do', 'let's-meet-for-a-coffee-and-have-a-discussion' world.
But has it ever been easy? If past behaviours are anything to go by, you cannot predict how humans will respond amid unexpected challenge and you certainly cannot expect uniformity of response, even amid crises that border on cataclysmic.
In the 1890s, despite hundreds literally dropping dead from typhoid on the Western Australia goldfields, prospectors continued undaunted with their digging and panning and sifting. Having a 'eureka' experience was apparently worth risking death! By the time the epidemic subsided, nearly 2000 people had died in the west, although historians say numbers would have been much higher such was the rate of death on the goldfields particularly, the squalor-like conditions in which prospectors lost their lives and the anonymity of many of them. Many bodies were buried in unmarked graves.
In the late 1910s, the toll was worse when Spanish flu, or pneumonic influenza as it was known in Australia, killed 15,000 Australians and 50 million worldwide. The first case recorded in Australia was in Melbourne in January 1919. But a delay in acknowledging that the disease had indeed reached Australia, and, therefore, a delay in widespread preventative measures being put into place and taken seriously by Australians, meant that the virus soon spread and up to 40 per cent of the population was infected.
Worldwide, despite warning signs of a financial disaster that loomed for months in 1929, over-zealous bankers, stockbrokers and investors continued to trade right up to the last minute before the Great Crash on Wall Street that heralded the Great Depression. Many took their own lives and millions endured financial hardship for years to come, innocent victims of the greed and recklessness displayed by those who traded to the limit one too many times.
It appears humanity is prone to forgetfulness when it comes to learning from past mistakes. We may learn for a while and allow ourselves to be humbled for a season. But faced with COVID-19, and given the priority of lifelong learning in our 'advanced' and 'progressive' society, is it possible for humanity to learn lessons during this crisis that we will not forget and that will ultimately reshape how we live? Is it possible for us to experience a paradigm shift in our societal priorities – a 'philosophical recalibration' as I heard it called on ABC's The Drum last week – and take it with us into the future?
Can we change?
A near-deserted Bourke St mall in Melbourne last week. Photo courtesy The Age.
It's 5pm on Monday 30 March 2020. With my wife Tara, I've been at The Salvation Army Preston in Melbourne's middle north where we have assisted the Salvos' community services team in giving care packages to people doing it tough. We home-delivered a few of them, all along keeping the 1.5m physical-distancing rule. Now we've taken a drive into the CBD to see for ourselves the 'deserted' Bourke St mall we've heard about and read about in the news (pictured right, photo courtesy of The Age).
On any normal weekday at this time, the streets and sidewalks are crowded with people making their way home or to bars and cafes and restaurants to relax after work. But aside from street cleaners cleaning an already clean Bourke St and a handful of commuters making their way to the two tram stops along the mall, there is little movement and an eerie sense of void. The shops are either closed or empty of people.
Tram 86, headed for the northern suburb of Bundoora, arrives with two passengers aboard. Normally, there would be well over 100 with capacity on the Bombardier E-class being 210. Tram 96, headed for East Brunswick, follows. Same story. We spot two people who are homeless and who have adopted the usual crouched position; faces down, handwritten messages and a makeshift bowl for donations in front of them. But there are no passers-by and their futile presence completes a scene that borders on dystopian.
Self-isolating at home is not an option for people experiencing homelessness all over the world. Photo Ben Hershey.
We drive away from Bourke St in silence, both of us contemplating if it is possible for life after COVID-19 to change. Can the overarching stay-at-home action of this crisis result in people rethinking and reorganising how we live? Will we streamline work and life practices, and focus much more on the flourishing of humanity? Will societal structures be flattened enough and self-indulgence be discarded enough and egos be humbled enough for us to possess the personal and collective will to stop homelessness once and for all and end poverty like we've been saying we will? Will we solve domestic violence and restore our fractured relationships and heal the experience of depression that seems to have spread like a disease of the soul among us? Will we stop environmental decline before we arrive at the world's end? Will we confront the demons of greed and anger and pride that have made us 'victims of our own device', and put them in their place for good?
The vast majority of us have not lived through a World War or a Great Depression so would never have experienced what it's like to have our natural freedoms suddenly and so comprehensively curtailed like we have these past few weeks, especially in Australia where we rightfully cherish liberty.
As we approach Easter 2020, perhaps there is no better time to stoke the fire of faith in us and be inspired by the example of Jesus. On the night before his death by crucifixion, despite the onset of overwhelming grief as he contemplated the next day, and with the plight of humanity upper mind, Jesus knelt in Jerusalem's Garden of Gethsemane and confronted the very human temptation to divest oneself of responsibility: "Not my will," he cried out to God, "but yours be done" (Luke 22:42).
May the sum of our lives equal the highest possible good for the unforeseeable future of humanity. May it be accomplished in the greatest possible partnership with each other and with the most profound help from above. Jesus' last words to us, according to the Gospel of Matthew, were: "I am with you always, even until the end of the age." Let's take courage.
Major Peter McGuigan is a corps officer at Preston in Melbourne.