The unacceptable language of exclusion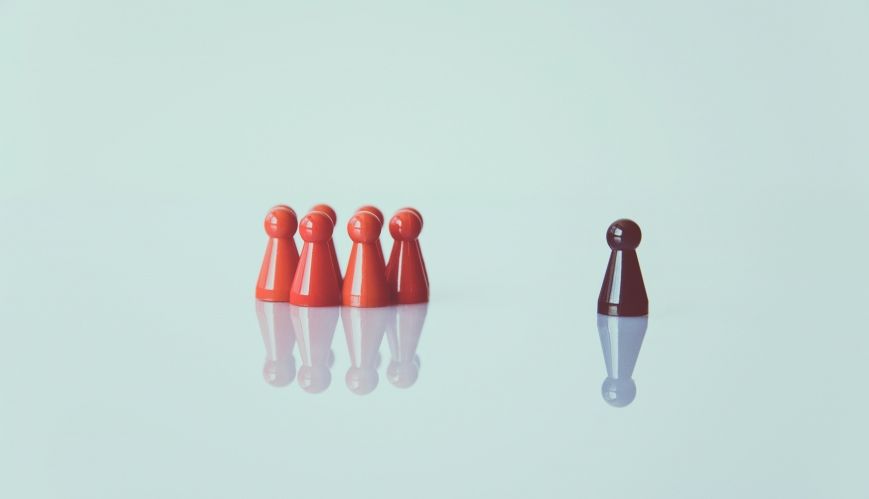 The unacceptable language of exclusion
15 May 2020
"I choose daily to remember that all people in this world, all of them, are created in the image of our God." – Captain Sandra Pawar.                                      Photo: Markus Spiske
By Sandra Pawar
Over the past few years, I have thought a lot about exclusion and how we are living in a time where exclusion and excluding others is a regular occurrence. I have become increasingly burdened by current situations where exclusion was the motivating factor or the end result.
I want to share two examples of exclusion that occurred over the past few years that made my heart break and my anger rise.
The first situation happened in a cafe in New York City, one of the most diverse cities in the world. A white, English-speaking man berated and chastised employees and customers in the cafe for speaking a language other than English. It was caught on camera and became viral. 
This incident made me so angry because, behind it, was the idea that people who move into new countries or communities need to forsake the essence of who they are – that they need to blend in to their new community and lose all that is unique and beautiful about them, forsaking their culture and country of origin in order to be included in their new community.
As someone who is a pastor and a community developer at heart, and someone with an Indian husband and Indian and Russian family members, I pray that I will never ask people to assimilate or forget who they are. I pray that I would always encourage them to speak their language, to practise their cultural customs and that, instead, I would take the time to learn and celebrate who they are and where they come from.
I particularly think of the millions of refugees needing to find new homes in new countries. As more and more refugees arrive in different countries around the world, may we embrace them and learn from them, may we eat their food and learn their language and enjoy all they add to our lives. May we also fight for and on behalf of them, so their right to be themselves is never taken away. They have already been through so much and to have to forsake the essence of who they are would only add to their heartbreak.
The other situation that occurred was political and came from US President Donald Trump. In an interview that was filmed and beamed around the world, he said the following in regards to immigrants coming from Mexico: "We have people coming into the country, or trying to come in – and we're stopping a lot of them – but we're taking people out of the country. You wouldn't believe how bad these people are. These aren't people. These are animals. And we're taking them out of the country at a level and at a rate that's never happened before". 
Now there has been some discussion that he was talking about MS-13 gang members and not all immigrants. He did not explicitly state that so I cannot speak to the intent of what he said, and, to be honest, regardless of who he was talking, he was offensive. Even gang members are children of God and not animals.
President Trump is not the only world leader who has used language like this. It is a common occurrence these days for government leaders to use words that are insulting and offensive to describe people who are not wanted in their countries. It makes me fear for people, as the language they choose to use incites exclusion in so many ways and gives the rest of the population freedom and permission to do the same.
As an officer in The Salvation Army, I must do all I can to combat these hateful words and the permission they seem to give people. I must strive to be inclusive in the language I use, I must seek out and reach out to those that have been excluded, and I must immediately include them. I must stand against this practice through protest and awareness campaigns. It is unacceptable, and I must become part of the solution and not part of the problem. I choose daily to remember that all people in this world, all of them, are created in the image of our God; they are valued, they are loved, and they have a purpose. To that end, I must welcome, love, accept and include them.
Are you welcoming and inclusive or do you exclude others by the language you use, the rules you put in place and the expectations you put on people? How can you intentionally be more inclusive with the people God has placed in your community?
Captain Sandra Pawar is a multicultural church planter in Western Sydney