Called to a distant land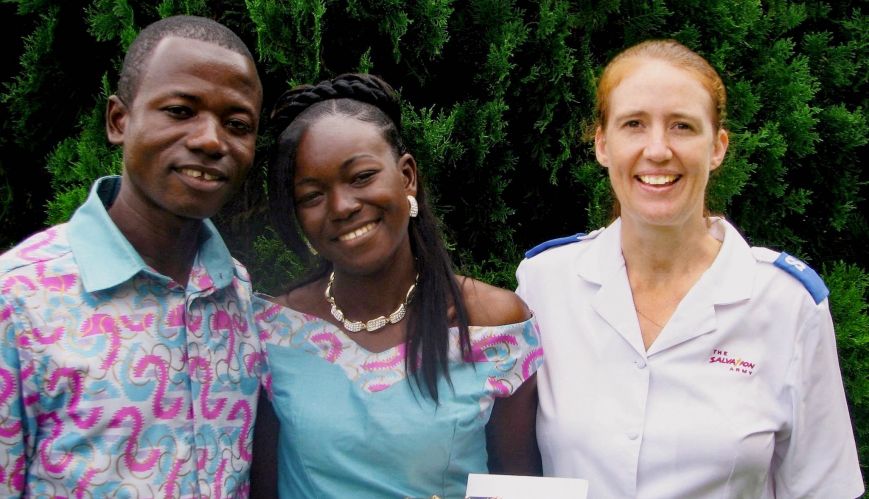 Called to a distant land
5 May 2017
Australia's Narelle Gurney, who serves with The Salvation Army in Malawi, says what she does in the poverty-stricken African nation is just a drop in the ocean of human need.
"Like in so many other countries, there is no social security, a poor school system, weak implementation of laws, little opportunity for employment, huge poverty, and hunger. We need to know this. Overseas service opens your eyes to it and hopefully changes your values, priorities and character."
Narelle (pictured below, centre), who is Director of Community Development and Projects, has been in Malawi since August 2010. She loves the simplicity and pace of life and the warmth and openness of the Malawians, their joy in simple things, and their resilience. "They teach me a lot about life," she says.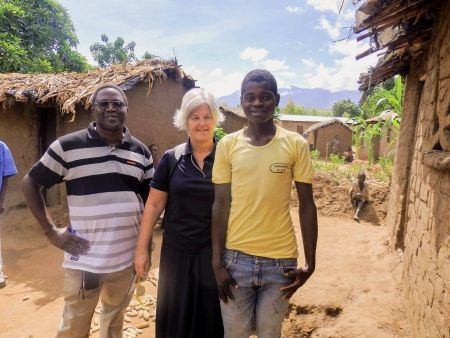 The reality of overseas service in Malawi though, has many challenges. "The corruption of big leaders from government to churches and everywhere else is heartbreaking, and the daily injustice in people's lives that prevents them from living a basically healthy, happy life, is also distressing," Narelle adds. "On a personal level, the more recent needs and situation of my elderly mother back home is also a pull on me."
And, like so many personnel serving overseas, Narelle often finds herself caught between her "adopted" country where she serves, and her "home" country where she grew up. "For me, the longer I am here, the harder it is to leave and the harder it is to stay. There is grief and gain in both. I have great friends and family
in Australia. I have great friends and family in Malawi. Making decisions about this can be overwhelming. And then I remember God, his provision and his care."
Sense of calling
Of the 39 Australian Salvationists currently serving around the world, three are lay personnel and 36 are officers. Sixteen are from the Australia Southern Territory and 23 from the Australia Eastern Territory.
In Australia, The Salvation Army is
 also benefiting from the experience of Canadian, American, British, Indian, Korean and South African officers and personnel, as well as employees around the country who come from many nations around the world. In fact, The Salvation Army has emphasised an international focus since the movement began.
During the turbulent and highly sensitive days of World War One, the Army's then- world leader, General Bramwell Booth, in his Christmas 1915 message, memorably remarked: "Every land is my fatherland, for all lands are my Father's." More than 100 years later, the internationalism of The Salvation Army has not changed – only expanded and developed.
Officers and lay personnel are still sent around the world to serve in nations where the need is greatest, or where specific skills and experience is required. Territories, regions, divisions and corps in many countries are enriched as people from different nations serve there, contributing their unique abilities and skills and learning from others which they can pass on when they return home, or serve again internationally.
A definite sense of calling, a strong commitment to the international mission of The Salvation Army and a keen sense of humour are all essential when it comes to serving God overseas, according to those serving today.
"What kept me going was knowing
God kept me there," says Katharine Dale, an occupational therapist who served for 13 years in Ghana and has just recently returned to Australia. "If you don't
 feel called, don't even go into the space because it's very challenging. You have
to know your calling."
A strong calling from the Lord is also vital for Major Julia Price, who is serving in Moscow with her family. "It's not self-seeking; it's doing as much as you can for the people, for the country, for The Salvation Army," she says. "My calling is the only reason I am here."
Peter and Rhonda Lewis, Salvationists from Melbourne's Box Hill Corps, are administrators of The Salvation Army Lae Primary School in PNG. They would encourage people considering overseas service to think carefully as to whether this is what God is calling them do to. "If it is, you will not have any doubts or fears," they say. "Listen, pray, and follow God's lead."
Majors Jeff and Sue Winterburn, serving in the UK as corps officers, also believe the calling to serve has to be definite and strong. "It can't be just 'It might be nice', the calling must be real," they say.
Embracing cultures
The Overseas Service Personnel Officer for the Australia Eastern Territory is Major Coral Hodges. She says there are different ways people can follow their calling and apply for overseas service. "Some officers will make it known on their service records that they would like to be considered for overseas service," she explains. "Non- officers also express their interest through the overseas personnel office.
These are people who have felt a strong call from God to serve internationally, often with a skill set gained over years of officership or work, or who have specific and needed qualifications, experience or personal qualities." Senior leadership positions overseas, however, are usually made as appointments by The Salvation Army's International Headquarters.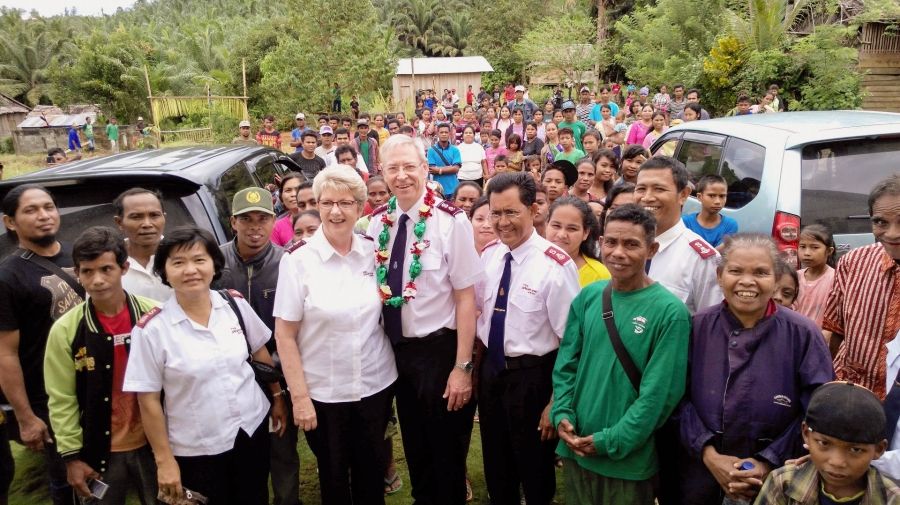 Commissioners Peter and Jennifer Walker at their welcome to Indonesia's Manggala Division. 
Despite the many and very real challenges of living and working overseas, including the distance from family, friends and loved ones, language and cultural barriers, challenging living conditions, and often overwhelming workloads, most people agree that the blessings they experience far outweigh the difficulties. "Living overseas is an amazing experience of what faith looks like in a different culture, and it's really up to each individual to embrace that," says Katharine Dale. "You bring back an incredibly rich experience that helps you personally and develops your faith. I hope God can use me to create some change in the Army in terms of church growth and to help others embrace the idea of Christ for all nations."
Commissioners Peter and Jennifer Walker, serving as territorial leaders in Indonesia, love the people they are serving most of all. "Indonesians are a very warm and friendly people, and we have the privilege of working with some amazing and beautiful officers, staff and Salvationists," they say. "Indonesians love sharing meals and showing hospitality and they love to participate in worship. It is a joy to be with them.
We are also enjoying the opportunity to travel around this vast nation of 250 million people scattered over thousands of islands, with many different cultures, visiting corps, children's homes, schools, clinics and hospitals.
"International service has also enriched us at a deep personal level. Once you have served overseas, your values and perceptions of the world will have broadened, especially if you have served as we have in places where the local people have much less materially than 
we do in our Australian context. In Indonesia, for example, most Salvationists are not well off materially, but we see that they have a wonderful dependence on God and a strong belief in the power of prayer."
God's strength
Captain Daniel Templeman Twells serves in Japan as a training officer at the College for Officer Training in Tokyo. He says he doesn't see himself as a missionary in the traditional sense of the term, but rather as a Salvation Army officer who happens to live in Japan, working among his Japanese colleagues. "I think it is important to realise that we are but one piece of the same puzzle," he says.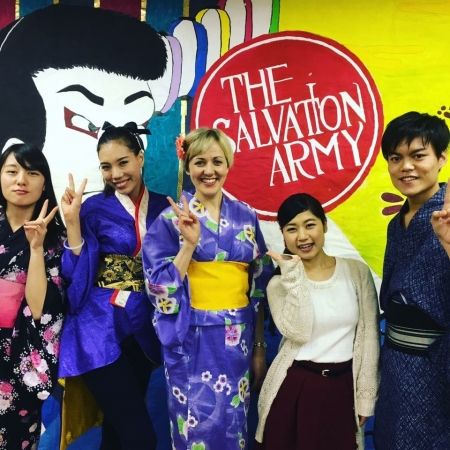 "I like the variety of my work, the range of people that visit Japan from overseas and that there are places I can go and things I can see and do only because I am here at this time. This is very special to me. Overseas service has helped me realise that there are things I am unable to do in my own strength.
As a result,
 I must live my life based on my position in Christ as a son of God, a co-heir of Christ, one who is loved, chosen and accepted, not from a position of fear, insecurity or seeking the approval of others for my self-worth and identity."
Captain Melissa Templeman Twells (pictured right, centre) also serves in Japan as Koto Corps Officer and an assistant in the Territorial Youth Department. She believes that God has been leading her to Japan her whole life, and loves knowing that she is doing
what God has called her to. "I really love working with the children and youth," she says. "I have enjoyed seeing them grow and open up to God. There are very few Christians here – Japanese people are either Shinto or Buddhist. Journeying with the youth, as they discover how much God loves them and who God has created them to be is so rewarding. I feel very privileged to be doing this work."
Simone Worthing is a writer for Others magazine.