Opening doors of hope in Katherine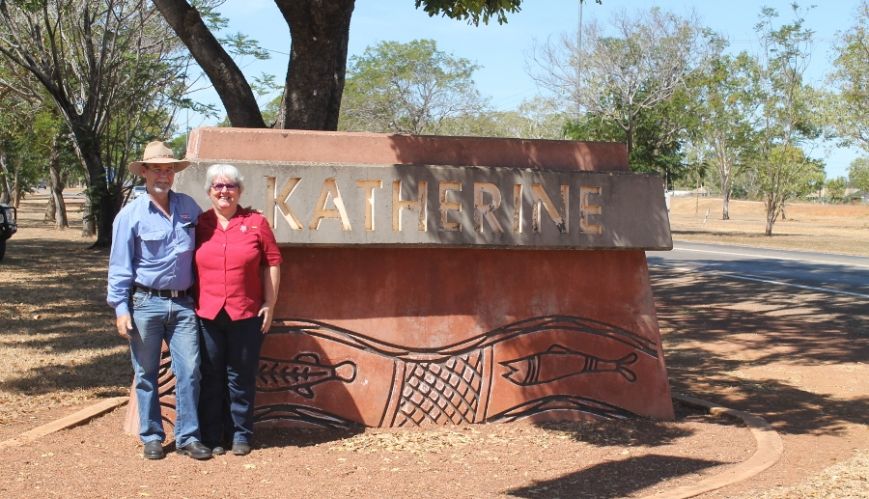 Opening doors of hope in Katherine
15 September 2017
Often referred to as the "Crossroads of the North", Katherine is located 300km south-east of Darwin on the Katherine River, with a population of just over 10,766.
The Katherine Region is massive, covering 336,674 square kilometres. Its regional population is just over 24,000, with 60 per cent identifying as Indigenous. The town is bustling, lush in the wet season, and attracts many tourists in the dry.
However, it also struggles with a range of problems – crime, homelessness, domestic violence, alcoholism, elder abuse, and below-average health and education levels. In the centre of Katherine, not far from the town's only set of traffic lights, is The Salvation Army – a building that houses the Katherine Corps, Beacon drop-in centre and Doorway Hub. Salvos Stores is just around the corner.
Katherine Corps is a small but growing congregation. Captain Julie Howard is the Corps Officer, while her husband, Captain Greg Howard, runs The Salvation Army Flying Padre and Outback Service. 
Originally from Ballarat, the Howards came to the Northern Territory in 1992 with a plan to stay for a few months. They worked in Darwin, worshipped at the corps there, and are now Salvation Army officers. "We love the territory, it gets in your blood and we've just stayed here," says Julie.
The Beacon drop-in centre is aptly named. Within minutes of seeing a range of clients come in for something to eat, caring conversation, a friendly face and a place to relax, it's clear that The Salvation Army is restoring dignity to people living rough.
Most of their clients are Indigenous, while others come from low-income families, domestic violence situations, are locals wanting a chat, or people passing through town. The "long-grassers" are visible along the highway, in the parks, and in the high grass on the outskirts of town. Their belongings are few, their camps are dishevelled, and their faces are lined with the signs of poverty and hardship.
The recently funded Doorway Hub (a separate entity to the Army's Doorways program) will soon run parallel to the Beacon and offer additional support, facilities, services and resources.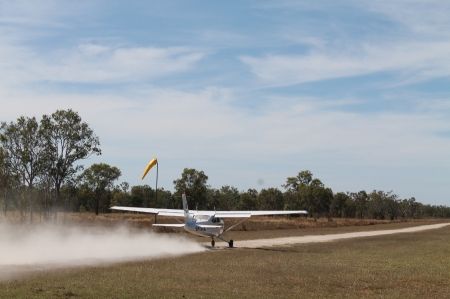 Julie also runs the SAGALA program in the local primary school as part of its social studies class. The Howards are active and well-known in the community. From his "office in the sky", Greg covers a phenomenal 3.2 million sq km "mission field" from his base in Katherine.
It takes in the top end of the Northern Territory and Western Australia. He visits remote cattle stations where he can land his fixed-wing Cessna 182, and also calls in to isolated townships where he spends time at schools and also talking to police, fire and emergency services personnel and whoever else he comes into contact with.
"I find out how they are, what's been happening for them, and help them in any way I can," he explains. "Sometimes it's helping with cattle in the yards or any other handyman jobs that may need doing. When we're doing things together, often that's when people will talk and share their concerns."
In the wet season, (November-April), the monsoons and storms make flying more difficult, so Greg makes many of his visits by four-wheel drive. He also offers free tea and coffee at camp drafts, where station owners from around the region come with their families to compete in cattle mustering; and at school-of-the-air sports or other events where families come into town.
"I love this work," says Greg, who is in his fourth year as a flying padre. "Such a variety of people work on the stations and in our communities – great people and a great country."
Waterhole centre a vital gathering place for community
The Waterhole community dropin centre is one of The Salvation Army's major programs in Alice Springs, Australia's famous "Red Centre" located 1500km south of Darwin.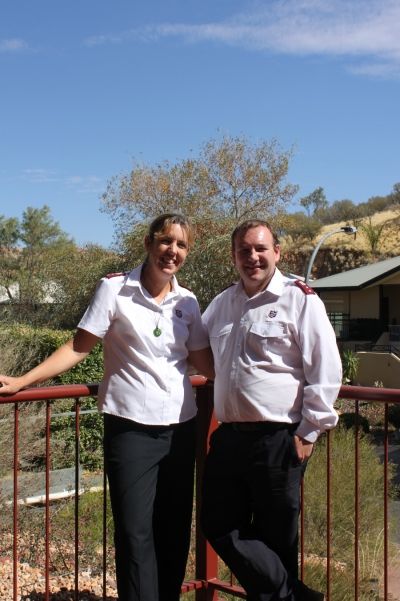 It offers a welcoming place for people to relax, have a coffee or tea, cook a meal, shower and wash their clothes. Art is a significant activity at the Waterhole, with members and visitors coming to paint and draw, both as a personal creative outlet and a source of income when their paintings are sold, often via the centre's small not-for-profit art gallery. 
"Some of our members and visitors are primarily Indigenous, but not all," says Captain Nari McGifford, who is the Director of Social Program at Alice Springs and also the Corps Officer with her husband, Captain Stuart McGifford (pictured right). "A lot of people come who are transient, staying in hostels, sharing accommodation, sleeping rough, or need a space to stay in during the day. Others come and visit as they have found community and friendship through our Waterhole."
The corps in Alice Springs is a small but vibrant church, with weekly services and children's activities. More than 75 per cent of the congregation is Indigenous, with other locals and winter tourists adding to the group.
Alice Springs Salvos also run an ever-changing and expanding housing program. Currently, the Towards Independence Program has six houses available for clients with children who do not have stable, secure or ongoing housing. Many have experienced domestic violence or other trauma situations.