'Whole in One' for symposium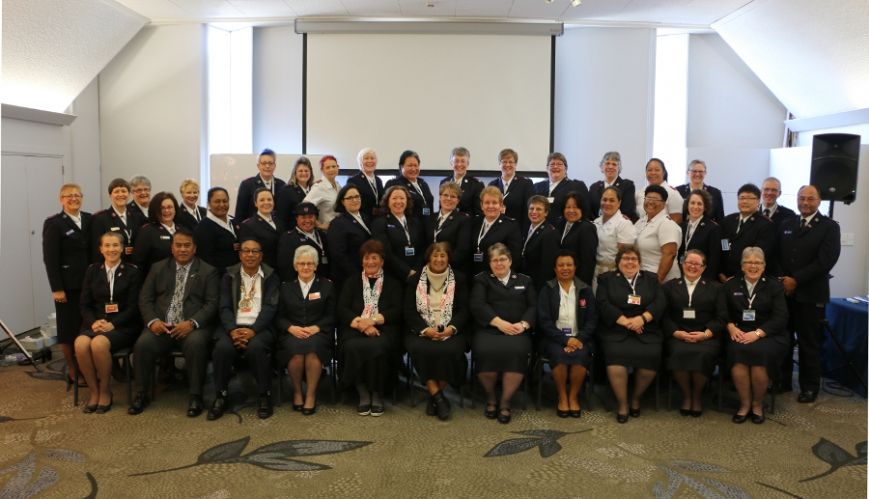 'Whole in One' for symposium
18 September 2017
Despite what some may assume, finding a date was the last thing on people's minds as they gathered at the Sole Officer Symposium in Wellington.
Thirty-four officers from New Zealand, Fiji, Tonga, Australia and Papua New Guinea met in Wellington for the event, hosted by our territory, for those who are single, widowed or divorced.
The 'Whole in One' theme underpins the belief that every person finds wholeness in Christ, and despite what Hollywood may try and tell us, another person does not 'complete' us. Every person is separate, unique, and whole and this does not change when we update our relationship status.
We began the four days together with a pōwhiri led by a local kaumatua before sharing a meal together. Then everyone was thrown into the deep end by 'speed dating with Shar'. With a little tongue in cheek, everyone raced through 90 second introductions to the person opposite them before the call to change seats. It was loud, funny, fast-paced and did I mention, loud? 
Commissioner Gillian Downer, International Secretary for South Pacific and East Asia, was the keynote speaker and she spoke from her own experience of 40 years as a sole officer. Many of us were surprised to hear that this was the first sole officer event she had ever attended. It served as an indicator of the level of recognition and investment given to sole officer needs around the world.
Lieutenant Andrew Lee, Australian Southern Territory, said: 'It was a good experience meeting fellow sole officers in our region and learning from the guest speakers. Commissioner Downer's message about the sole prophet Jeremiah resonated strongly with me—recognition of God's calling, trust in God's promises, keeping God's perspective, the value of prayer and appreciating friendships.'
Lieutenant Visa Kaurasi (Fiji), was greatly encouraged by the experience, and in particular, Gillian's teaching: 'As Commissioner Gillian Downer shared about Jeremiah, when he was expressing to God how everything went wrong, he expresses his discouragement, his hurts, his downheartedness and also the challenges that he went through. But Jeremiah recognizes all that and he keeps trusting God's promises. I trust that God will help us and give us more strength to overcome every challenge that we face, to do what is right, continue to listen to him each day in the ministry he has called us to.'
We spent an afternoon with Jenny Purkis from Strength to Strength, who walked us through being 'people smart'; looking at healthy boundaries, being emotionally engaged and balanced, and communication and conflict. While Jenny's teaching was not exclusively for single people, it was very helpful for us as sole leaders in ministry.
One of the key components of the symposium was a strategic facilitation day with Richard Nuack, a communications guru and long-time friend of The Salvation Army. The planning team's vision for the gathering was to have space to address issues that are particular to being a sole officer. And from that, present territorial leadership with a framework for strengthening and valuing the sole officer force going into the future. 
Those present felt The Salvation Army is a marriage-centric organisation and those who sit outside the husband and wife senario often feel somewhat marginalised or isolated, despite singleness being a growing portion of society.
Singleness is increasing around the world. In 2011 it was estimated 277 million people globally were living alone. This has risen by 80 per cent over 15 years. 'Living alone' households are predicted to be the fasted growing senario from 2015–2030.
Many churches, including The Salvation Army, 'affirm the sanctity of marriage and family life', and can often express their ministry and mission in terms of families and couples. This can sometimes leave the single person feeling devalued, or simply not having a place within the Christian fellowship.
Singleness is one of 15 areas of human sexuality that the international Salvation Army is looking at. Discussion documents are being created to engage local corps and centres in dialogue and action around these areas.
Delegates were able to hear some of the research that was undertaken on this topic, and it was a timely reminder to many that we are neither weird nor a shrinking people group in the world.
Lieutenant Nicola Poore from the Australian Eastern Territory, reflected that, 'the Sole Officer Symposium was a unique opportunity that gathered a diverse range of people who shared a common experience. As we exchanged stories, any sense of self-consciousness or feeling like the "odd one out" soon disappeared as I realised that my journey as a sole officer was normal—indeed, that I am normal. This is a powerful truth that I will continue to carry before me in ministry.' 
That sense of normalisation was echoed again and again throughout the week. It is common for sole officers to walk into officer gatherings and feel awkward, isolated, excluded or just different. Simple things like seating arrangements, meal times and free time are things to be navigated by a sole officer in a couple-heavy setting.
Questions were raised like 'how does a sole person fit into my local setting?' 'Does my setting reflect the wider community?' 'How do we provide a sense of belonging and community to single, widowed or divorced people?'
These are important questions to ask in an environment where corps mission is often focused on families. The word can conjure up feelings of exclusion for anyone who doesn't have an immediate family with them.
Singleness may be considered a choice, a calling, a circumstance or simply a present experience. It may be a joyful opportunity, a sense of freedom, a restriction or a painful experience. Being alone does not automatically mean someone is lonely. Married people can experience loneliness too.
Psalm 68:6 says 'God sets the lonely in families.' Author Marva Dawn asks, 'how have God's people learned to love better so that we might be one of the primary families into which lonely persons are set?'
In their book Singled Out: Why Celibacy Must be Reinvented in Today's Church, Christine Colón and Bonnie Field say, 'Marriage plays such a central role in our evangelical culture that even many positive discussions of singleness eventually end up focusing on marriage.'
Finding a balance in the conversation around singleness in a marriage-centric culture is not easy but is necessary, not just for officers but for the growing portion of the community that are single.