You are here:
Home › Global Focus › Army A Haven For Migrant Women In Germany And Sweden
Army a haven for migrant women in Germany and Sweden
Army a haven for migrant women in Germany and Sweden
The Salvation Army across Europe works actively with refugees and victims of human trafficking from many different nations – providing practical assistance and spiritual encouragement as well as equipping them with skills to rebuild their lives.
Below we look at two very different programs – one in Germany and the other in Sweden, where the work of the Army is meeting the needs of women in extreme circumstances in unique and specialised ways.
Naumburg, Germany: Reaching out to refugee women
Captain Mareike Walz is the corps officer in Naumburg, Germany. She is following God's lead in her life to meet with Muslim women in her neighbourhood – and knows the love and commitment she feels towards these ladies could only be from the Lord.
Below, Captain Walz speaks passionately about the café program she runs for refugee women:
Can you describe the program you are running for refugee women in your city?
We meet in a café setting every two weeks. Women and their children are invited and it is predominantly Syrian women who come.
Among our helpers we have German women from our corps, some of the volunteer helpers come from the evangelical church and some of the helpers have no church background at all.
There is a playroom available for the children and usually there is also a handicraft activity on offer, which one of the volunteer workers leads. For the mothers we frequently prepare fun-based German lessons, so they can test their knowledge of German.
Around 35 people come to the café for this program each week.
How and when did you start this program?
When the great refugee wave arrived in Germany in 2015, we accommodated a six-member Syrian family in an available flat in our Salvation Army building. An employee who also lives in the building took care of the family and quickly got to know other Syrian families. We heard their stories, saw their situations, and wanted to help.
We established a café together with the evangelical church. Right from the beginning the idea was that refugees and volunteer helpers should have an exchange platform. This activity was and still is well visited but we quickly realised that very few women took advantage of this activity.
Of course, we asked ourselves why this should be. We also learned a lot about the oriental culture at this time and so we realised that there needed to be an extra meeting place for Muslim women, where they could be sure that only women would come. In their culture and lifestyle, they do not socialise with other men – which also meant they could not access integration programs available to refugees in the city.
What response have you got from the women you meet in the program?
All in all, it can be said that the women are grateful that this café is for them. I often hear that they say that this is the only place where they can meet Germans and use the German they've learnt.
I feel a fundamental gratitude in the women and girls, which is expressed differently. For instance, there is a 13-year-old girl who always comes with her older sister. Her German is already quite good but often the explanations in school are too quick for her to understand. So she likes to take the opportunity to do her homework with us.
However, they are also often thankful because someone will listen to their stories. I will never forget the moment when I met a mother who had, for various reasons, ended up alone in Germany, while her three children and her husband were still stuck in a refugee camp on the Turkish border. At that point, even though I could not bring her family to Germany, I could listen to her, take her in my arms and tell her that I would pray for her.
Not infrequently, our volunteer helpers also receive invitations to visit them in their homes and meet the whole family. I have such a love for these women now, and see how unfairly they are portrayed in the media.
What response have you got from the women's families and the community in general?
I don't have so much contact with the husbands myself but I know that it is a proof of their trust in us that the women are able to come to us at all.
And although the neighbourhood expressed criticism at the beginning because so many veiled women were going in and out of our building, the agitation has now died down.
How has the program impacted you, and the other Salvation Army volunteers who work with the women?
I believe that something very important has happened to me and to the other volunteers. It is no longer a question of them being "the refugees" but now they are, for example, Aylin with her children. These people now have a name and we know their stories and the reasons why they fled. And friendships have also developed between individual women. I have come to realise what an enrichment they are for our city.
What advice would you give other women around the world in countries receiving refugees, who would like to reach out to the refugee women?
If God has entrusted these people to you, then you should have the confidence to work with these people. After all, God is at your side.
Inform yourselves about oriental habits, behaviour, culture and so on, so you can understand them better and avoid mistakes.
And then, be prepared and look forward to the moment when you can speak about your faith. I have rarely met people so open when it comes to the subject of God.
We would be very pleased if you would pray for the work The Salvation Army is doing here in Germany among the refugees.
To see Captain Walz interviewed, and footage of the program, click on video.
Sweden: Salvation Army centre in Akalla fit for a king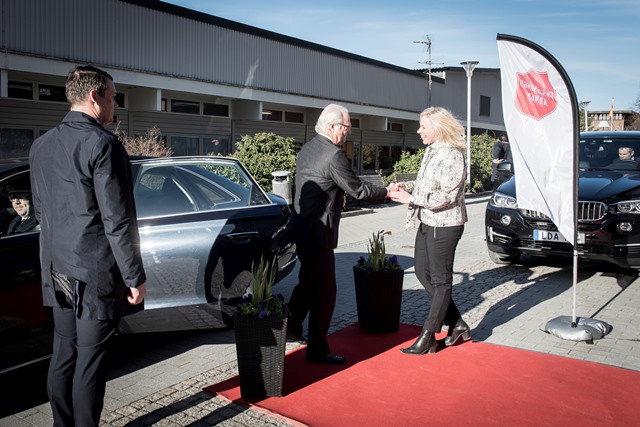 King Carl XVI Gustaf of Sweden visits a Salvation Army centre for immigrant women in Stockholm.
The Salvation Army in Sweden hosted a visit by King Carl XVI Gustaf to a centre in the Stockholm suburb of Akalla. For 21 years, The Salvation Army centre in Akalla has been working to break the isolation and social exclusion that is experienced by many immigrant women, helping them and their children to learn Swedish and supporting them in their efforts to find employment.
Commissioner Eva Kleman, Territorial President of Women's Ministries, gave a short introduction and welcome before handing over to the head of the centre, Jenny Alm, to describe the centre's work and the needs of the women it serves. Jenny introduced Rahel, who told the King about her personal journey.
Rahel arrived in Sweden as a 17-year-old refugee, having been a victim of human trafficking in Saudi Arabia for five years. After one year in Sweden she went to a Salvation Army shelter and started to study Swedish. Now, seven years after arriving in Sweden, she has found work as an assistant nurse and has got her dignity back.
The King primarily visited the centre to meet Madeleine Sundell, The Salvation Army's Social Justice Secretary and National Anti-Human Trafficking Coordinator. In 2009, Madeleine was awarded the Kompassros [Compass Rose] Scholarship from the King's Foundation for Young Leadership, which is given annually to a young leader who has proven exceptional courage, concern and decisiveness.
Madeleine spoke about what the scholarship has meant to her, explaining: "Today I can say that I have followed my dream and been loyal to my values, and I have grown in leadership. I want to use the law as a tool for social justice and the transformation of vulnerable people's living conditions."
The King then met the foreign-born women who are being assisted through the centre. They invited him to join them for coffee and an international cake buffet they had prepared, featuring recipes from all over the world, before Commissioner Kleman concluded the visit by praying for God's blessing on everyone present.
To see the full story and additional photos, go to salvationarmy.org