You are here:
Home › Global Focus › Brighter Futures For Children And Adults In Brazil
Brighter futures for children and adults in Brazil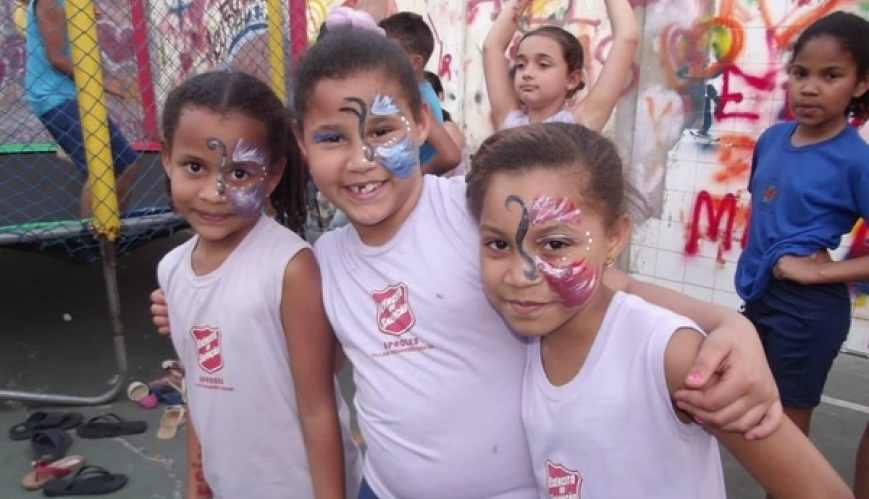 Brighter futures for children and adults in Brazil
In the Vila dos Pescadores favela community, a low-income area in Cubatao, Brazil, a group of working mothers approached The Salvation Army for after-school assistance so their children would have a safe place to study and do homework. The mothers were concerned with local violence, juvenile prostitution, drug trafficking and escalating student dropout rates.
The Salvation Army responded by purchasing a building in the favela that now provides 300 children and adolescents with access to an excellent program that includes educational, social and recreational activities.
The program offers homework assistance, crafts, dance, theatre, music and wall art. Children also enjoy workshops for capoeira (martial arts for self-discipline and protection), CLAVES – a course about sexual exploitation issues (including dangers of human trafficking), computer training and skills for résumé writing and job interviews. Funding for Christmas, Easter and national holidays is also provided and enjoyed by many young people in this poverty-stricken area.
Monthly parent and guardian meetings reinforce family relationships. Topics such as hygiene for children, child protection, behaviour and discipline, prevention of dengue fever, winter viruses and Zika are presented and discussed. A social worker strengthens the entire family through the development of children and youth in the program, as well as assisting parents with relevant topics and advice on how to receive social benefits. All staff conduct regular home visits and address issues that surface during classes and workshops.
Parents in this poor area of Brazil are grateful to The Salvation Army for providing such a "special" place for their children.
One highlight for parents is a computer skills class, which amazes many who have never been exposed to technology. The class not only helps parents learn about the virtual world, but also teaches them how to keep their children safe online. Some parents have also found that it has improved their job prospects, which enhances family life by providing stability for their children.
"I thank God for this special place, which serves the children and young people of this community and keeps them out of trouble and crime," says Sandra Christina, a mother of three, who hopes to go back to school. "Thanks to this program, my children have never had contact with crime."
This article was originally published in the Autumn 2016 issue of Global Link, a publication from the World Missions department, highlighting the international work of The Salvation Army Canada and Bermuda Territory.