You are here:
Home › Global Focus › Church On Wheels Offers The Bread Of Life In Germany
Church on wheels offers the bread of life in Germany
Church on wheels offers the bread of life in Germany
By Simone Worthing        
A church that goes to the people is the concept behind Germany's KAR project – a church on wheels that travels to various locations each week to share meals, conversation, friendship, and Jesus, with local residents.
KAR, the German abbreviation for "Kirche auf Rädern (Church on Wheels) began in 2013 from Meissen, 200km south of Berlin, in former East Germany. KAR regularly visited six approved locations, with some areas allowing KAR to put up signs similar to German bus stop signs, featuring its logo.
"The main idea behind KAR is following the example of Jesus as he urged his followers to go to the 'highways and hedges' to bring people to his 'banquet table' – just as he did," said Gerald Dueck, who began, and runs, the project. Gerald is a Canadian Salvationist who has lived and served with The Salvation Army in Germany with his wife Blanca, since 1994.
"We targeted the former East Germany as there are a lot of people there who have not accepted or cannot adapt to the new way of life," Gerald explained. "There are a lot of unemployed, a lot of alcoholics, a lot of people on social assistance. It is estimated that 80 per cent of former East Germans are atheist. In other words, church is out of sight and out of mind. We pray KAR can change that.
"This is not just another feeding or canteen ministry. Handing out food to the needy or sharing a meal around a common table with friends is a totally different concept."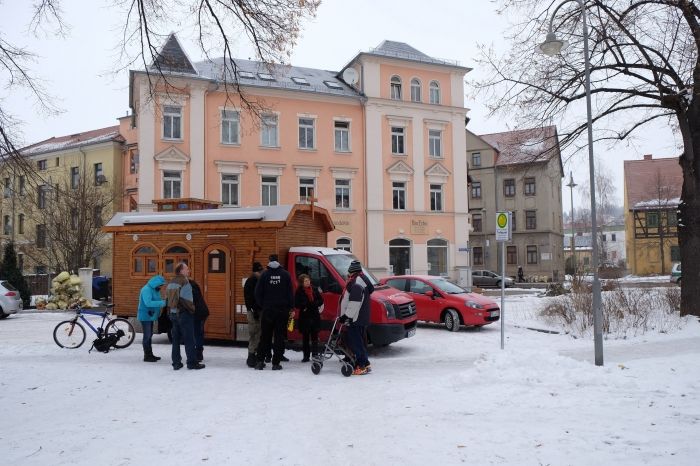 KAR travels to various locations in every season, spending time with people, building relationships and sharing a meal.
KAR now visits seven locations – four once a week, and three bi-weekly. The locations are chosen based on where people already gather and it's there that KAR joins them.
"In two locations, we park right near a food bank," said Gerald. "In two towns our friends are predominantly alcoholics but others come too, such as a few grandmothers and occasionally children. In Meissen, we have a mix of people including mothers with babies in strollers, punks, alcoholics, people from the Meissen Corps, grandmothers, and others. In Freiberg, 40km away, we visit a refugee centre where we are joined by up to 30 children plus adults on any one outing."
Some people call in at KAR out of curiosity. Others come to talk, eat and picnic together. Some go inside and watch the PowerPoint devotional, which generates many faith questions and discussions.
"There is a feeling of community which builds up over time," shared Gerald. "We often pray for people when they are sick or when they are in distress about some problem they are facing. A few people keep more to themselves. Our hope is that they inhale some Bible teaching along with their coffee."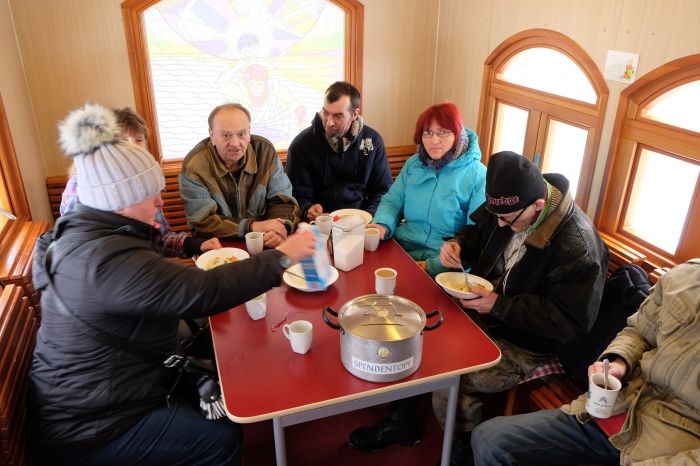 In the colder weather, people come inside the church to share hot soup and fellowship together.
Gerald believes that KAR receives just as much from the people, as it gives. "We receive genuine affection, gratitude, even gifts on birthdays," he said.
"Also, we get a feeling of doing something on the cutting edge. We get to spend time outdoors, eating with the people and drinking coffee with them. We learn about their life. Often they surprise us with their insights and wisdom.
"It is give and take. Yes, we do have something to offer too. Soup made with fresh products and cooked with love is on offer. So is a bottomless cup of coffee. More importantly, and most of our friends would agree, is simply the contact, the attention, the affection we share in the name of Christ. We talk about real issues and bring faith and prayer to the table. We offer the bread of life."
KAR's staff includes two Salvation Army officers and Gerald and Blanca, who are "semi-retired". In addition, volunteers assist with preparing meals, setting up for picnics and packing down.
Gerald (pictured above) would love to see more KARs on the road, and believes this could be God's plan for the project.
"I would be happy to see a dozen more KARS on the roads in Germany and believe that this type of ministry is perfectly suited to Salvation Army convictions – a church going to the people," he said. "There are many exciting possibilities that a mobile church can offer. Imagine a single corps which can extend its influence to seven, 10, or 12 towns within a single week!
"My dream is that this method of doing ministry catches on in many other countries where the Salvation Army is active. I think this is a great way to reach people with the gospel in a natural, Jesus-way. We have to be a bit radical and get out there, though. Jesus was, William Booth was, but are we?
A local Christian businessman in Meissen sponsors KAR and also began a charity through which most of KARs operating costs are covered.