You are here:
Home › Global Focus › Coffee And Conversation On The Streets Of London
Coffee and conversation on the streets of London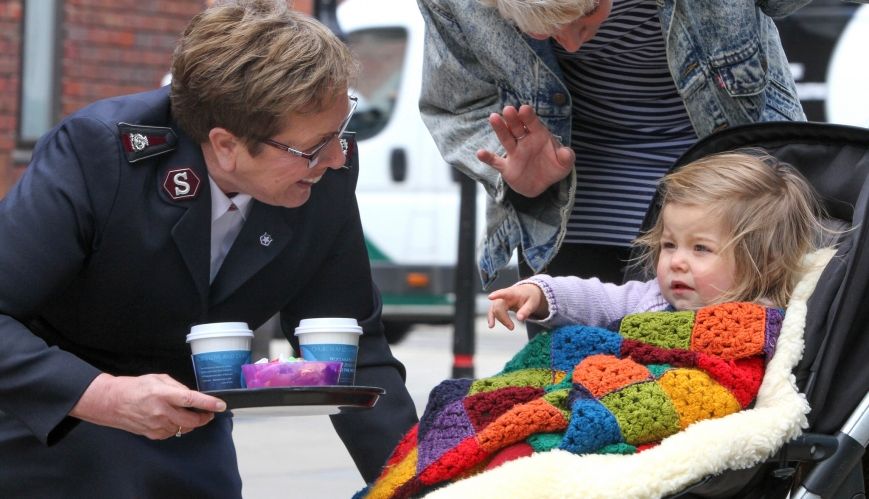 Coffee and conversation on the streets of London
By Simone Worthing
Officers and staff at The Salvation Army's International Headquarters (IHQ) in London are reaching out to those who pass by its doors in the centre of the city, with prayer, magazines, sweets, coffee and conversation. The outreach takes place every two weeks, and in direct response to local needs.
Commissioner Silvia Cox, World President of Women's Ministries, began the ministry last year, as a monthly prayer outreach outside IHQ, led by Women's Ministry, to offer prayer and conversation to people passing by.
"I loved the idea that they were getting out on to the street," said Ester Nelson, the Whole World Mobilising project manager, who now leads the ongoing fortnightly initiative. "The idea was to mobilise — and expand on that monthly prayer outreach: more often, more of IHQ involved, more Jesus. We're also working on getting another local church involved, who've expressed interest in joining us with this outreach or a monthly prayer walk around our neighborhood."
A few days after the 3 June terrorist attack on nearby London Bridge, the IHQ mobilising team gathered outside to offer comfort, a listening ear, and support, to anyone who asked.
"People were so receptive and appreciative of the free coffee we distributed, and we were able to engage in multiple conversations with passers-by – we couldn't pour the coffee quickly enough!", said Laura Booth, Content Producer, the Whole World Mobilising.
"Commissioner Rosalie Peddle had a particularly poignant conversation with a woman who had been afraid to leave her house following the London Bridge attack, and was venturing out for the first time on that day."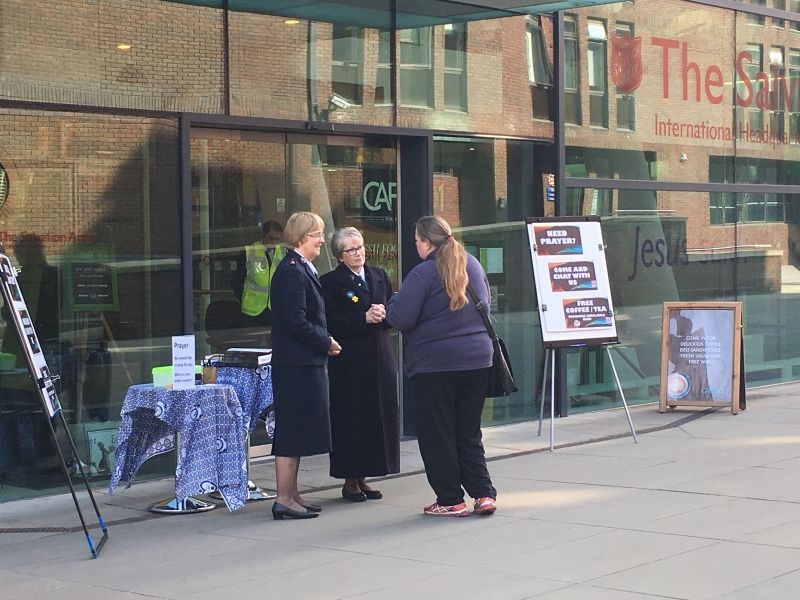 Commissioner Silvia Cox (left) joins with other IHQ officers to speak, pray and share with locals and visitors from all over the world.
On 15 June, the day after the Grenfell Tower fire tragedy, the team was again outside IHQ, offering prayer, coffee and sweets to Londoners, and others, reeling from three recent terrorist attacks, a horrific fire, and a divisive general election.
"[These events] have caused havoc, panic, distrust and an unnerving sense of hopelessness in the hearts of people of all nations, cultures and faiths," shared Commissioner Peddle, World Secretary of Women's Ministries, in a recent blog.
"The IHQ Whole World Mobilising team felt an urgent need to position ourselves on the walkway outside IHQ to offer people free coffee, treats, prayers, words of comfort, encouragement and the true hope that is found in Jesus. We also served coffee to two police officers on horseback. They stopped outside IHQ for about 15 minutes and spoke to officers and staff.
Detectives on horseback enjoy coffee and conversation from IHQ officers and staff as they share their concerns for the public.
"The conversation developed to a personal nature as we talked about the mission and ministry of the International Salvation Army, the need for hope in the midst of deep pain and sorrow that was present in the city, and how just a smile would help people find a light in this darkness.
"They told me that they are detectives and rarely wear uniform, but felt it was important to wear their full uniform so their presence on the streets of London would offer a visible assurance to the public. Their uniforms made people feel safe and protected and people knew they could turn to them for help and comfort. Wow!
"After they left I stood there with great confidence and courage, aware that God is calling The Salvation Army to be visible in these critical days so that people will understand that God is our refuge and strength, an ever-present help in times of trouble (Psalm 46:1). He will take us by the hand and lead us through the streets of London, proclaiming the message of love, hope and transformation."
With the weather warming up in London over the (Northern) summer, water bottles, with specially designed labels, are now also being given out. The labels feature the scripture from 1 John 4:7, the Red Shield, and state that The Salvation Army is both a church and a charity.
For Esther Nelson, this outreach focus on reaching neighbours with the news of hope has always been important. "And it's important that people hear and understand that we're here for them because of him, because of Jesus," she said.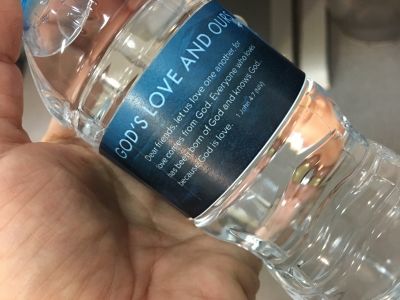 Water bottles - carrying a message of love and hope.
"The water bottle labels we created with this in mind. We could simply continue offering coffee or water, or we could do all that with a message of his love. Now even if passersby don't want to talk, don't want to have a prayer, when they're taking a drink, they're taking some of his love with them - God's love and ours.
"We can get so busy in day-to-day life that we forget to allow time to shine hislight for our world. At IHQ, administration work is important, to be sure! But in the end of it all —I have a feeling that these moments we spend outside will have lasting impact, an eternity impact, for someone. I'm humbled and honoured to even be a small part of that."
The IHQ ministry of prayer, coffee, conversation and connecting with people on the street from all over the world, continues.