You are here:
Home › Global Focus › Colonel Alley Fulfils Promise To Visit Remote Png Village
Colonel Alley fulfils promise to visit remote PNG village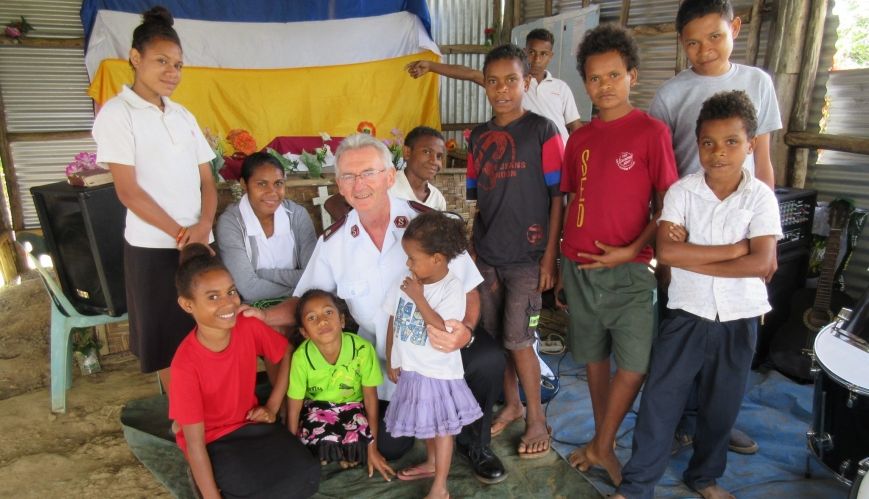 Colonel Alley fulfils promise to visit remote PNG village
"I loved every moment," said Colonel Kelvin Alley, PNG Territorial Commander. "We all slept on the floor and sat on floor to eat. I just loved it."
Colonel Alley has recently returned from a visit to the remote mountain-top village of Kobarouka – the first visit from a Salvation Army leader – where almost all of the 70 inhabitants attend The Salvation Army corps there.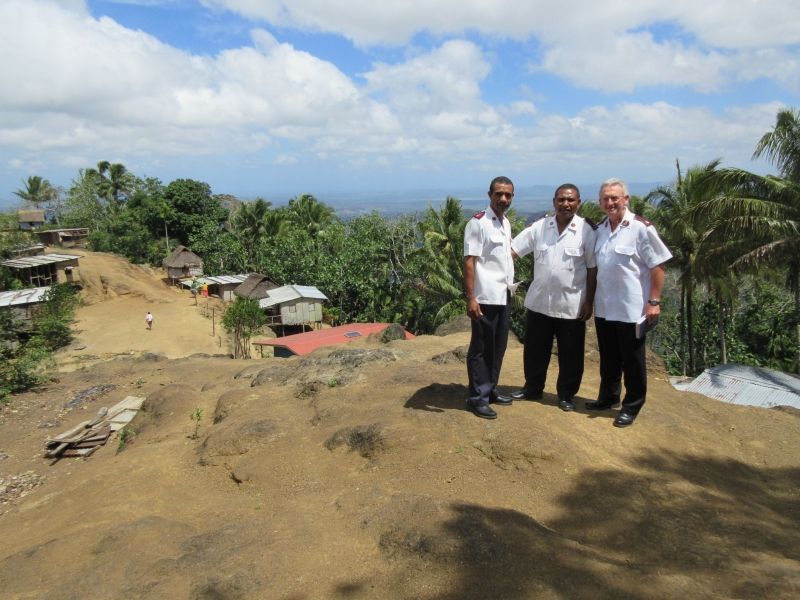 Colonel Kelvin Alley (right) with Captain Saini Gari (left) and Captain Iga Gabi overlooking Kobarouka village from the eagle's nest where the church is built.
The visit was one of many Colonel Alley has made, and plans to make, to other remote locations never before visited by a territorial commander. "My determination is to put my feet on the ground where we send our officers," he said. "I have a strong commitment to visit the more remote appointments, firstly to bring a sense of care and encouragement to the officers but also the soldiers, to show that leadership really cares and is prepared to demonstrate this.
"Secondly, it helps at the board table when we fully understand and are familiar with the conditions to which we send officers into. It helps at Territorial Finance Council and Property also to make sure we do all we can to support our officers with things such as water tanks, and also to understand what they do every day just to wash, to cook, to eat, and go to school.
"I can't visit remote places in the Highlands for a while due to severe violence in many places post-elections, but I will be doing Officers' Fellowship there later this year."
The village of Kobarouka is perched on a mountain in the Owen Stanley Range. To get there, Colonel Alley travelled two hours by vehicle from Port Moresby to Lebogoro, where there is a corps.
From there, with many from Kobarouka who had come down to meet him, the group walked, with backpacks, for an hour to the next village of Meiribu at the base of the mountain – where there is also a corps here, and a Health Post.
"From Meiribu, it was a tough two to three-hour hike to the top of the mountain to Kobarouka (see photo below), which is like an eagle's nest at the top of a volcanic rock outcrop," Colonel Alley said. "The views were spectacular but, at times, that mountain felt vertical!"
"It was the most amazing and blessed weekend. I promised our faithful church pastors, Captains Iga and Budoa Gaba, over 18 months ago that I would come to visit them – and I fulfilled that promise."
Colonel Alley spent the night in Kobarouka, conducted church services the next morning, and then climbed down the mountain – again with several from the village hiking down with him.
"The faithful officers serve here without complaint," Colonel Alley explained. "There is no school, some limited solar power, tanks are dry, and the only water is a tough walk to a tiny spring that just trickles.
"Ten of the 12 village families attend the Salvation Army. They were quite excited to have the first-ever visit to their village by the leader of The Salvation Army. They were sorry they had no gift to give. I told them that their faithfulness and beautiful hospitality was the best gift, and the memories I will retain for life.
"This climb was very steep and very tough, and took about five to six hours' round trip. The children in the village (about 12 of them) do it every day in order to attend school.
"We have much on which to reflect. Praise God for these precious people we serve. I have a privileged appointment, but every day I feel the pain of living so close to an empty bank account for the territory, but we trust the Lord who is our provider.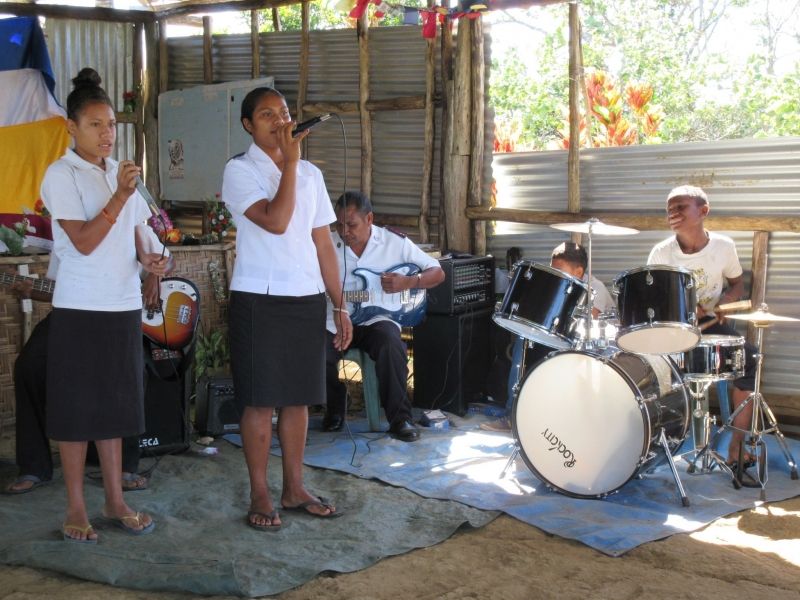 The talented young music team at Kobarouka Corps. Ten of the 12 village families attend the corps.
"Both Julie [Colonel Julie Alley, Territorial Secretary of Women's Ministries] and I are blessed with good health and the ability to handle the tough tasks of the difficult walking, travel in dinghies for hours, the difficult roads, the somewhat challenge of pit toilets, bucket baths, and humid nights, all of which is involved in visits to where our officers are appointed.
"There is always an element of danger as we travel on the roads and into remote places, but the Lord has blessed us with a sense of peace about this. We do not take the potential dangers for granted though, we are always careful and take all precautions that are possible under the circumstances."
Colonel Julie agrees. "We are delighted to serve the people of Papua New Guinea," she said. "Many dangers abound each day, but by God's grace and his guidance and direction in our lives, our officership is challenging yet deeply satisfying; overwhelming at times yet at all times gratifying.
"We choose not to be anywhere else than where the Lord has placed us, here in PNG, the land we love, the land of the unexpected!"
For more information, and to follow the Alleys' ministry in PNG, follow Kelvin Alley on Facebook.