My mind is free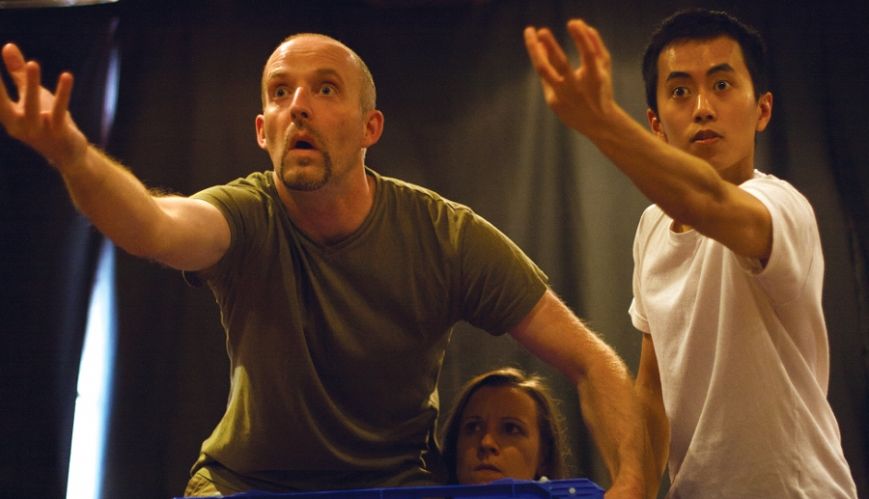 My mind is free
You may choose to look the other way,' William Wilberforce famously said, 'but you can never say again that you did not know.'
This quote may be centuries old – it was first spoken before the House of Commons in 1791 during Wilberforce's quest to abolish the slave trade – but its message is still poignant, and is at the heart of a new play set to feature at the Edinburgh Festival Fringe this summer.
My Mind Is Free focuses on the slavery that still exists in the world today, telling the interlinked stories of trafficked victims in the UK. It has been touring the country since 2015, receiving rave reviews and a nomination for Best Stage Play at the Human Trafficking Foundation's Anti-Slavery Media Awards, and will be playing at Edinburgh City Corps, an official Fringe venue, between 7 and 18 August.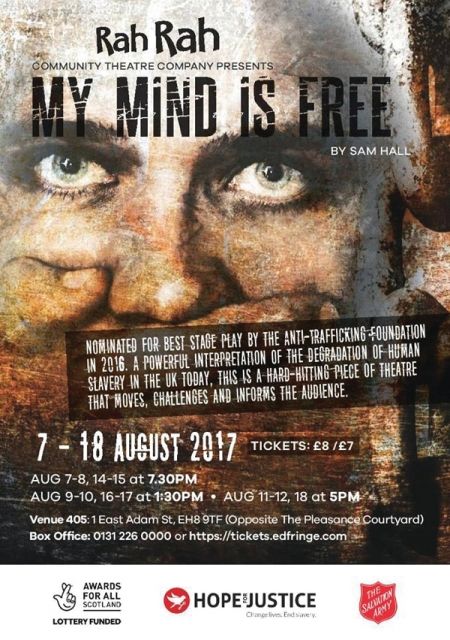 Each year, hundreds of thousands of men, women and children are trafficked in the UK and the play's creators hope to shine more light on the situation.
'We feel knowledge is the first step in beginning to tackle this horrible crime,' says Jude Spooner, director of the play and co-founder of the Rah Rah Community Theatre Company, which is producing it. 'We're hoping to raise awareness and promote social change so that individuals know what slavery looks like, where it happens and what to do about it.'
The four main characters represent the most common forms of trafficking: domestic servitude, sexual exploitation or forced marriage, forced labour and bonded or child labour.
Violeta is originally from Romania, but has been brought to the UK by her 'boyfriend', a slightly older boy who makes her work in a brothel.
Beatriz, from Brazil, moved to London in the hope of making some money to send back to her children at home so that they might have a better life – but she is mistreated by her new employer.
Giang, from Vietnam, came to the UK via a torturous journey, which lasted more than a year, after having been sold to drug dealers to pay off a family debt.
Colin is a former squaddie suffering from PTSD; having fallen on hard times, he is conned by an unscrupulous gang into working cash-in-hand for a few pounds.
'When she was devising the characters, writer Sam Hall did a lot of research with anti-trafficking charities,' reveals Jude. 'Each character is based on an amalgamation of real stories from survivors of trafficking. Also, after the first tour of the play, feedback from people who had been in similar situations was used to make a few changes to reflect their true experiences.'
The play opens with the four survivors waking up in the back of a van, not knowing how they got there or where they are going.
Talking to each other, their pasts are slowly revealed. 'Their stories are quite different and it would be unlikely that these four people would ever meet, so the van was devised as an "otherworldly" space where they could interact,' explains Jude. 'How to interpret the end is up to each individual audience member.' 
The idea for the project arose in November 2013, when Jude joined New Malden Abolition Group, which was set up to raise awareness and fundraise for the anti-trafficking charity Hope For Justice. 'I was saddened to hear the horrific facts about modern day slavery,' Jude remembers. 'I've been an active member of the group since its inception, but this didn't feel enough. I started thinking about the resources I had and what my artistic response was to this crime. As the managing director of a theatre company, I thought that we could really make a stand by creating a piece of theatre that could raise awareness of human trafficking in the UK.
'Then I met Sam at a play reading hosted by Merton Against Trafficking. After the event, she told me she was looking for a theatre company and director to take on her play, and the journey began!'
Alongside the play, Rah Rah will also be offering free modern slavery workshops.
Run by the theatre company and Hope For Justice's training and development officer, William Guild, the workshops will educate people on spotting signs of human trafficking, enabling them to better evaluate situations. Jude got in touch with The Salvation Army to discuss taking the project to Edinburgh last year; since 2011, the Army has held the government contract to manage support services for adult victims of modern slavery in the UK.
'We're teaming up with The Salvation Army and Hope For Justice to bring the production to the Festival,' Jude explains. 'I've been going to the festival for more than twenty years and when I was there last year I could not stop thinking about how the festival would be an ideal place to reach a new audience with the play's message. Knowing about the Army's government contract and having walked past Edinburgh City Corps on several occasions, I felt a strong urge to go in and speak to them on the last day of the festival. Hours before my train home,
I made a mad dash for the corps in the hope that someone would be there and was met by two smiling people who
agreed that it might be a good idea for 
the next Fringe. Opportunities like this are rare and I spent the whole journey home in shock! I realised God had a big hand in the decisions I made that day.'
Since their first meeting, corps officers Captains David and Jennifer Gosling have continued to be supportive and Jude has been introduced to Major Kathy Betteridge, Edinburgh's mission and outreach support officer, who will be talking after the play.
'I'll be able to highlight the work the Army does to tackle modern slavery,' Kathy says. 'I have experienced the lack of awareness here and this sort of thing is important to highlight the issue. I am sure it will be a powerful and thought- provoking event.'