You are here:
Home › News › 2017 › 04 › 13 › Disaster Response Partnership Brings Immediate Relief To Victims
Disaster response partnership brings immediate relief to victims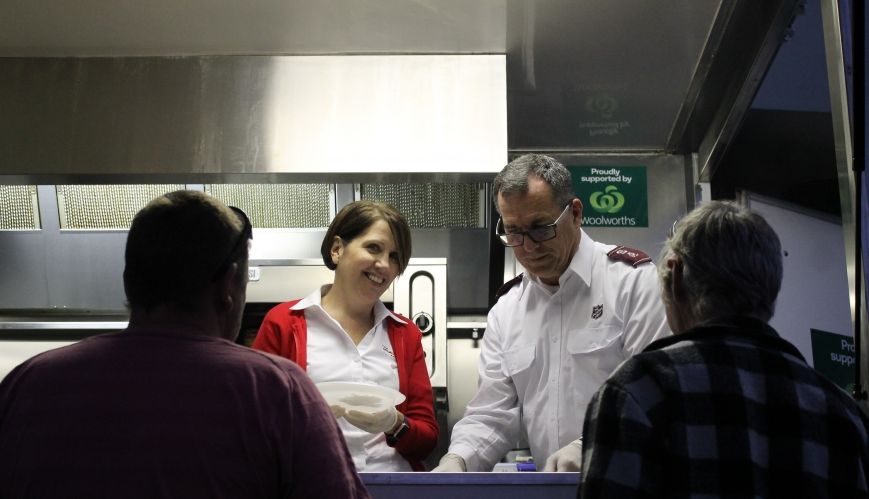 Disaster response partnership brings immediate relief to victims
13 April 2017
In the immediate aftermath of Cyclone Debbie, The Salvation Army, through its S.T.A.N.D partnership with Woolworths, responded to help meet the essential needs of those most impacted by the disaster, many of whom had lost everything.
S.T.A.N.D (Support Through Australia Natural Disasters) raises funds to assist the work of The Salvation Army disaster response.
"Using Cyclone Debbie appeal funds, we purchased thousands of dollars' worth of Woolworths gift cards, which Woolworths quickly made available at their local stores in areas that needed them most – Mackay, Bowen, Prosperine, Canonvale, Casino, Lismore, Tweed Heads, Ballina, Byron Bay, and Beenleigh," said Kim Lee, Strategic Disaster Manager for The Salvation Army's Eastern Territory.
"This meant that our representatives on the ground at recovery sites were able to pick up and give out these cards to people who needed immediate access to food, clothing, bedding, fuel and other essentials. People were so grateful, so relieved, and many of them were in tears.
"Many of these people had only the clothes on their backs. They had lost their businesses and sources of income, power was still out so all their food was ruined and they were in desperate need.
"In recovery sites, The Salvation Army was the only agency offering such immediate assistance. General EFTPOS cards are also now available.
"Some people were embarrassed to ask for help, but once they knew we could help them, and we built up that rapport, they were more comfortable and often shared their stories with us. I was grateful to spend some time with our people doing the hard work on the frontline and hearing their needs, and those of their communities, so we can make the best decisions possible about how and where funds are spent.
"It is also really important in these sites that we continue to work with the Department of Communities, Child Safety and Disability Services, and the other organisations working under this multi-agency approach."
As a disaster response partner, Woolworths has pledged to support The Salvation Army in Australia with a donation of $500,000 each year for five years, and also offers opportunities for customers to donate at their stores during natural disaster appeals.
Woolworths is also selling six-packs of 600ml bottled water and $1 from every pack sold goes to The Salvation Army (see below).
Several other corporations and major donors have also given significants donations towards the Cyclone Debbie appeal.