First Slovakian officers commissioned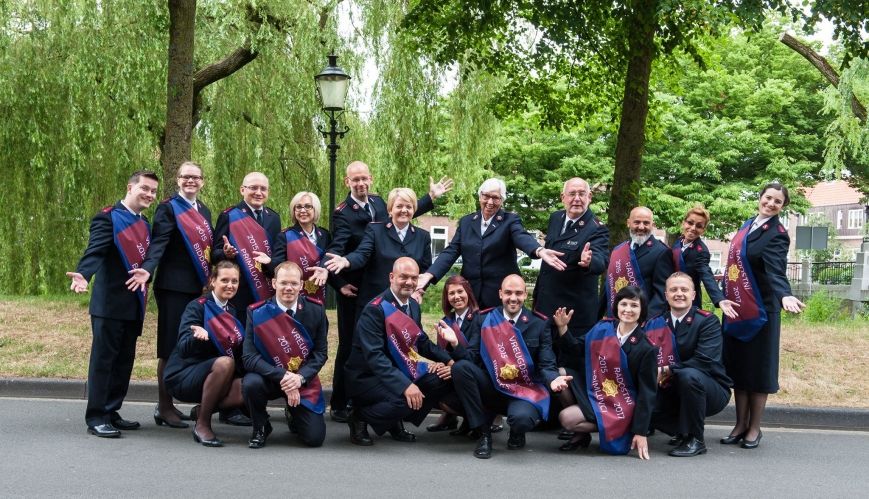 First Slovakian officers commissioned
27 June 2017
The first officers from Slovakia, which is part of The Netherlands, Czech Republic and Slovakia Territory, were commissioned on Saturday 17 June, less than two years since the Army officially "opened fire" in the eastern European nation in September 2015.
Lieutenants Roman and Darina Farkašovi and Lieutenants Albín and Adriana Vágaiovi joined five lieutenants from the Czech Republic and five from The Netherlands who were also commissioned.
Four languages were heard – Dutch, Czech, Slovak and English – during the special commissioning meeting.
The four new Slovakian officers were featured in the film about Slovakia that was produced last year by IHQ Communications.
The personal stories of the new Slovakian lieutenants clearly show the hand of God in establishing The Salvation Army in this nation.
Lieutenants Roman and Darinka Farkašovi
Roman Farkas had heard about God through Christians who visited parks in Galanta, 65km east of the capital, Bratislava, and would sing, pray and preach there. Roman's heart was moved, but he was afraid to respond.
One day in 1996, Roman was playing cards in the park with some friends and some Christians stopped close to them and began to pray. About a month later, he found the "sinner's prayer" in a brochure at his parents' home in 1996 and gave his life to the Lord.
Roman connected with some Christians from the Apostolic Church before finding a Roma (Gypsy) church where he lived in Galanta. "I joined the young people praying on the streets, served in different ministries and really started to grow," he says.
A mission trip took Roman to Plavecký Štvrtok, a village 30km north-west of Bratislava with a population of 2400. The village's 600 Roma live in a settlement at the edge of this village. It was there that Roman met Darinka – and they were married three months later.
Darinka gave heart to the Lord when she was just six years old. Darinka had gone with her mother to Word of Life church when she was 20, and felt she had found her spiritual home.
After they were married, Darinka and Roman continued to minister together to the Roma people in the settlement, where they began living, and still live today.
In 2013, The Salvation Army took responsibility for the Word of Life congregation in Plavecký Štvrtok, and Roman and Darinka became soldiers, and then cadets.
"This was a hard transition but it taught us to trust God and we are very happy to be in The Salvation Army," Darinka shared.
"My self-confidence had been going down, but step by step, God has shown me that I have value. In a Roma settlement, you give up and sacrifice all you have. We work very hard, often day and night, but the Army looks after us and values us and we feel like God has lifted us up to serve him."
Roman and Darinka lead the corps in Plavecký Štvrtok, and also visit and minister in the Roma settlement at Pezinok. They assist in the children's after school club, held at the local school, for children with special needs.
"We would like to build a community centre in the settlement at Pezinok, and we already have the land for it," Roman explains. "There are many challenges though, it getting this project started."
Darinka believes that the Roma people desperately need Jesus. "I feel that the Roma we serve don't see themselves as accepted and loved, which they usually aren't in our society. But we need to help them see that God loves and accepts them and wants to continue in a relationship with them. That's the start.
"We try to teach about repentance and forgiveness and changing your life. God is opening the door to those willing to listen. We are thankful that God has called us here, to preach and to put his word into practice."
Lieutenants Albin and Adrika Vágaiovi 
Lieutenants Albin and Adrika Vagai, leaders in the Galanta Corps, 65km east of the Slovakian capital, Bratislava, have a dream.
As their corps gradually becomes part of a Salvation Army community centre, the Vagais are focusing on reaching out to the local population, introducing them to Jesus, and bringing hope and change into their lives.
"We want the local people, the Roma especially, to get to know us for who we are and what we do, so they will come to our community centre, we can help meet their needs and be an influence for change in their lives," says Adrika.
"I constantly pray that the Roma children who already attend the corps' children's club will be the generation to bring change and hope to their isolated and marginalised communities, and I believe this is slowly beginning to happen. The children see a different way of life here."
Ultimately, Adrika would love to go to the Roma area of town, where people live in isolation and exclusion, and minister with them directly.
Adrika grew up going to church with her mother and siblings and being surrounded by Christians. She started to minister in her church, and participate in prison ministry when she was only 15.
After she and Albin got married, they began a church together with Word of Life and were active in home groups, prayer groups, outreach ministry, visiting and serving people.
"When The Salvation Army took on responsibility for the church, we became the leaders of the church and then cadets," Adrika explains.
The children's clubs, which run each weekday, began almost immediately, with the assistance of two employees, one of whom is a school teacher.
The children receive Bible teaching, school-based lessons, and participate in crafts, games, drama and music. They also learn songs and give drama presentations in Sunday meetings. News of the club has spread, with some families moving their children from other centres to attend. A couple of parents have also started to attend the corps because of the club.
"I oversee the clubs now so Albin and I can focus on our ministry leading the church, preaching, praise and worship," Adrika says.
Albin, who became a Christian soon after the fall of the "iron curtain" in 1989, is also active in social ministry with the Roma people, and works with the local agencies to help meet needs of people in the local community.
"Many people across the country now know about The Salvation Army as we were the only ones who were willing to help one particular single Roma mother with 12 children," he said.
Albin also leads corps' Bible studies and prayer meetings. "Prayer is a major focus area for me," he shares. "I am also working on our two semi-detached buildings to incorporate them into one community centre."
The Vagais have built a good relationship with the mayor of Galanta, who has visited the corps several times, and supports their outreach and ministry.
Once the community centre is finished, Albin and Adrika pray that it won't be a place just for children, but for everyone, where they can be listened to, cared for, helped in life, and introduced to Jesus.
See the photos from the commissioning here.