Melbourne Staff Songsters hit right note with donors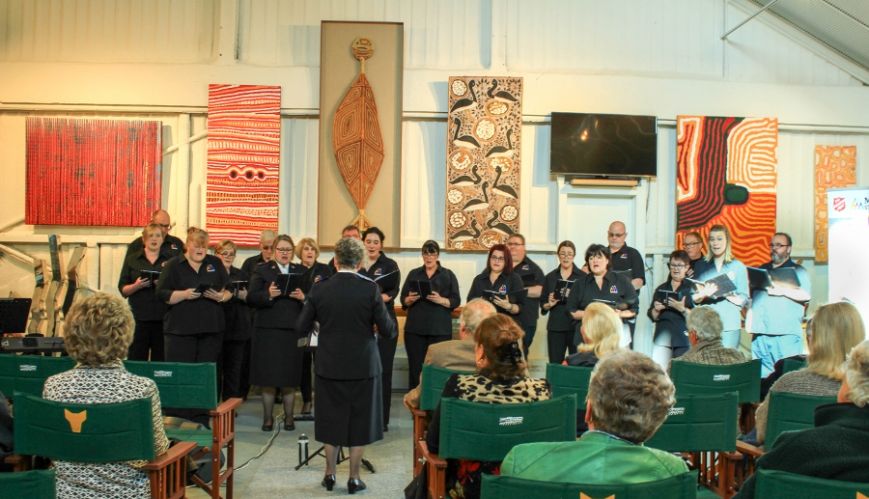 Melbourne Staff Songsters hit right note with donors
3 August 2017
The Melbourne Staff Songsters took the opportunity to strengthen links between The Salvation Army and its community supporters with two inspiring performances on successive weekends.

The first of these occasions involved songster members travelling to Elgee Park on Victoria's Mornington Peninsula where, at a Saturday afternoon tea, music was shared with Baillieu Myer and members of the Myer family and their invited guests.

The following Saturday the songsters joined with members of The Australian Club Choir for a "Christmas in July" concert at the German Lutheran Church in East Melbourne. The performance at the historic bluestone church came about through the church organist, Genie Fiebig, who is a Salvo donor.

One of the members of the Australian Club Choir, George, is also a Salvo donor. Prior to the concert it was arranged for George to visit 614 Corps in inner-city Melbourne, where he was shown around by Major Sandra Nottle.

Songsters pianist, Kevin Wood, also supported The Australian Club Choir (leader Peter Hannah) in their pieces, and cellist Zoe Knighton presented a solo piece and accompanied the songsters in presenting Benedictus from The Armed Man: a Mass for Peace (Jenkins), and Revelation Song (Riddle). Organist Genie Fiebig presented Bach's From Heaven Above to Earth I Come.

The audience shared in singing several carols while Major Judith Soeters brought the courtesies prior to both choirs and the audience joining for the finale, Jerusalem.

The two performances were an investment in future benefit for the ongoing work of The Salvation Army, which members of the Melbourne Staff Songsters were privileged to support.

Songster member Judi Agnew (Donor Relations Manager for TSA Southern Territory) has developed quality relationships with these three important donors.