Hopes still rising from Cyclone Debbie floodwaters
Hopes still rising from Cyclone Debbie floodwaters
4 September 2017
It's been just over five months since Tropical Cyclone Debbie made landfall in Far North Queensland, bringing ferocious winds and floods that left a trail of destruction from Bowen down to Lismore in Northern NSW.
The majority of businesses have re-opened. Children are back at school. There is still evidence of Debbie's destruction but, in most places, life appears to be almost back to normal.
For many people, that is the case. For many others though, recovery – physical, emotional and psychological – is ongoing, and will continue for many months to come.
The Salvation Army is still an active presence in the affected communities, assisting in different capacities as required, and providing hope and support in people's daily lives.
Bowen, Airlie Beach, Proserpine
"Everything has recovered to around 80 per cent, but underneath there is still a lot of work that needs to be done to get things back to their original state," said Stuart Grice, Territorial Envoy, and Corps Leader at Bowen, one of the hardest hit towns in Far North Queensland.
"Some businesses are still closed. In Bowen, Airlie Beach and Proserpine, tradesmen are booked solid for 12 months, and damaged homes are being repaired.
"There is still a degree of emotional distress for some people, and trauma counsellors have been contracted by the government to work in our region for the next two years.
"For the most part, though, people are getting back into everything as best they can, and are helping each other, which is a testament to the strength of our community.
"I think it will take 12-18 months to get over the final hurdles of everything. It's definitely not just clean up and you're done. Getting back to normal is a long process."
The Salvation Army recovery centres have been scaled back. Stuart and Heidi Grice will now work with the Department of Communities to oversee The Salvation Army's recovery work. Major Julie Radburn, Recovery Team Leader Cyclone Debbie Response, has just concluded her secondment to the region, which began at the beginning of May.
Initially, Major Julie and her team focused on financial assistance to people still needing food and basic supplies, through the distribution of gift cards.
As immediate needs were met, the work shifted to organising financial relief for people struggling from the impact on their income and mortgages after the cyclone.
"We were one of the groups able to give financial grants to help get people across the immediate gaps they were facing," said Major Radburn. "We could also assist with bigger needs such as washing machines, fridges, and even a stroller for a little girl with disabilities.
"Through our partnership with the Department of Communities, we have been able to provide some additional funds for people who were uninsured and whose homes were severely damaged, to help them get building work done to make their homes structurally safe.
"I've loved being up here and working with the Department of Communities and recovery team, and organisations such as Lifeline, Red Cross, regional councils and neighbourhood centres.
"We have been able to give people help so they can have hope again. It is an absolute privilege to help fragile and vulnerable people in such circumstances, to see the relief in their eyes when they know we can assist, and to represent God and The Salvation Army in this way."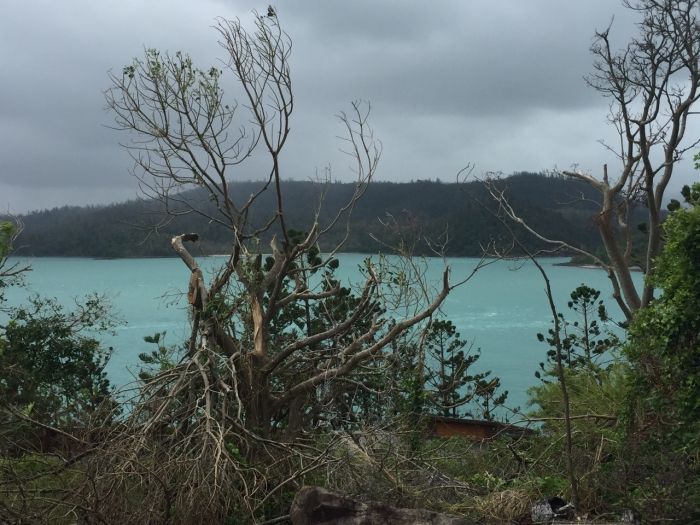 Hamilton Island was severely damaged during Cyclone Debbie, and still bears the scars of the ferocious winds and rains.
The Salvation Army is continuing to provide some financial assistance to help bridge the gap between actual repair costs, insurance payments, and government grants.
The Family Store has now reopened in Bowen, the corps leaders' living quarters have been repaired, and the church hall is just now waiting for new carpet to be laid.
"Our major role now is in ministering to the community on a day-to-day basis, just giving them a sense of support," said Envoy Stuart. "We are being that Army ministry presence in the community which, disaster or not, we will continue to be."
Mackay
The city of Mackay, 200km south of Bowen, also sustained major damage during Cyclone Debbie, as well as flash flooding and stock loss on outlying properties.
It's in these outlying areas, particularly Sarina, 40km south-west of Mackay, where many residents who thought they would not need assistance, are now discovering that they do.
"Many people thought their insurance or government structural grants would cover their repair costs and that they would be okay, but they're not," explained Major Tracey Wicks, Manager at The Salvation Army's Samaritan's House in Mackay.
"Many of these people lost everything, including all their stock, from the flash flooding brought on by the cyclone, and can't get their homes into a liveable state. These are the people we're helping now."
The road from Mackay through the Serena Ranges has been cut in half from flood damage, and won't be repaired for 18 months to two years.
"We're more able to help them with food and petrol vouchers, which they really appreciate as they have to travel three times the normal distance to get to Mackay," said Major Wicks.
"We can help with things like a toaster oven for a man living in a caravan park whose old one was destroyed due to water damage and he couldn't afford a new one, or a computer for a man who lost his in the flooding, stopping his volunteering for another organisation that helps people who are disabled.
"There is the potential for us to assist financially with gap funding after government grants have been allocated, so we are waiting on that. We are also responding to referrals from the case coordination group and the government."
People's stress levels and the levels of emotional trauma they have suffered, are still high, particularly in the areas outside Mackay. Two psychologists are visiting local communities to assist those who are anxious and traumatised. There is also funding for a counsellor, community development officer and a financial counsellor.
"There are still vulnerable people out there," says Major Wicks. "As The Salvation Army, we are standing in the gap wherever we can, making sure people know we are here to support them."
Northern NSW
Communities in Northern NSW, particularly around Tweed Heads, Byron Bay, Ballina and Lismore, were inundated with floodwaters as heavy rain from ex-tropical Cyclone Debbie moved in.

The Wilsons River, which flows through Lismore, peaked at 11.6 metres – its highest since 1974. The levee bank broke, flooding the streets of the city, outlying properties, and much of the local region.

The city has been cleaned up, although many businesses are still not open, and repair work continues on homes and other buildings.
The Salvation Army Family Store, which was completely flooded, has been redesigned. It recently reopened after 11 weeks' closure for the clean-up and refitting.

Employees Renai Ross and Samuel Bacon are leading the ongoing response of The Salvation Army, under Lismore Corps Officers, Captains Jenny and Major Lindsay Reeves.

"Renai and Sam are kept busy assisting people who have been affected by the floods," said Captain Jenny Reeves. "As they meet people in their homes and businesses, they are still finding people who have been seriously flood-affected but are only now telling their story for the first time and reaching out for help.
"In the early days after the flood we were able to provide gifts cards to those who were flood-affected to help with their immediate needs. These days, the people that we are helping have more complex needs. Sometimes they just need a cuppa and a chat or pastoral care, other times they need some practical help or financial assistance."
Samuel, who has a background in mapping, has been working on a project to blend local council data on the heights of house floors above normal river level, with assistance given by the Salvation Army. He has produced a map that will help identify badly affected households that may well be in need of some support.
"This is a great tool for us to have access to as we move forward in delivering support to the people of Lismore," said Captain Reeves. "It would have been brilliant to have had this in the early days of the flood as it would have helped us make sure that we delivered the right support to those most in need."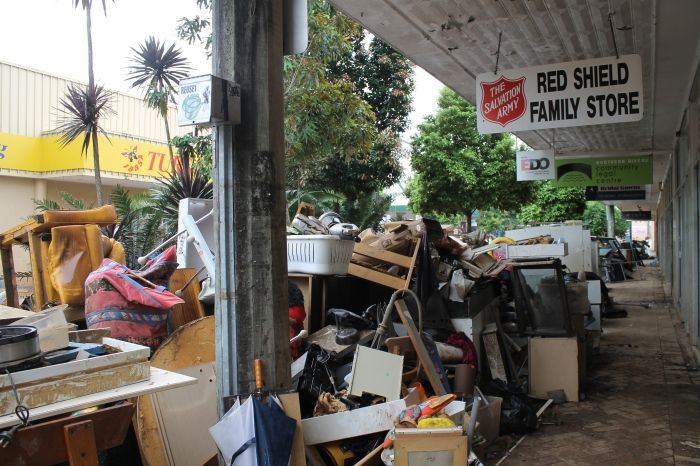 The Lismore Family Store was completely inundated, with all stock ruined. It was closed for 11 weeks and is now thriving.
Renai and Samuel met a man who really needed help to get his home cleaned up and the repair process started. He needed more than just financial help - he needed some encouragement. So the corps organised a working bee to re-line the ruined walls of the downstairs area of his home. He began to feel hope again.
"He was so grateful, he joined in another working bee the corps held, at the local roller-skating rink, said Captain Reeves. "The riverside rink was completely inundated as the river rose higher than ever before. The roller-skates were salvaged but completely waterlogged. After they had been cleaned and dried out, the Salvos spent a day putting them together so the rink could reopen for school groups.
"People love to be involved and helping, and it also brings joy to the hearts of the people who are helped. We are currently planning additional projects to help the community."

The Reeves say that recovery after a disaster can take 18 months or more, with some people getting back to normal quite quickly, while others need extra help over a long period of time to make it through.

"We're trying to target people who are stuck and just give them a lift," said Captain Reeves.

"I feel that there is a closer connection between the churches now and more people in the town wanting a faith connection. Of course, some people are struggling but overall, there is good energy and a common focus in Lismore."